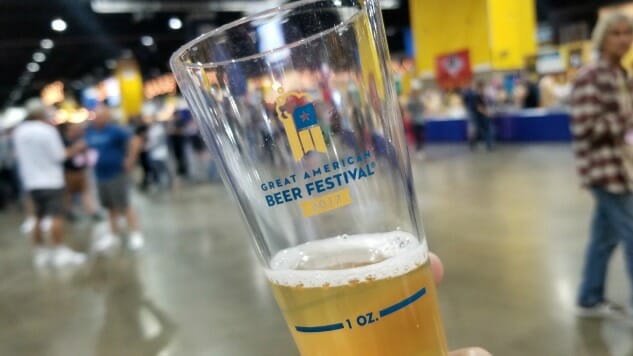 This past weekend was the Great American Beer Festival, the largest festival of American-made beer in the world. More than just a place to drink great beer, the festival is also a huge beer competition.
GABF awards medals in 96 different categories. Beers are judged over five different three-hour judging sessions, done over three days. Beers are all judged by connoisseurs that have a specific area of expertise, and they're never allowed to be judges for any part of the competition they entered, not where there's any other beer they have a vested interested in.
Here's how the awards are broken down:
Gold – A world-class beer that accurately exemplifies the specified style, displaying the proper balance of taste, aroma and appearance.
Silver– An excellent beer that may vary slightly from style parameters while maintaining close adherence to the style and displaying excellent taste, aroma and appearance.
Bronze – A fine example of the style that may vary slightly from style parameters and/or have minor deviations in taste, aroma or appearance
GABF awarded 293 medals in total this year. That's a ton for us to publish, so we just picked out 10 outstanding categories. If you want to see all the winners, you can do so here.
American Style IPA
Prairie Madness – Hailstorm Brewing Co.
Gold Digger IPA – Auburn Alehouse
Breakside IPA – Breakside Brewery & Taproom
Imperial IPA
Manta Ray – Ballast Point Brewing Co.
Lupulin River – Knee Deep Brewing Co.
Chux – Danville Brewing Co
Leipzig-Style Gose or Contemporary Gose
Mermaid's Scorn – Benchtop Brewing Co.
No. 33 Gose – The Freehouse
Passionfruit Gose – Perrin Brewing Co.
American Style Pale Ale
Monterey Street – Central Coast Brewing Co.
Mosaic Pale Ale – Lynnwood Brewing Concern
Triple Tail – SweetWater Brewing Co.
Belgian-Style Fruit Beer
Blood Orange Wit – Refuge Brewery
ZuurPruim – Logsdon Farmhouse Ale
Cherry Busey – Sun King Brewing Co.
Wood- and Barrel-Aged Sour Beer
Plum Creek Sour – Rockyard American Grill & Brewing Co.
Train to Beersel – Bruery Terreux
5th Anniversary Tequila Sour – Loveland Aleworks
Oatmeal Stout
Wall of Sound – Stereo Brewing Co
The Ferguson – Studio Brew
Fat Pug – Maplewood Brewing Co.
Aged Beer
La Muerta – Freetail Brewing Co.
Solzhenitsyn – Iron Hill Brewery & Restaurant
There is No Quad – The BottleHouse Brewery And Meadowy
Fresh or Wet Hop Ale
Wet Hop Melvin – Melvin Brewing Co.
Field to Ferment – Fremont Brewing Co.S
Fresh As It Gets – Mother Earth Brew Co. – Nampa
Light Lager
Super Awesome Lager – Austin Beerworks
Pedal Haus Light Lager – Pedal Haus Brewery
Sun Grown – Sycamore Brewing