Stone vs. MillerCoors Update: Court Says Stone Has a "Moderately Strong" Case
Drink
News
craft beer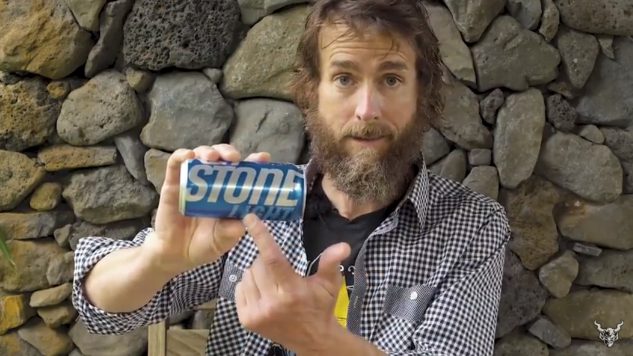 If you've been wondering what has been going on in the Stone Brewing Co. vs. MillerCoors lawsuit, which Stone first brought against the latter in February of 2018, this week we've received a major update. To refresh your memory: Stone is suing MillerCoors, claiming that the macro beer giant redesigned its Keystone Light brand to emphasize "STONE" on its packaging, creating confusion in the marketplace. Meanwhile, MillerCoors is counter-suing Stone, claiming that they actually have an earlier claim on the "Stone" mark than Stone Brewing Co. does. Needless to say, if a court sided with MillerCoors on the latter, it would be a disaster for Stone.
Yesterday, however, Stone sent out the following tweets, seemingly indicating that things were progressively positively for the craft brewers.
The court outright rejected MillerCoors' primary defense that Keystone's new packaging is unlikely to cause confusion. ?

This is a milestone event. No pun intended.

We're heading to trial to prove that corporate beer has made hundreds of millions from rebranding Keystone.?

— Stone Brewing (@StoneBrewing) March 27, 2019
Sounds great, right? Stone's basically got this thing in the bag, right?
Well, not so fast. Unsurprisingly, the brewery has framed this news as positively as they possibly could, but their primary goal here is just an argument in the court of public opinion. Not all of the news released has been positive or favorable to Stone, and nothing is decided just yet.
First of all, according to IP and craft beer attorney Brendan Palfreyman on Twitter, the court actually denied Stone's motion for a preliminary injunction that would have stopped MillerCoors from using the current Keystone packaging during the trial. In order for that injunction to be successful, Stone would have had to "establish likelihood of ultimate success on the merits of its infringement claim, and that it would suffer irreparable harm." Which is to say, they needed to prove that Keystone Light's "STONE" cans were doing un-fixable harm to their brand, and they couldn't prove this. Instead, as Palfreyman puts it, "the court believes that Stone's problem doesn't require an injunction and that monetary damages at the end of the case (if merited) would suffice."
On the more positive side, the court established that Stone possesses a "moderately strong" case in terms of infringement. Most notably, they dismissed MillerCoors' hilariously BS argument that their use of the word "stone" implies a connection to the ancient technique of stein/stone brewing. Which, of course, it doesn't.
With regard to the strength of the mark, the Court found that STONE is a commercially strong and recognizable mark, and discounted MillerCoors' argument that it was descriptive of stein beer or stein brewing pic.twitter.com/xdyFtwHawj

— Brendan Palfreyman Esq. (@B_Palfreyman) March 27, 2019
At the same time, though, the court also discounted some of Stone's claims in terms of how similar the two pieces of packaging really are.
Very interestingly and unfortunately for Stone, with regard to the 'relatedness of the marks' factor, the Court found more differences than similarities between the products.

The Court noted that a consumer picking up a Keystone can would see the full name KEYSTONE LIGHT pic.twitter.com/2rHe8Joc9k

— Brendan Palfreyman Esq. (@B_Palfreyman) March 27, 2019
And of course, Stone's own Twitter assessment is naturally going to leave out the fact that the court also denied Stone's motion to dismiss MillerCoors' counterclaims. Which is to say, MillerCoors is still going to try and make the argument that they've owned the term "Stone" all along, from before Stone Brewing Co. was even founded. You've got to think this is going to be a source of major concern for Greg Koch and crew.
The Court also denied Stone's motion to dismiss MillerCoors' counterclaims, including MillerCoor's request for declaratory judgment that it has the exclusive right to use the Stone mark (over Stone Brewing) pic.twitter.com/vbBjuYxoi6

— Brendan Palfreyman Esq. (@B_Palfreyman) March 27, 2019
So, as Palfreyman observes, for now the status quo will continue. The lawsuit will move into the proper discovery phase, and we may see a settlement at some point. If not, it will head to trial, which seems to be what Stone wants—or at least claims to want. In the court's words, Stone possesses a "moderately strong" case, but don't let that convince you that we've seen the last of these hijinks just yet.