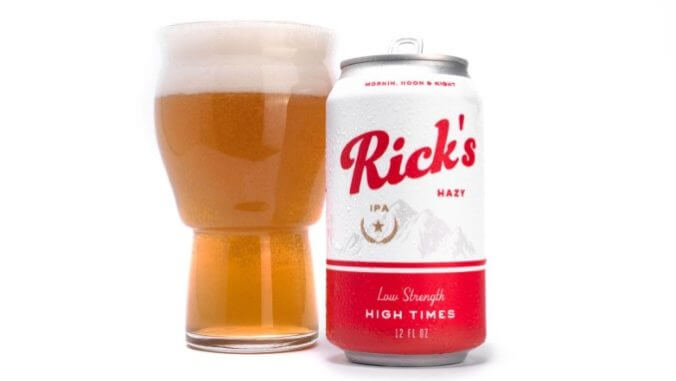 It's Dry January, and you know what that means: The annual push by the U.S. beer industry to categorize non-alcoholic beer with "next big thing" status.
It's a tale as old as time—every year in the lead up to this month, we see similar stories of how the industry is increasingly embracing a dry future, and how the non-alcoholic beer world is thriving. Despite it all, however, it's undeniable that the non-alcoholic category is still an extremely diminutive part of the overall beer market in the United States—even after years and years of growth, it still represents well under 1% of all beer that is sold and consumed here. This is all to say that non-alcoholic beer still has a long way to go, if it's ever going to truly register with the average drinker.
With that said, there are the usual reasons for optimism in the category. The relative quality of the offerings continues to increase, and old stigmas about non-alcoholic beer drinkers have faded away. Craft breweries have adopted the segment, lending it more street cred than its tired, older brands once possessed. That the non-alcoholic category has managed to continue growing at all is impressive, given that the wider beer world continues to shrink on a yearly basis, always ceding ground to wine and especially spirits. NA beer's trajectory remains good, even if you have to zoom in significantly on the graphs to really see that growth in action.
It was into this space that an unusual brand stepped at the end of 2022: Rick's Near Beer. This is a concept I'm still somewhat trying to wrap my head around on some level—a company making beer the government would define as "non-alcoholic" (less than .5% ABV), but simultaneously choosing not to use those words in describing their product. Instead, Rick's opts for "low strength," seemingly targeting a demographic that doesn't necessarily care about avoiding alcohol, but rather one that wants to expand their beer-drinking occasions to places they wouldn't normally consider taking beer. Combined with iconography that suggests old-school regional beer brands such as Hamm's, Rainer or Schlitz, Rick's feels like an attempt to put more of a cool, lo-fi spin on the category. And hell, I was suitably impressed by the flavor of their flagship Rick's Original when it launched in December, so at least the product doesn't struggle to justify its existence on a base level.
Taking the same iconography and applying it to hazy IPA, however, feels like a bit of a tougher hurdle to clear—the combination of retro styling and modern, hazy IPA is less of a natural fit, and the style is arguably harder for any non-alcoholic beer maker to nail. Still, it's always nice to find another quality NA hoppy beer style on the market, so a tasting of Rick's Hazy IPA was clearly in order.
So with that said, let's see how the Rick's brand tackles "low strength" hazy IPA.
In the glass, this one pours a light copper, and only partially opaque—one wonders how "hazy" the brewers would actually prefer for it to look, or if they were searching for a happy medium of some kind. On the nose, I'm getting biscuity malt and crisp grain up front, with mild florals and moderate, clean citrus character evocative of lemon and grapefruit peels. There are perhaps traces of more tropical tones, but the malt presence of the nose seems to suggest that this product will not exactly be channeling the expected profile of most modern hazy IPAs, in which one doesn't really expect any malt presence at all.
On the palate, these assumptions are confirmed—the malt body is notably present, with notes of lightly sweet biscuit and toasted bread crust, the sort of malty sweetness that is a commonality in many NA beer brands, where unfermented grain sugars make their presence felt. Thankfully, this malt presence does not go so far as to become dominant, or evoke the strong, black-tea like maltiness that some beer geeks would refer to as "wort-like." Rather, it's balanced nicely by a moderately assertive profile of floral, resinous and citrus hop notes, evoking lemon and grapefruit zest. The overall effect is reminiscent of nothing so much as say, old-school American pale ale—one of my favorite styles, but simultaneously not really what is being sold by a can labeled as "hazy IPA." What feels like it's missing here are the more overtly "juicy" and dynamic hop notes I've tasted in other NA IPAs from companies such as Flying Dog, which would more accurately convey the idea of modern hazy IPA.
Judged purely on the liquid in the can, Rick's Low-Strength Hazy IPA is a nicely balanced, hoppy NA beer that features both moderate malt sweetness and a decent charge of hop flavor to match. If balance is what the drinker is looking for, they may very much enjoy this. In terms of translating modern hazy IPA to the non-alcoholic (or "low strength") beer space, however, this one isn't quite bold enough in its presentation.
Brewery: Rick's Near Beer
Style: Non-alcoholic IPA
ABV: Less than .5%
Availability: 12 oz cans
---
Jim Vorel is a Paste staff writer and resident brown liquor geek. You can follow him on Twitter for more drink writing.