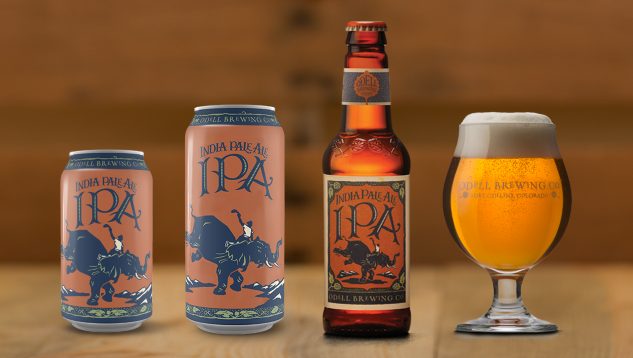 This essay is part of a series this month, coinciding with the concept of Flagship February, wherein we intend to revisit the flagship beers of regional craft breweries, reflect on their influence within the beer scene, and assess how those beers fit into the modern beer world. Click here to see all the other entries in the series.
In the course of conducting this daily reflection on regional brewery flagships, the majority of beers I've been revisiting fall into the "decades old" rather than merely "years old" camp. And indeed, that's exactly what I assumed of Odell IPA. The brewery, after all, celebrated its 30th anniversary last year as one of the longtime stalwarts of the Colorado craft beer scene, and the 23rd largest craft brewer in the U.S., by the Brewers Association definition. One tends to expect the "flagship" of a brewery with that kind of pedigree to be a beer they've been making for almost as long. It was a genuine surprise, then, for me to realize that Odell IPA has actually only existed since 2007. If you had asked me to guess, I would have assumed it had been around for at least a decade more.
The elephant in the room, and the beer that didn't immediately come to mind for me as someone who didn't come of age in the Colorado beer scene, is of course 90 Shilling Ale. Alternatingly described as either a Scottish ale or an American amber ale, 90 Shilling was indisputably the company flagship for almost two decades—much in the same way that an amber ale was once the flagship of Bell's Brewery—before the same story played out that also played out in so many other markets. The rising tide of American IPA would not be denied in the 2000s, and Odell needed a new flagship that would truly reflect the hop-driven zeitgeist. They ended up with the simply titled Odell IPA, a beer that perfectly embodies its era and bears a torch for the pre-juice concept of India pale ale. It's safe to say that no other beer has been more important for the company since 2007.
Looking closely at the way the company describes this particular beer also hints at how it was conceived: As a very early entry in a slow, deliberate move away from from more bitter, pithy and green flavors and in the direction of a juicier, fruit-driven profile. This is something that was happening by the end of the 2000s and the early 2010s, predating the arrival of different-looking (i.e. hazy) IPAs—flavor profiles began to drift toward sweeter, more fruit-forward styles even as relative bitterness scaled back a bit from its peak in the mid-2000s. New hop varietals led the charge, but Odell IPA may have been one of the earliest to start hinting at this new direction, even though it retains many characteristics of IPAs of its day … including no shortage of hop-derived bitterness.
Today, of course, Odell is facing the same challenges as all the other regional breweries in its strata, competing against more than 8,000 beer-producers as it modernizes its lineup—props to their surprisingly subtle milkshake IPA Cloud Catcher, which finished at #3 when we blind-tasted that style—while simultaneously attempting to stay true to its longtime flagships, including both the likes of 90 Shilling and Odell IPA. It remains to be seen whether the nascent anti-juice sentiment among some beer geeks will lead to a wider return to IPAs in the mold of Odell's flagship, but you can bet the brewery will be poised to pounce if it does.
With all that said, let's actually get to re-tasting Odell IPA.
---
Tasting: Odell Brewing Co. IPA
It's an eventuality of this series that I was bound to end up re-tasting a lot of pale ales and IPAs, given that they've been the most popular styles in American craft beer for the last three decades. The potential pitfall is of course that they eventually start to run together somewhat, but as I approach them, I've found that there always seems to be at least one aspect of any given beer that makes it distinctive and either indicative of its era or a notable deviation from the norm. Odell IPA? It's a little bit of both; a beer that falls into a niche between eras.
On the nose, it's important to note that there is in fact a malt component present, which shows up with a prominent grainy note, which is then pushed aside by assertive hoppiness. This is a particularly orangey, citric IPA, which presents with a combination of florals (orange blossoms?), pine needles, danker notes and brighter orange zest—the kind of aromatic profile that a lot of breweries would have been seeking for their IPAs by the end of the 2000s.
On the palate, the slightly "grainy" and malty sweet notes are likewise present, but there's no doubt that Odell IPA is purposefully unbalanced in the direction of hops, which are both bitter and fruit-forward in equal measure. I get a whole lot of freshly cut grass, pine and a twist of fresh, slightly juicy orange, although the strong bitterness that lingers on the back of the palate also makes one think of bitter orange peel. It's also slightly dank and weed-like, but as the beer warms, what really comes to the forefront is a sweeter candied orange note that pairs well with the strong, persistent bitterness. Compared to the Sierra Nevada Pale Ales of the world, Odell IPA is certainly an indication of how much more bitterness we had come to consider "average" by the late 2000s. I have no doubt that to those who entered the beer world only as a result of more overtly sweet, non-bitter hazy IPAs in the last five years, Odell IPA would register as very bitter indeed, but to those of us who were drinking IPA before 2010, it's likely a welcome reminder now and then.
Odell IPA can be described with a lot of the same terms you'd use to describe pretty much everything else in the Odell lineup, in fact: Flavorful, consistent and center of the bullseye in terms of how well it executes exactly what they were going for. It's a textbook example of what most of us considered simply "IPA" before the mid-2010s, with a few subtle touches that indicated the way the style had begun the evolution that eventually led to where we are today.
---
Jim Vorel is a Paste staff writer and resident craft beer geek. You can follow him on Twitter for much more drinks writing.