My Month of Flagships: Left Hand Brewing Co. Milk Stout Nitro
Photos via Left Hand Brewing Co.
Drink
Features
craft beer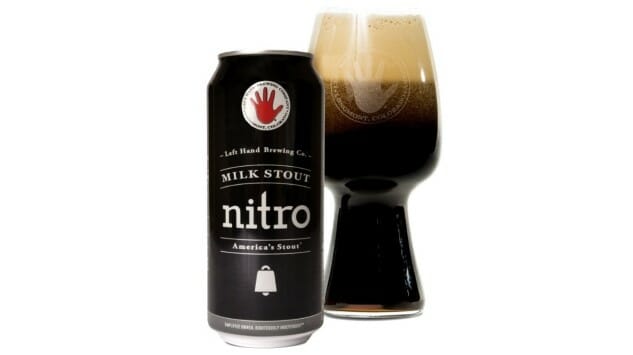 This essay is part of a series this month, coinciding with the concept of Flagship February, wherein we intend to revisit the flagship beers of regional craft breweries, reflect on their influence within the beer scene, and assess how those beers fit into the modern beer world. Click here to see all the other entries in the series.
There are so many flagship pale ales and IPAs we'll be covering over the course of this month of essays, that I become immediately fascinated whenever a flagship comes up that is in some way atypical or strange. The more niche the style, the more fascinating it becomes—how did you take this kind of beer, and make it the most popular thing that you sell? Look at Allagash, and White—how many other breweries are built almost entirely on witbier? But look also at longtime Colorado stalwarts Left Hand, who have made a living on milk stout, of all things, for more than 25 years. Standard porters and stouts, sure—there are some breweries out there with them as flagships. But milk stout? The only other brewery I can think of with a milk stout flagship is North Carolina's classic Duck-Rabbit Craft Brewery … and don't worry, they'll appear again in this series. It's an oddity, is what I'm getting at.
Left Hand, however, went a step beyond and defined their flagship not only by style, but by method of presentation, with the birth of Milk Stout Nitro. Debuting at the Great American Beer Festival in 2011, Milk Stout Nitro was the country's first bottled, nitrogenated beer, immediately making the nitrogen "widget" found in cans of Guinness, etc. look hopelessly outdated. Audiences went wild for the new, creamier-textured version of what was already Left Hand's flagship beer, and the brewery suddenly had a new identity in the eyes of many beer geeks—"that brewery making all those nitro beers." It's little wonder that they soon moved to acquire exclusive use to the trademark for "nitro," which unsurprisingly led to some gnashing of teeth and consternation in the industry, which never really led anywhere. It's also no wonder that they rushed to then make nitro versions of other classic Left Hand beers like Sawtooth Ale.
Today, Left Hand Milk Stout is still the brewery's most dependable mover, even though they've been hit by sales declines in recent years as the industry faces greatly increased competition. It remains available in both its standard carbonated and increasingly de-facto Nitro versions, which is a nice touch to those of us (myself included) who typically prefer the carbonated versions of these beers. For Left Hand, however, Nitro really does seem like the way it's now meant to be consumed. The company worked hard to transform a familiar beer into a subtly more exotic one, and it paid off in the form of a reliable flagship—always a valuable thing to have.
In the years that have followed, many other breweries have developed their own methods for canning and packaging nitrogenated beers, but Left Hand's status as an innovator is not to be forgotten. The influence of Milk Stout Nitro spread out like a ripple, removing "nitrogenation" from being seen as a sole property of Ireland's Guinness and suddenly putting it at the beck and call of almost any brewery. There were some excellent developments that arose from this newfound power, and some terrible ones—that brief dalliance with nitro IPAs still haunts me, in particular. But applied properly, as it was in the original Milk Stout Nitro, there's really no comparison to what those tiny bubbles can do.
So with that said, let's give it a re-taste.
---
Tasting: Left Hand Milk Stout Nitro
First, here's Left Hand's description of Milk Stout Nitro, which they refer to as "America's milk stout" like they're the Dallas freakin' Cowboys.
Dark and delicious, America's milk stout will change your perception about what a stout can be. Pouring hard out of the bottle, Milk Stout Nitro cascades beautifully, building a tight, thick head like hard whipped cream. The aroma is of brown sugar and vanilla cream, with hints of roasted coffee. The pillowy head coats your upper lip and its creaminess entices your palate. Initial roasty, mocha flavors rise up, with slight hop & roast bitterness in the finish. The rest is pure bliss of milk chocolate fullness.
I've noticed that descriptions of Left Hand Milk Stout, in whatever form, usually revolve a lot around roast and coffee and cream, but there's another dimension to it I've always picked up in the past, and am picking up once again here: Unexpected fruitiness. It's the X-factor in this beer, and the thing that makes it most unique; a thread of red fruitiness that runs through it and modifies the other flavors in unexpected ways.
On the nose, you definitely get a sense of "dairy," like a cup of coffee with a splash of heavy cream. There's a bit of toffee, and some nutty cacao nibs, but also that slight red fruity note, which implies a slightly vinous character.
On draft (which is how I'm having this), the beer is unsurprisingly very dense and creamy in texture, which bright coffee flavors that are just sweet enough to suggest espresso ice cream or affogato. I get a bit of red fruit again in a way that recalls maraschino cherries, but it's also more solidly roasty than I remembered. Chocolate is present, but it's more milk chocolate than dark, and I can't say there are any hop flavors to speak of. This description likely makes this beer seem "desserty," and perhaps we once classified it that sort of way, but compared to the modern world of pastry stouts it seems positively judicious in terms of residual sugar. It implies richness on the palate, but that's more a function of texture than it is of sugar. Like Guinness, it sort of tricks the palate into registering it as bigger than it actually is.
All in all, Left Hand Milk Stout is almost exactly as I remember it. It's always been an unconventional flagship beer, but that just gives me a bit more fondness for this particular black swan.
---
Jim Vorel is a Paste staff writer and resident craft beer geek. You can follow him on Twitter for much more drinks writing.