Is a Hoppy, "Juicy" Lager From Labatt Something You Want?
Photos via Labatt USA
Drink
News
craft beer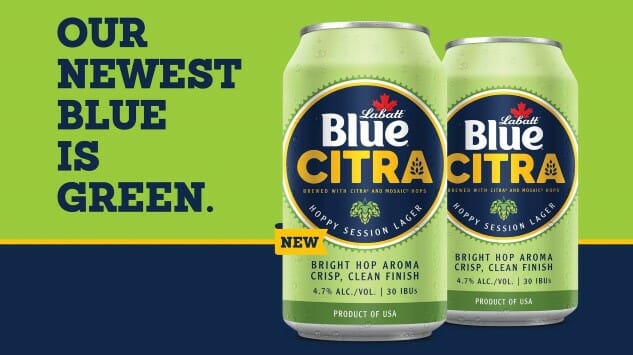 Somehow we missed the announcement of something so bizarre as Labatt Blue Citra when it was first unveiled back in November, so bear with us here as we wrap our collective heads around the existence of such a product.
The Toronto-headquartered Labatt Brewing Co., best known as the producers of Canadian lagers in the mold of Labatt Blue, is a subsidiary of the Belgian-owned and operated Anheuser-Busch InBev (AB InBev). Labatt USA, on the other hand, which brews and sells the brand's beer in the U.S., is a subsidiary of Costa Rican-owned North American Breweries, the conglomerate that owns Genesee, Pyramid and Magic Hat, among others. They've existed on their own since the merger of AB InBev and SABMiller, which forced InBev to split a number of its holdings.
Edit: An earlier version of this story erroneously reported Labatt USA as being a subsidiary of AB InBev.
If this was one of the former craft breweries acquired by AB InBev since Goose Island was the first domino to fall in 2011, it would make perfect sense. But Labatt? A brand almost entirely associated with cheap lager? Where do expensive, sought-after American aroma hops fit into that formula?
Just look at the description of Labatt Blue Citra, which bills itself as "juicy," with "aromas and flavors of tropical fruit."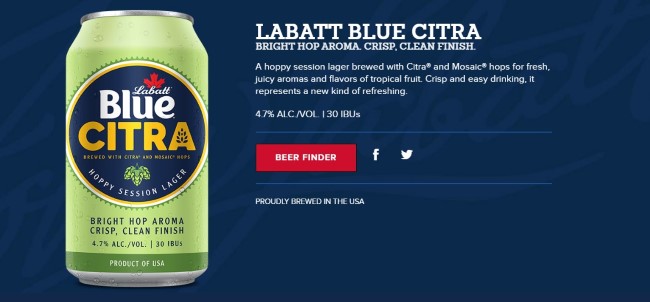 It certainly suggests that the execs at North American Breweries believe that the ethos of craft beer flavors, and words such as "juicy" and "tropical" have so permeated the general drinking culture at this point that even the rank and file regulars purchasing 30-packs of Labatt Blue at Sam's Club might have an interest in an explicitly hoppy version of that middling lager. And not just "hoppy," mind you, but hop forward in the same sort of language that is typically used to describe styles such as American IPA!
And you know what—they might be right. As low-ABV, lower calorie styles continue gaining steam in the increasingly health-conscious U.S. alcohol market, this could be a sensible move. Its most obvious targets are emergent craft brands such as Founders Brewing Co. Solid Gold, and the pricing here certainly seems calculated with that sort of beer in mind. By undercutting the price of something like Solid Gold by a few dollars on every 15-pack, it seems like an attempt by a macro brewer to once again dip a toe into "crafty" waters by targeting an emerging craft market. Labatt will presumably find out what kind of draw American hops are, when presented in the most neutral of ways.
Which all begs the question: Is this stuff actually any good? Does it actually present as "juicy," and is that a profile you even want in an otherwise dry lager designed for maximum drinkability? Ratings in venues such as Untappd have been fairly harsh, but really, what else would you expect?
I wish I could say that we'd sampled Labatt Blue Citra for ourselves, but it doesn't seem to have reached anywhere in the vicinity of Georgia just yet.
If you do get a chance to sample it, by all means, let us know your findings.
Labatt Blue Citra is not a beer I ever expected to see in existence but here we are.

Crazy.

I actually really want to try this. pic.twitter.com/PEQxiwU6O6

— Guys Drinking Beer (@guysdrinkinbeer) January 23, 2019