Highland Brewing Co.'s Latest Is a Tart Riff on the Aperol Spritz
Photos via Highland Brewing Co.
Drink
News
craft beer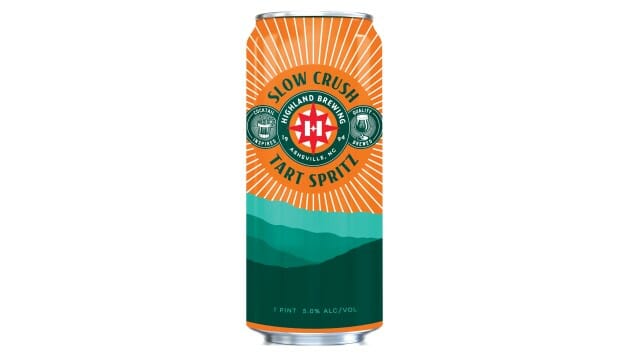 For its 25th anniversary, Asheville's original craft brewery, Highland Brewing Co., is looking to capture your aperitivo hour. The brewery today announced the release of Slow Crush, a "tart spritz ale" inspired by that classic pre-dinner drink, the Aperol Spritz. This year-round offering will join the Highland lineup in May, starting at the brewery's two-day, 25th Anniversary Party on May 3-4.
"This is a dynamic time in the industry and at Highland," said R&D Brewer Trace Redmond. "We are exploring what Highland beer can be and creating beers that are different from anything we have ever done before. Slow Crush refers to the tradition of gruits and aperitifs and the way that brewers and distillers tried to achieve balance with different herbs and spices. In blending the past and present, we are creating beers that fit uniquely into this moment and in Highland's portfolio."
This beer represents several firsts for Highland. It's the brewery's first kettle sour, and its first-ever release in 16 oz cans—a seemingly conscious choice to buck the norm of releasing IPAs in that particular format. At the same time, it's something of a concept album, built around the flavor profile of the Aperol Spritz—traditionally a mix of prosecco, Aperol and soda water, built over ice and possibly served with a dash of bitters. Says Highland:
Slow Crush features all-natural ingredients that mirror the Italian aperitif – botanicals like gentian root, cinchona bark and hibiscus flowers. These ingredients are then accentuated by the character from flaked rye and citrus-forward American hops like Citra and Amarillo – a very craft spin. At 5-percent ABV and 20 IBUs, this beer is effervescent with a refreshing acidity that makes a perfect libation for any occasion.
Aperol itself is sweet, citrus-forward and mildly bitter—the kinder, gentler cousin of the famous Italian bitter aperitivo Campari, a necessity for the negroni cocktail. An Aperol-inspired beer, then, should be much the same: Lightly sweet and fruit forward, but with a hint of bitterness and a palate-stimulating quality.
Slow Crush will be available on draft and in four-packs of cans, starting in May. Below, check out a visualization of the beer's botanical-forward ingredients.