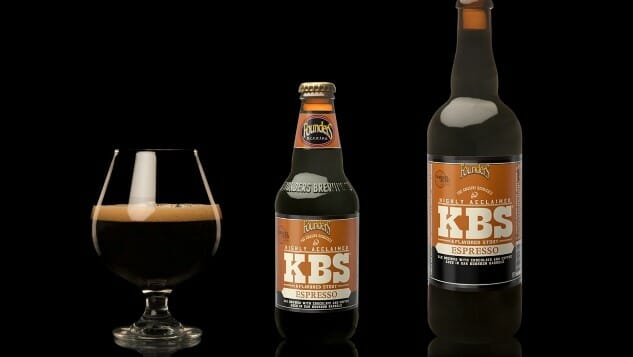 Releasing a variant on a classic beer, especially when there's never been a variant version before, is always something that comes with inherent advantages and disadvantages for a brewery. A brewery like Founders, for instance, simply releasing a new barrel-aged imperial stout with coffee, would be "news" of an average caliber for the majority of beer geeks. You add the letters "KBS" to the mix, though, and relevance of that release goes up considerably. There has never, after all, been an "official" Kentucky Breakfast Stout variant before, outside of Canadian Breakfast Stout, which is apparently considered a different base beer. A true KBS variant, on the other hand, carries its own novelty, even though the increased production of the brand has predictably curtailed some of the fervor for it—that's to be expected, because beer geeks inevitably associate scarcity with quality.
Likewise, it could of course be that Founders is eager to get back into the good graces and beer-related consciousnesses of their core beer geek audience after all the bad press generated by the racial discrimination lawsuit brought against the company by a former employee, which has recently been settled. Debate about whether beer drinkers have/should "forgive" Founders for their role in the debacle and its many PR missteps, or what it would mean for the brewery to be "back on track" in the minds of drinkers, is still being hotly debated on Twitter, with no clear end in sight. Some will no doubt argue that even reviewing a Founders beer is somehow a moral gray area, but as in their inclusion on our list of the best breweries of the decade, we feel that objective evaluation of a beer and its merits is always worthwhile, especially when that beer is stylistically relevant to the current beer zeitgeist. And the first ever variant of KBS? Relevant, and so here we are.
Now that we have that out of the way, we can talk about beer. KBS Espresso is a bourbon barrel-aged chocolate coffee stout, and it is important to note that the original KBS already has a coffee addition—the B, after all, does stand for "breakfast." Founders is then taking that beer and adding an infusion of espresso beans, saying the following: "Yes, KBS may already be brewed with coffee, but it gets some extra oomph when it's aged on espresso beans after being removed from barrels. The result is a fresh and snappy coffee twist on our classic barrel-aged beer."
So, let's see how that additional coffee addition plays with one of the all-time great barrel-aged stouts.
On the nose, I'm unsurprisingly getting big coffee, to the point that it just about takes over completely. This is very roast forward, and notable for the near total absence of booze—you would have absolutely no idea, smelling this, that it was 12% ABV. The coffee character presents with some bitter dark chocolate, intense cold brew-like purity, and perhaps a tiny hint of black licorice, but it's a very coffee-dominant nose.
On the palate, the initial taste packs a wallop. The booze that was so totally hidden on the nose is certainly more present here, following a rush of Tootsie Roll chocolates, treacle and slightly vinous dark fruit. It settles down quickly, which is interesting—this beer packs a initial rush of sweetness and then a very fast transition to relative dryness, which is certainly unique. Coffee, however, is plastered over everything—very dark and fruit-forward roastiness, but with a bitter edge and a fair degree of astringency—maybe a bit more than I'd prefer. As in the original KBS, oak and overt bourbon are background players—this has always been a stout that favors subtlety and balance, rather than the bombastic oakiness and whiskey-forward profile of the oft-compared Goose Island Bourbon County Brand Stout. KBS was always by far the more subtle of the two.
In KBS Espresso, however, a bit of that subtlety is lost. It has been unbalanced, purposely, in the direction of the coffee, the astringency of which throws it out of the harmony seen in the original release. It's still fairly tasty, and grows on you in particular as it warms up and the palate acclimates to the volume of coffee flavors, but the original remains a superior expression of balance in brewing.
This assessment likely wouldn't surprise anyone at Founders. They made this beer to go for those who wanted an even more intense coffee experience, and that's pretty much what they delivered. As for me, I'm still more likely to be savoring well-aged bottles of the original KBS.
Brewery: Founders Brewing
City: Grand Rapids, MI
Style: Barrel-aged imperial stout
ABV: 12%
Availability: Limited, 12 oz bottles
---
Jim Vorel is a Paste staff writer and resident craft beer guru. You can follow him on Twitter for much more drinks writing.