Firestone Walker's Latest Barrel-Aged Beer Is Experimenting with Beer Aged in Cocktail Bitter Barrels
Photos via Firestone Walker Brewing Co.
Drink
News
craft beer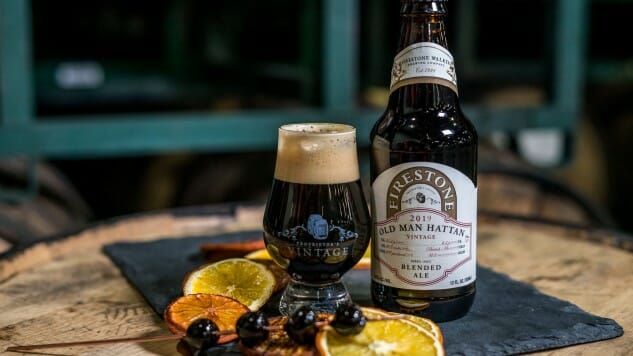 There aren't many things a craft brewery can do in terms of spirits barrel aging these days that we've never seen done before. Every conceivable style of spirit barrel has been used to impart unique flavors in beer, from the ubiquitous bourbon or rye barrels to liquors such as gin, tequila or mezcal. But beer aged inside barrels of cocktail bitters? That's still novel enough to make us raise an eyebrow.
This particularly unique new beer comes our way via Paso Robles' Firestone Walker Brewing Co., an ale factory known for both beautifully blended barrel-aged releases and putting on the industry's best beer festival, the Firestone Walker Invitational. Dubbed Old Man Hattan, this beer was previously available as a brewery-only Black Friday limited release, but will make its debut as part of six Proprietor's Vintage releases for 2019. It starts hitting FW markets this week in individually boxed 12-ounce bottles.
In terms of its creative conception, Old Man Hattan is meant to mimic the flavors of both the Old Fashioned and the Manhattan cocktail—a concept we've seen from a number of other breweries in the last few years, but never with this particular twist. The base beer for Old Man Hattan includes blended portions of Velvet Merkin, Bravo and Stickee Monkee aged in whiskey barrels, but where things get unusual is in the garnish: Portions of Parabola and Helldorado, which were each aged in barrels that previously matured "cherry, orange and aromatic bitters." Suffice to say, this isn't something we've ever seen before. What does an imperial stout taste like, when it's aged inside a barrel that was used to mature aromatic bitters?
"Old Man Hattan is really true to its dual influences," said Eric Ponce, Firestone Walker's barrel program manager. "On the nose, you get hints of cherry, orange and clove spice. It's extremely smooth and drinkable, with traditional whiskey characters of tobacco and bitter chocolate. These bitters barrels are beautifully potent. We really played around with the different component beers and barrel ratios to get everything just right."
That's more than enough to get us excited about the possibilities. Leave it to these guys to find a new way of seeking a popular flavor combination, while also falling back on their barrel-blending strengths.