Firestone Walker Wookey Jack and the State of Black IPA
Photos via Firestone Walker Brewing Co.
Drink
Features
craft beer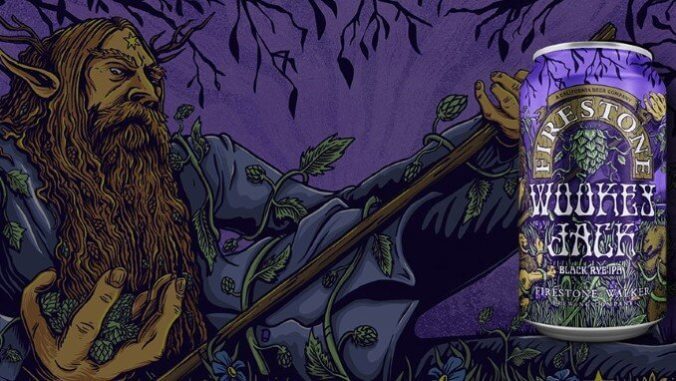 What does the average craft beer drinker think of when they see the words "black IPA" in 2023? Is it a nostalgic experience, perhaps—a flashback to some point in the late 2000s or early 2010s when they first sampled an upstart beer style that would grow seemingly overnight into national saturation? Or do they remember the style's subsequent, rapid fall from grace in the mid-2010s, as black IPAs were abandoned en masse, sacrificed to the rising tide of juicier, hazier options? Rarely have the fortunes of a particular beer style become so emblematic of changing consumer tastes in general, resulting in black IPA becoming a meme within the world of craft beer—a stylistic shorthand for "here one day, gone the next."
With that said, one shouldn't doubt that there have always been pockets of ardent, die hard black IPA devotees out there. Both my wife and my father fall into that camp, whereas I personally liked rather than ever truly felt enraptured by the style. Even among black IPA's supporters, however, there's always been a question of how viable the style can be made on a national level. Are there enough people out there who like the style to justify putting 12 oz cans of it on store shelves year round? And even if they do like the style, will they actually buy it often enough to justify its continued production?
There have been rumbles, in the last few years, of a black IPA comeback, but perhaps that revitalization would be better pitched as the industry finally coming to terms with black IPA as a viable niche style with a particular fanbase, rather than a year-round style with any potential for wide appeal. Because frankly, given the tastes that are still dominant in the beer world today—tastes that have made a small meadery in Illinois making mind-blowingly sweet dessert meads into the highest rated worldwide entity on Untappd—it's something of a wonder that black IPA has survived in any form. This style is like a perfect nexus of what is not popular among the rank and file craft beer drinker, but it persists with a specific appeal to its own cadre of aficionados, offering a unique flavor combination that really doesn't exist anywhere else.
---
The Appeal of Black IPA
Beers combining the dark, roasty flavors of porter or stout with the bright or dank character of American hop varietals didn't just spring up out of nowhere around 2007. Rather, they simmered on the edges of beer geek perception for decades leading up to breweries first leaning into the oxymoronic term of "black India pale ale."
On the most basic level, one might consider IPA simply an evolution of how the oft-misunderstood "American-style stout" had already evolved in the years since the craft beer renaissance began. As is so often our way, American brewers took a style they knew from the European arcana—British stout, in subsets such as oatmeal stout or milk stout—and turned it into a bigger, drier, hoppier and more bitter subgenre to call our own. It should come as no surprise that American-style stout remains even more endangered than black IPA today, given that it doesn't have those three magical letters to use as a marketing tool. The word "stout" has increasingly been co-opted by inescapable residual sugar over the decades, making a bond that is now quite hard to break.
To venture into "black IPA," then, that style really only needed a gradual nudge. Early versions of what were more or less described as black IPA seem to have grew up on the East Coast in the 1990s and early 2000s, from breweries such as the fabled Alchemist and Hill Farmstead. Further west, similar experiments by breweries such as Rogue and Avery Brewing Co. yielded similar beers in the early 2000s. I remember drinking Avery New World Porter in particular around 2004 or 2005, marveling at its unusual combination of roast and American hop character. It was a black IPA in everything but name, as no one had yet thought to coin the term.
It was Stone Brewing Co. that truly took the style nationwide in the late 2000s, and their Sublimely Self-Righteous Black IPA set the mold that many other breweries came to emulate. Thus began the black IPA golden age of roughly 2008-2014, which saw many regional and national powerhouses introducing their own black IPA brands, many of them as year-round offerings. Stone, in fact, was so behind the style that they not only offered Sublimely Self-Righteous, but also regular batches of Enjoy By Black IPA as well, while other industry leaders came from the likes of Founders, 21st Amendment, Dogfish Head or Lagunitas.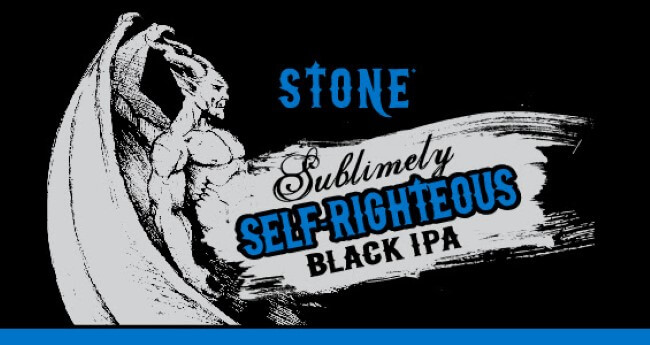 Another brand that spends most of its time in hibernation.
So, one might wonder: What's the appeal? What do black IPA's devotees really enjoy about the style? Well, there's always been a question and debate whether the core flavor notes of black IPA—the roast and hops—theoretically "work together." It's a classic case of contrast, and that's probably why it's always proven divisive among beer geek palates. It's also a style that I've always felt is perpetually balanced upon a knife's edge—a black IPA can go wrong really easily. Too roasty or astringent, and it comes off like a porter or stout with a strange hop bill. Too one-dimensionally hoppy and bitter, and it comes off as cynically produced IPA with black coloring, a problem that plagues many of the lesser entries in the style. Black IPA truly needs balance, which means it's less forgiving to brewers. When done correctly, though, the disparate malt and hop impressions form an oddly harmonic balance, a yin-and-yang push and pull between seemingly warring influences.
With that said, I've always been of the opinion that black IPA hop profiles have a notably easier time finding harmony with the malt profile if they capture more flavors that are dank, green, floral, resinous or herbaceous. Although the temptation to pump the style full of fruitier, juicier tones is clearly obvious in the modern beer landscape, beers that go that route seem to run a greater risk of being perceived as chaotic or disjointed. That isn't to say it's impossible to make a great, juicy black IPA … but it's yet another hurdle to overcome in what seems like one of the most difficult styles to get right. And that's in addition to the ever-present existential challenge to black IPA as a style, which is that the hype cycle continues to revolve around styles such as hazy, juicy, sweet IPA and adjunct-laden, sweet stout. There's absolutely an undercurrent of drinkers who are weary of those styles, but as in the craft lager revolution, the constant question is whether brewers can make drinkers care enough to make these styles worthy of putting in cans on store shelves.
There are some breweries still betting on black IPA, though. And one of the most prominent is California's Firestone Walker.
---
Firestone Walker and Wookey Jack Black IPA
Firestone Walker's Wookey Jack is among the most well known and certainly one of the most generally beloved expressions of black IPA, but that didn't stop it from becoming a victim of the same stylistic collapse that also claimed Sublimely Self-Righteous as a year round Stone offering. Wookey Jack was a year-round brand from Firestone for a five year span, between 2012-2017, and in that time period it was truly decorated, including three gold medal wins at the Great American Beer Festival. It was conceived by Brewmaster Matt Brynildson as a beer that would celebrate the "IPA" portion of black IPA more than other entries that were on the market at the time, though the beer's biggest innovation was actually in the malt bill, where he chose to pair the dank hop base of the brand's classic Double Jack DIPA with the "rustic spicy grain" notes of rye.
To kick off 2023, Firestone has re-released a revitalized and redesigned version of Wookey Jack—same liquid, but entirely different packaging and iconography. Gone are the old bottles, as the beer makes its debut in 12 oz cans for the first time, and the staid original label has been replaced with the almost macabre-looking purple number you see below. It's the largest release for the brand, in fact, since it was discontinued back in 2017, or as the brand puts it:
Wookey Jack now reclaims its title as Firestone Walker's wildest and wooliest IPA, offering big, toasty malted rye flavors with a balanced bite on the finish. It is, in Brynildson's words, "gnarly on the outside, yet refined on the inside." This latest edition of Wookey Jack remains faithful to the original recipe, which includes loads of pearled dark malts with rye adding a rustic grain element. The hops are dank, sticky Citra and pungent Amarillo, both of which are incorporated into a massive dry-hop regimen.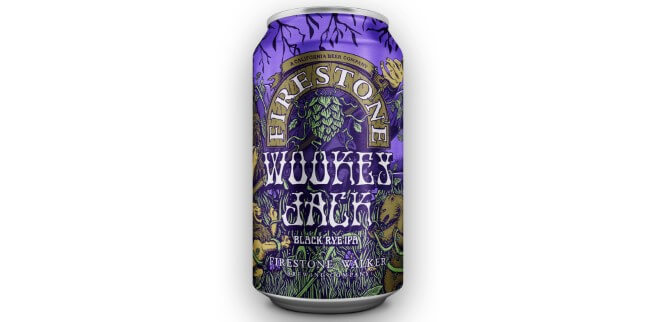 And the results really are as good as I remembered—Wookey Jack offers the best aspects of both worlds on both the nose and the palate. On the nose, I get wisps of smoke, cocoa and spicy rye, met at the midpoint by pine resin and juniper berries, along with sweet Meyer lemon. On the palate, it's actually more assertively roast and malt-forward than I remembered, but those notes of char and slightly herbal, spicy rye malt work wonderfully with hop character evoking more resin and pine needles, with delicate secondary citrus characteristics. Personally, I don't think it favors either "black" or "IPA," but instead celebrates the synthesis of the two.
And so, consumers will have their latest chance to show whether they really want to keep a prominent example of the black IPA style around, as Firestone will no doubt be paying close attention to how this iteration of Wookey Jack sells when sketching out the future of a three-time gold medal winning brand. For my own part, I remain rather cynical by nature—I have been under the impression that black IPA has become one of those styles that people pine and wish for, but don't necessarily buy a bunch of when they have access to it. Black IPA has a way of inspiring paeans of praise, but that admiration doesn't always equate to everyday consumption. Perhaps that's just the nature of a style with such a niche appeal. As Mitch Steele once eloquently put it:
"It's funny, because when we discontinued Sublimely Self-Righteous I got a lot of angry people confronting me about it," says Steele. "And my response was always the same: 'When was the last time you bought one?' And they're like, 'Well, it was a year ago.' And I'm like, 'Yeah, that's why.'"
It's safe to say that the style's immediate outlook is in the hands of American craft beer drinkers. If you're a black IPA evangelist, it might be time to hit the streets.
---
Jim Vorel is a Paste staff writer and resident beer and liquor geek. You can follow him on Twitter for more drink writing.