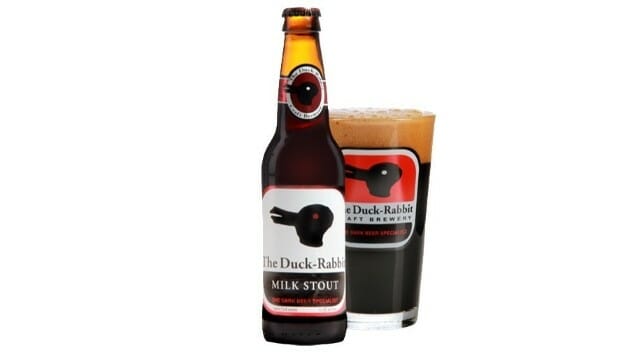 This essay is part of a series this month, coinciding with the concept of Flagship February, wherein we intend to revisit the flagship beers of regional craft breweries, reflect on their influence within the beer scene, and assess how those beers fit into the modern beer world. Click here to see all the other entries in the series.
As I've made my way through this month of flagship beers, I've attempted to illustrate that all styles are by no means created equally, when it comes to their likelihood to carry a company. We saw that with Allagash, which is supported by a witbier, or the unique blend of Belgian quad and kriek that is Ommegang's Three Philosophers. We saw it also with Left Hand, who managed to turn a milk stout (and eventually a nitrogenated one) into their year-round flagship, one of the only breweries that could ever make that claim. But there's another company that has also managed an unusual degree of specialization, and for whom milk stout serves a special function. Yeah, I'm talking about The Duck-Rabbit Craft Brewery.
I can't help but admire the purity of Duck-Rabbit's central conceit. They're a brewery that chose one corner of the beer world to focus on—darker beer styles—and they've absolutely stuck to their guns since the brewery began operation in 2004. Unlike so many other breweries that have appended their mission statements in order to include whatever is popular at any given moment, Duck-Rabbit seems to take its self-proclaimed title of "the dark beer specialist" quite seriously. They're not about to suddenly start cranking out hazy IPAs 16 years later—not when they can make hop-forward but still dark "American black ale" instead. You have to respect their commitment to an ethos, which they acknowledged with the following text:
There are lots of great beer styles Duck-Rabbit doesn't brew. Instead, it focuses on dark beers: a set of styles that had been under-represented in the beer market. There is an enormous range of flavor possibilities in dark beers – something for every beer fan! The hope is that this specialization can help to set The Duck-Rabbit apart from other breweries.
The crown jewel, though, and by far the most commonly sighted Duck-Rabbit beer, is the eponymous milk stout. Presented with plain old carbonation, as opposed to the texture-enhancing science of nitrogenation, a bottle of Duck-Rabbit Milk Stout tends to look like a throwback, the brand's simplistic label standing out against a sea of wildly colorful and flamboyant competitors. And that ends up being a rather apropos visual metaphor for the beer itself, which is a down-to-Earth, not flashy but undeniably delicious, textbook example of its style.
One has to assume that since 2004, Duck-Rabbit and this stout have more than done their part in building a new generation of dark beer devotees, perhaps acting as a first step on the road for the legions of beer geeks who now line up around the block to hoard cases of ____ brewery's newest breakfast cereal/candy bar pastry stout concoction. But there's no need to simply think of milk stout as some stepping stone toward an imperialized, flavor-bombed ideal. As I observed while re-tasting this beer, the humble nature of milk stout can be profound.
It had been at least a few years since the last time I tasted one of these, so let's get to it.
---
Tasting: Duck-Rabbit Milk Stout
First, here's how Duck-Rabbit describes their flagship stout:
The Duck-Rabbit Milk Stout is a traditional full-bodied stout brewed with lactose (milk sugar). The subtle sweetness imparted by the lactose balances the sharpness of the highly roasted grains which give this delicious beer its black color.
Accurate and informative, all in one—reminds one of a time when beer labels were more likely to deliver that sort of information, assuming that they would be ending up in the hands of someone who didn't necessarily know their way around beer styles.
On the nose, Duck-Rabbit Milk Stout strikes me as solidly roasty and slightly grainy, with dark chocolate highlights and a "coffee and cream" character that is quite appealing. It honestly is more assertively roast than I remembered it being from the past, and I am totally on board with that.
On the palate, the first thing I'm actually getting is a bit of toasty malt, before the dark chocolate and fresh-brewed pot-o-coffee notes take over. It's a bit creamy in terms of texture, as you likely associate with milk stout, but actually fairly light on the palate. That makes it very easy to drink, and eventually led to me jotting down "session milk stout" in my notes. One of the reasons for that is the fact that Duck-Rabbit Milk Stout is actually comparatively dry; certainly considerably more dry than most beer being brewed with the label "milk stout" these days. That's likely the product of being born in an earlier time, but it makes this stout an effortless session beer despite the slightly higher 5.7% ABV.
All in all, I find myself very pleasantly surprised by this one. Duck-Rabbit Milk Stout is a beer with character to spare—roastier and more flavorful than I remembered, while also being perhaps the easiest-drinking dark flagship I've come across in this series so far. As I finished my glass of this, the first thing I honestly wanted was another one. And if that's not what you want in a flagship, I can't imagine what you would want.
---
Jim Vorel is a Paste staff writer and resident craft beer geek. You can follow him on Twitter for much more drinks writing.