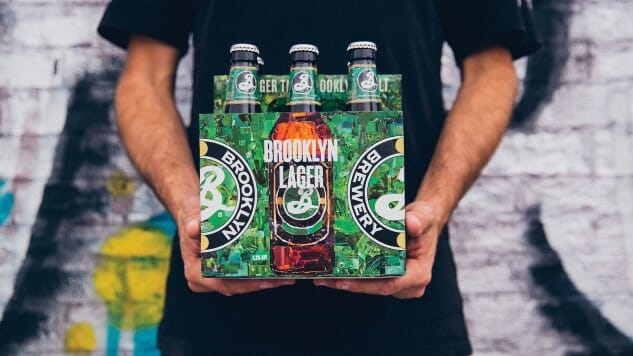 This essay is part of a series this month, coinciding with the concept of Flagship February, wherein we intend to revisit the flagship beers of regional craft breweries, reflect on their influence within the beer scene, and assess how those beers fit into the modern beer world. Click here to see all the other entries in the series.
Most of the time in this series, if it's a classic flagship beer that has existed since the mid-1980s, then I probably sampled it for the first time in the mid-2000s during my initial craft beer exploration after turning 21. Brooklyn Lager, on the other hand, is an unusual exception—I never lived in a market that had any access to Brooklyn Brewery until the mid-2010s, when I was already more than a decade into my beer journey and working at Paste as a full-time beer writer (among other things). Which is to say: By the time I finally got to sample some Brooklyn Brewery beers, they caught me in a moment when I was most likely to overlook a flagship simply labeled as "lager."
Surely, things would have been different if I had been living in New York during the 1990s and 2000s, when Garrett Oliver and Steve Hindy's Brooklyn Brewery was carving out a niche for itself as a bastion of forward-thinking craft beer in a time when the New York scene was largely overlooking the entire beer movement. Make no mistake: As in L.A., craft beer took a surprisingly long while to build real cultural cache in New York City, whose restaurants in particular seemed determined to hold on to the perceived hierarchy of wine > beer. Had I lived in the city in those days, I would likely have possessed a deep familiarity with Brooklyn Lager, a trendsetting move toward fuller flavor that paved the way for the explosion of breweries to come, in the same way that the similarly titled Boston Lager did in its own market.
Really thinking more deeply upon Brooklyn Lager for the first time, though, with the calendar now reading 2020, I'm struck by the shared DNA present between this beer and the aforementioned Boston Lager, which was arguably the first "microbrew" of its era to break big in a national way. Consider: They're both amber lagers. They both cite 1984 as the year they were first brewed. They're both marked by hop flourishes, although Brooklyn goes noticeably further in that department. And they're even within .2% in terms of ABV. Given all that, one wonders if there's an alternate universe where it's Garrett Oliver that football viewers coast-to-coast would recognize as "that guy from the microbrew beer commercials," rather than Jim Koch.
Perhaps it's partially due to the fact that things aren't switched, though, that Brooklyn retained some greater degree of its hip urban aesthetic over the years, persevering as a go-to brand of cool, indie concertgoers long past the time when something like Boston Lager was having considerably more difficulty projecting any sense of youthful vigor. Granted, Brooklyn has faced the same domestic sales challenges as most other larger regional breweries with more than 8,000 competitors now on the scene, and has ultimately dallied in new avenues like (surprisingly tasty) non-alcoholic beer, but the rock-solid profile of Brooklyn Lager also funded an array of groundbreaking experimental beers, from barrel-aged barleywines like Hand & Seal, to cocktail-inspired riffs such as Improved Old Fashioned.
Brooklyn's flagship likewise stands as one of only a handful of prominent craft lagers from its era that can make that claim, rising to prominence in a time when many craft brewers eschewed the world of lager entirely, either calling them cost-prohibitive for the extended tank time they required, or identifying them as the sole domain of the giant macro brewers. That Us vs. Them mentality ultimately played its part in setting back the proliferation of craft lagers by decades, but as we now enter what amounts of a new lager golden era, it only seems fair to pay deference to the innovators like Brooklyn Lager that got us here.
So with that said, let's get to revisiting Brooklyn's flagship.
---
Tasting: Brooklyn Brewery Lager
Here's how the brewery describes Brooklyn Lager, which is now sold in both bottles and cans:
Brooklyn Lager unites flavors of toffee, toast, and caramel with a dry-hopped aroma full of grapefruit, flowers, and pine. Whether it's in your favorite pint glass, a trusty bottle, or versatile can, Brooklyn Lager is the beer for the job. If you're looking for the dry-hopped amber lager that changed the world, look no further.
Well, that description is certainly on point—one of the most accurately described beers of this Flagship February series so far, in fact. My own notes echo an almost identical set of tasting notes.
On the nose, my first impression is that Brooklyn Lager is noticeably more hop-forward than I remembered it being from years ago, with a delicate, slightly perfumey aroma of florals, lemon thyme herbaceousness and woodsy pine, with hints of toasty bread following up the hops. It's a balanced profile that suggests both American hop influences and no shortage of balancing malt, although both aspects are mild-to-moderate in terms of intensity. In other words, it smells inviting and easygoing.
On the palate, this beer is slightly toasty and very drinkable, balanced by moderately assertive hop notes of florals, pine and citrus zest, although this is far more of a "green" profile than a fruity one—which is genuinely refreshing, in a time when so many beers are banging on about their earth-shattering juiciness. Faint bitterness also helps lend an overall balanced impression—this is a true median point between malt and hops, rather than a beer that leans noticeably in one direction, as I observed in something like the sweeter, more overtly malty Alaskan Amber Ale. Brooklyn Lager finishes dry, with a floral bitterness that cleanses the palate for that next swig.
I can only imagine how many Brooklyn Lagers have been consumed with food across the five boroughs in the last three and a half decades, and I would never dream to recommend anything in terms of pairing when we're talking about a beer brewed by Garrett Oliver of all people. But I will say that of all the beers I've tasted in this Flagship February project so far, none of them have called out so clearly for a specific type of food as Brooklyn Lager seems to cry out for pizza. Pizza, folks. Make it happen this February.
---
Jim Vorel is a Paste staff writer and resident craft beer geek. You can follow him on Twitter for much more drinks writing.