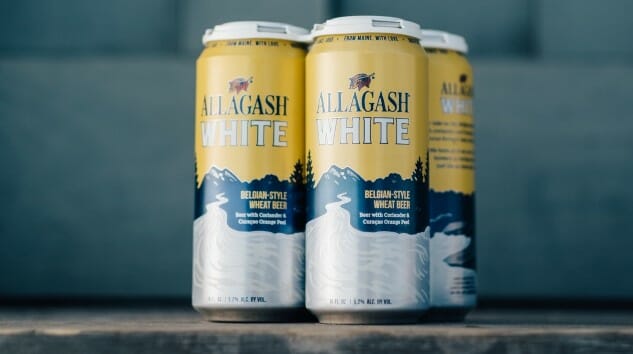 This essay is part of a series this month, coinciding with the concept of Flagship February, wherein we intend to revisit the flagship beers of regional craft breweries, reflect on their influence within the beer scene, and assess how those beers fit into the modern beer world. Click here to see all the other entries in the series.
With a lot of the flagship beers in this series, we find ourselves telling stories about brands that seem to be struggling against the headwinds of modernity. These are the decades-old pale ale recipes that seem staid in comparison with modern hop bombs. They're the forgotten amber ales that are a true challenge to sell to customers who rarely have any interest in nuance or balance. It's the non-adjunct porters or stouts that now seem quaint when surrounded by beers chock full of coffee, vanilla, lactose and breakfast cereal. For a lot of these breweries, the reality of Flagship February amounts to a plea—hey, come back and please reacquaint yourself with this brand you used to drink a decade ago, okay?
Not so, when it comes to Allagash Brewing Co. and its remarkable White. Perhaps no other craft brewery in the U.S.A. is both so respected and so financially dependent upon the vitality of a single thriving, beloved flagship brand. White is a mythic figure; a beer loved both by "first time" craft beer drinkers and the hardcore veterans who have been following the scene for decades. It both flies under the radar and regularly generates paeans of praise from beer writers. It still makes up more than 80% of all Allagash's production, funding the brewery's ability to innovate and make immaculate wild ales and other styles that are critically acclaimed but much less fiscally profitable. And its newfound success in cans (still a great novelty) helped to push Allagash past 100,000 barrels of production in 2019 for the first time ever.
White is, in other words, pretty much the ideal flagship beer that any brewery would want to have, and Allagash is incredibly lucky to have it. We beer geeks of the world, when we look at Allagash as a brewery, have a tendency to first think of complex, heady releases such as Coolship Resurgam, Mattina Rossa or the classic Curieux, but they're all ultimately a drop in the bucket in terms of the brewery's full production. Realizing just how much White the company produces—and just how much of it is consumed by the rank and file drinkers—has the effect of reorienting one's own perspective within the beer world. "Ah," you think—"I must be one of those beer geeks. Here I am salivating over the brettanomyces funk coming off this coolship, when 80% of the people in here are just ordering another pint of White." It reveals that for all the noise we make about the virtues of challenging, complex beer styles, what a huge proportion of the drinking public wants is something approachable and balanced.
And that's Allagash White, which manages to sneak beautiful complexity into a beer that is also incredibly easy to drink. When it was first brewed in 1995, there were almost no other American-brewed Belgian witbiers in existence, and Rob Tod and crew had their work cut out for them in evangelizing for a new style that few in this country had ever sampled. A decade later, it was a popular style in brewpubs across the country, and you can bet that Allagash (as well as the inferior Blue Moon, if we're being honest) was a major player in taking witbier from largely unknown in the U.S. to being seen as a relatively safe bet.
For my own part, Allagash White is also one of those beers that I am always excited to drink, even when I've had one recently. It's a savior of mediocre pizza joints, airport lounges and corner bars everywhere, and the first time we blind-tasted wheat beers at the Paste office, it finished at #1 handily.
Think for a moment about what that implies. What other flagship beer, in existence for 25 years, can still be regarded as a strong contender for the BEST pure version of that style? Can you even suggest an IPA from 25 years ago that is beloved by the vast majority of craft beer geeks? Didn't think so. White is a truly unique beast. So with that said, let's re-taste it.
---
Tasting: Allagash Brewing Co. White
First, here's how Allagash describes White:
So what is in Allagash White? It's a wheat beer, so we add both red wheat and raw white wheat. We also add oats, to boost the beer's body and mouthfeel. To land at its signature spiciness, we add coriander and Curaçao orange peel during brewing. We then ferment it with our house yeast and condition it when it's packaged with a bit of extra yeast and sugar, to bring the beer up to full carbonation inside the bottle or can.
I'm actually not sure I knew that about the oats in the grist, but it makes sense, as one of the hallmarks of White is a luxuriously smooth mouthfeel that feels significantly more substantial than its modest 5.2% ABV.
On the nose, this is classically bready and yeast forward, with exotic, peppery spiciness that sets it apart even from other witbiers, many of which lean heavily on citrus. Allagash White, in comparison, is less interested in a big citrus addition than the spice (pepper, coriander) and fruit notes (a bit of pear?) it pulls from its yeast strain, and the doughy quality of the wheat malt.
On the palate it is likewise quite bready but still fairly crisp, with hints of honey sweetness and a grain character like a bowl of Honey Nut Cheerios. Supporting that chewy, bready backbone are hints of dry, pithy citrus, some green banana and again lots of spice—it's really the coriander and peppery notes that make White so distinct in our book, as well as its dry finish. Whereas imitators in the mold of Blue Moon took the Belgian witbier framework and ran with it by making sweeter, fruitier beers that would suggest the same lust for sweetness that currently typifies IPA, White's choice was to stick to a more classical, sophisticated profile. It's a beer that feels very mildly decadent when all is said and done—a treat, but a reasonable one. Certainly, one of the most likely responses to finishing a pint of White is to order another, which is how a beer like this retains its position as the flagship.
So yeah—no surprises here, because surely you must have expected me to write exactly what I've written. This is Allagash White, after all. If there's a King of the Flagships, this is it.
---
Jim Vorel is a Paste staff writer and resident craft beer geek. You can follow him on Twitter for much more drinks writing.