Blind-Tasting and Ranking 51 of the Best American Stouts (under 8% ABV)
Photos by Eric Van Allen
Drink
Lists
This is probably not an opinion I share with any other members of the Paste staff, but if I was told I had to choose only one beer style to drink for the rest of my life, I might very well choose stouts. And not imperial stouts, either.
Stouts are comforting. Their ingredient bills don't exactly allow for quite as much variation and customization as say, IPA with its hundreds of distinct hop varieties, but when you consider all the subsets of stout, there's quite a lot to keep you busy, while also giving a sense of warmth, security and backbone. Often misunderstood because of their imposing color, it's a style that is still something of a mystery to those outside the craft beer brotherhood. I can't tell you how many times I've encountered non-beer geeks, or people just starting down the road of beer appreciation, who believe that all stouts are more or less the same. And of course when they say that, they're probably thinking of Guinness.
The truth is, of course, that an oatmeal stout is not a milk stout, any more than a coffee stout is a spiced or fruited stout. Because we defined "imperial stout" as all stouts 8% ABV and above when we tasted standard imperial stouts and barrel-aged imperial stouts last year, "under 8% ABV" was the obvious cut-off point to define sub-imperial stouts. And so, that's what we did. We gathered as many sub-8% ABV stouts of all kinds that we could get our hands on, and we got to blind-tasting.
---
Rules and Procedure
Every entry is defined as a stout, and all sub-categories are welcome as long as they're under 8% ABV. There are American stouts, oatmeal stouts, milk stouts, chocolate stouts, coffee stouts, spiced stouts, Belgian stouts, fruited stouts and even a couple barrel-aged stouts all present.
There was a limit of two entries per brewery.
Tasters included professional beer writers, brewery owners, beer reps, homebrewers and assorted journalists. Badass, Paste-branded glassware is from Spiegelau.
Beers were judged completely blind by how enjoyable they were as individual experiences and given scores of 1-100, which were then averaged.
---
The Field: Beers #51-21
The following beers represent the offerings that didn't make the top 20, aka "the finals." They're listed below in alphabetical order and are not ranked. To be honest, we enjoyed almost all of the stouts set in front of us—it's a style that most breweries do quite well, but we were also pleased to note how the cream of the crop still managed to rise to the top. Still, many of these beers were only a few points away from jumping into the top 20, so don't feel too bad if your favorite is among them.
Once again, these beers are not ranked.
Against the Grain 35K Milk Stout
Alaskan Brewing Co. Stout
Asheville Brewing Co. Farewell to the Mothership Pt. 2
Avery Out of Bounds
Bell's Kalamazoo Stout
Blue Point Oatmeal Stout
Blue Point Oyster Stout
Elysian Dark 'O the Moon Pumpkin Stout
Flying Dog Pearl Necklace Oyster Stout
Hopworks Urban Brewery (HUB) Survival Stout
Left Hand Milk Stout
Ninkasi Oatis
NOLA Irish Channel Stout
North Coast Old # 38
Ommegang Lovely, Dark & Deep
Redbrick Divine Bovine Chai Stout
Red Hare Sticky Stout
Rogue Chocolate Stout
Rogue Shakespeare Stout
Salty Nut Dahkness
Salty Nut Coffee Dahkness
Schlafly Oatmeal Stout
Sixpoint Irish Hello
Sixpoint Oyster Stout
Ska Autumnal Mole Stout
Ska Working Class Milk Stout
Stone Coffee Milk Stout
Tallgrass Brewing Co. Buffalo Sweat
Tallgrass Brewing Co. Bourbon Barrel Buffalo Sweat
Warped Wing 10 Ton Oatmeal Stout
Yards Brewing Co. Love Stout
Next: The finals, beers #20-1
The Finals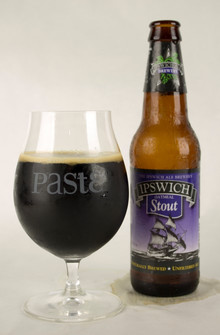 20. Ipswich Ale Brewery Oatmeal Stout
City: Ipswich, MA
ABV: 7%
The verdict: This brew from the underrated Ipswich struck us as a bit unusual for an oatmeal stout, and not quite as one might expect for the substyle. It's not so creamy as you often get from the oat addition, but it does have the full body. Notably bitter, it's unexpectedly hop-forward on the nose, which couples with the bitterness to create something closer to "black IPA lite" than expected. The dark side of the flavor palette comes through strongly, however, with lots of coffee and burnt, ashy roast. Dry and bitter, with big flavor and an assertive presence, it reminds us more of "American stout" than classic, British-inspired oatmeal stout, but it's a very tasty and characterful beer.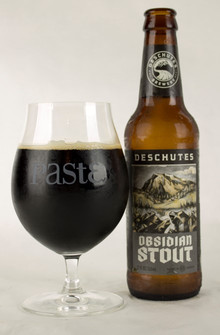 19. Deschutes Obsidian Stout
City: Bend, OR
ABV: 6.4%
The verdict: A classic American stout that has long been considered a benchmark for the style, Obsidian features a redesigned label since we last saw it that evokes a certain heavy metal aesthetic we weren't exactly expecting. Thankfully, though, the beer is unchanged—A rich, fairly sweet and roasty stout that evokes powerful coffee impressions despite not actually using coffee beans in the brewing process. A bit of hops are in there as well, but not so noticeable as a few of the other American stouts on the table. What it reminds me of more is an Irish dry stout that has been amplified and filled with more character—residual sweetness incorporated to give it more of a soul, but without losing any of the strong, assertive roast. It drinks frighteningly easily. Most of the year-round beers from Deschutes are excellent, but this is still among their best.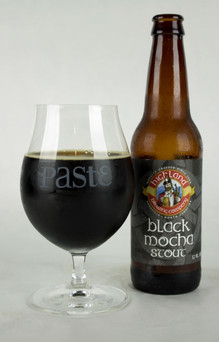 18. Highland Brewing Black Mocha
City: Asheville, NC
ABV: 5%
The verdict: Here's a beer we've all had before, but tasting it alongside a bunch of other stouts, it's interesting how it stands out. Hops are the deciding factor—among the beers in the finals, this may have been the hoppiest of them all, with clean, pleasant hop aromas of orange and pine on the nose that were easy to pick up in comparison to all the others. The malt character is dark chocolate and fairly dry, making for an easy-drinking pint that is balanced by that hop backbone—more hop flavor than hop-derived bitterness. Tasting it, you might think it was some kind of "West Coast American stout," but instead it's North Carolina. Regardless, this may be the best year-round beer that Highland makes, superbly balanced stuff.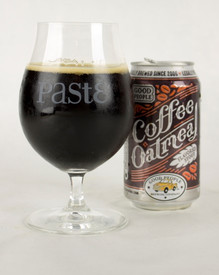 17. Good People Coffee Oatmeal Stout
City: Birmingham, AL
ABV: 6%
The verdict: Balance is nice to see in a coffee stout, and this beer from Good People highlights that quality. On the nose, the coffee is spicy and has some of that vegetal, bell pepper-like quality that you'll find in certain coffee applications—or as another taster described it in his notes, "sharp and fruity." That can sometimes be a negative point, but the deft use of the coffee makes it just one note among others here. The oatmeal contributes a creamy, rather silky mouthfeel that also works well. Sweetness is medium and well-balanced, which is really just this beer's byword. It's probably the oatmeal that helps soften the coffee impression and bring it all together.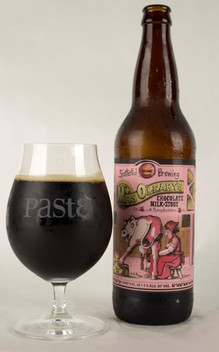 16. Spiteful Brewing Mrs O'Leary's Chocolate Milk Stout (/w raspberry)
City: Chicago, IL
ABV: 7%
The verdict: Spiteful's raspberry take on their "chocolate milk stout" was the most overtly fruity beer to make it into this lineup, although there were a few others as well. A few tasters had trouble reconciling how powerful and fresh the raspberry aromas and flavors are with their presence in a stout that is otherwise meant to highlight creamy, sweet chocolate, but the rest of us thoroughly enjoyed how those flavors came together. The raspberry flavor, as suggested, comes through pretty intensely, but there's plenty of chocolately backbone as well—it actually had us joking about its aesthetic similarities to the new "raspberry frappuccino" from Starbucks. This is not what you would call really "serious" or dignified beer—this is wish-fulfillment novelty beer, done well, and there's nothing wrong with that. If you know a chocolate raspberry lover, seek this one out.

15. Brewery Ommegang Take the Black
City: Cooperstown, NY
ABV: 7%
The verdict: Knowing that we would be tasting stouts in November, we've been holding onto this Game of Thrones collaboration from Ommegang for a little while, since it was rereleased with the rest of the series. The Ommegang house yeast doesn't pop as hard on this one as it does on most of their beers, which feels like a plus in this Belgian stout style—you get some of those farmhouse esters, spice and fruitiness, but it doesn't get ridiculous and you'd still know you were tasting a stout if you were blindfolded. There's a nice undercurrent of baker's chocolate and a dry, nutty/bready note that you might expect to find in a dunkel or a dubbel. It's a good synthesis of its Belgian-inspired origin and a stout grain bill. And really, what style of beer other than stout could really be the proper standard-bearer for Game of Thrones?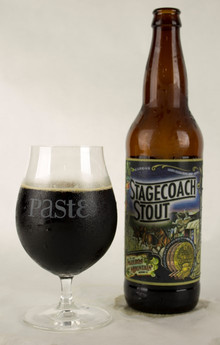 14. Figueroa Mountain Stagecoach Stout
City: Buellton, CA
ABV: 5.6%
The verdict: This beer is a perfect example of exactly what you should be expecting if you sidle up at your neighborhood beer bar and order an oatmeal stout. Perfectly balanced, it cleanly and concisely hits all the notes you'd be expecting: Dark chocolate. Coffee. A little touch of smokiness. It boasts a bigger mouthfeel and body than the ABV would lead you to suggest, and the oats give it that characteristic smoothness that makes it drink very, very easily. It's differentiated from some of the other oatmeal stouts by balance and by tidiness of presentation—the individual flavors are easy to pick up and equal co-stars. You get one, then the next, then the next before a drying finish that leaves you ready to head back for your next swallow. That's what a textbook stout is supposed to be. If you're going by BJCP definitions, this is right in the center of the bullseye.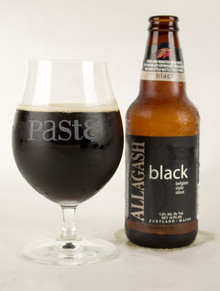 13. Allagash Black
City: Portland, ME
ABV: 7.5%
The verdict: The Belgian stout from Allagash hits the "abbey ale" profile more strongly than the farmhouse-like earlier entry from Ommegang, which works well with the darker malt profile. It's big on the classic banana/clove combination of aromatics, but there's also underlying spice and dried fruit—raisin, prune, etc., except mixed with dark chocolate syrup. It's a bit like a chocolate-spiked dunkelweizen, except with more booze. Think of it as a rich, especially dark abbey ale that would be at home with all variety of holiday desserts—would be pretty excellent with a big slice of pecan or pumpkin pie. Or you know, equally pleasant all on its own.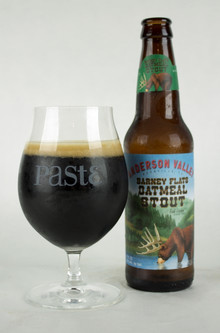 12. Anderson Valley Barney Flats Oatmeal Stout
City: Boonville, CA
ABV: 5.8%
The verdict: This beer from Anderson Valley is something of a classic of the style, and it's probably the best year-round beer they produce (unless their two goses count as a single entry). It features an interesting combo of flavors: subtle cocoa, light boozy/fruitiness and a granola-like graininess—fairly unique, even among all the other oatmeal stouts we ended up drinking in the course of this tasting. It's complex, but the volume of flavor doesn't hit you over the head—this feels like a beer you're supposed to be able to session. And thus, unsurprisingly, one of the tasters wrote as much in his notes: "A stout I could guzzle." Interesting beer that veers a little bit off the beaten path for oatmeal stout, but not so far that you won't recognize it for what it is.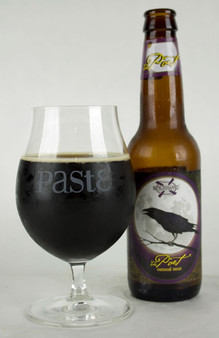 11. New Holland The Poet
City: Holland, MI
ABV: 5.2%
The verdict: Yet another oatmeal stout—I'm realizing as I type this just how many there were—but another good one that has been around for years. This tasting was interesting in that way; plenty of the beers that performed well were classic year-rounders that are widely available, something we didn't see quite as often in say, the IPA blind-tasting. The Poet is a bit lighter in flavor and body than some of the others, with mid-sweet flavors of caramel and toffee supplemented by light roast. It feels a tad more "English" in presentation than others, which was a welcome change of pace. It was hard to look past the drinkability in particular—the Paste tasters have a tendency to criticize stouts that are "thin," but this is one case where a smooth, lighter body was a feature that the majority of tasters agreed was a plus. It just feels like a stout to be consumed in a 20 oz imperial pint.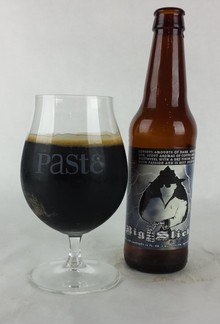 10. Ale Asylum Big Slick Stout
City: Madison, WI
ABV: 7%
The verdict: "Big" is right. In terms of volume of flavor/mouthfeel per point of ABV, this is one of the most assertive stouts we came across in this tasting, but it manages to do that without sacrificing balance too much one way or the other. With that said, the beer does lean toward the sweet side of the spectrum, redolent in rich, milk chocolate. It's exceedingly creamy and lush, very chocolate milk-esque, but thankfully stops somewhere before you ever start to think "cloying." A little boozy, a little fruity, but the main thing you'll keep coming back to is the richness of those cocoa flavors. This was significantly better than some of the chocolate stouts we sampled that actually used chocolate. It simply goes to show something we already know to be true—artfully-brewed beers can evoke specific flavors without directly adding that flavor to the beer.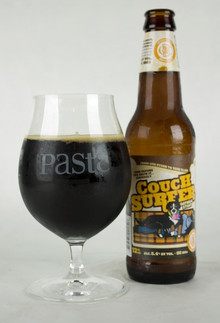 9. Otter Creek Brewing Couch Surfer
City: Middlebury, VT
ABV: 5.4%
The verdict: Vermont brewery Otter Creek makes its first appearance in our tastings in fine style with this excellent oatmeal stout. It's right down the middle for what you would expect of the style—one of the tasting sheets says "Yep, definitely a stout." Featuring plenty of roast and a little bit more pronounced smokiness that some of the other examples, it plays up the "dark" side of stout quite heavily. "Perfect example of a classic-style stout," wrote one taster in his notes. Three others all used the word "solid" in their notes. That's just literally what it is—a solid, clean, roast-heavy oatmeal stout with no off flavors or flaws. Sometimes that's all you need to crack the top 10—simply doing all of the little things right.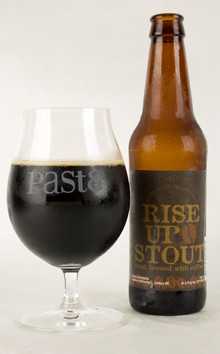 8. Evolution Craft Brewing Co. Rise Up Stout
City: Salisbury, MD
ABV: 6.8%
The verdict: Evolution seems to think of this beer as "Caribbean"-style stout, perhaps in the "foreign export" vein, with the addition of coffee. The coffee flavors are big, very big, but stop short of overwhelming all the other aspects of the beer. The body is full and quite creamy, with medium sweetness. Some of the tasters thought the coffee contained a spicy or peppery quality—one thought it might even be a chile stout of some kind. Subtle hints of vanilla and chocolate are in there, but it's definitely a coffee showcase; one that still finishes fairly dry compared to some of the other coffee stouts on the table. Just a tasty coffee stout by any definition.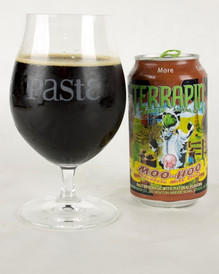 7. Terrapin Beer Co. Moo-Hoo Chocolate Milk Stout
City: Athens, GA
ABV: 6.0%
The verdict: Damn, is this some chocolately beer. The most perfect encapsulation of "chocolate milk" we encountered during these 51 beers, Terrapin's Moo-Hoo is how you do a very rich, sweet milk stout right. The cacao nib-derived chocolate flavors don't ring as artificial even though they're very assertive, and it's surprisingly complex—you'll also pick up notes of smoke and grain along with the sweetness. Regardless, though, this one is all about the chocolate and especially the lactose; it's probably the most obvious milk stout that we tasted in this entire lineup because it's just so wonderfully silky, luxurious and creamy. The most common criticism you might have with this type of beer is that it's overly sweet or cloying, but this one manages to avoid the pitfall, even as three different tasters all used the word "dessert" in their notes. Call it a beer that knows exactly what it is. It's a decadent treat, without the booze of an imperial stout and without too much straight-up sugar.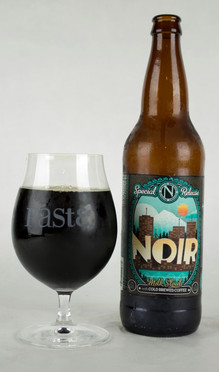 6. Ninkasi Brewing Co. Noir
City: Eugene, OR
ABV: 7.6%
The verdict: This new coffee milk stout from Ninkasi hits you with an explosion of deep, dark, bitter, coffee flavor—very much like super dark roast Italian coffee. A true "roast bomb" in a lineup of roasty beers, it's very assertive and in-your-face, which made more sense once we saw that it was only a few tenths of a percentage away from the 8% ABV ceiling. Once it warmed and we got past the initial roast and coffee, some other flavors emerged—one taster noted "a hint of black cherry" in particular, which is certainly unexpected. It asserts the lactose side of the equation less than some of the others, certainly much less than the preceding beer, to offer a different kind of milk stout—drier, much more roasty, beer for the kind of people who like their coffee black, or maybe with just a dollop of cream. In terms of sheer volume of flavor, you certainly know it's one of the higher-ABV offerings on the table, but that doesn't show up in booze so much as a feeling of heft.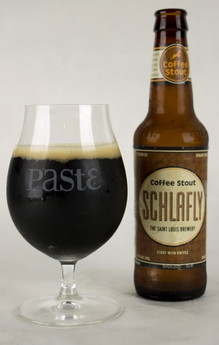 5. Schlafly Coffee Stout
City: St. Louis, MO
ABV: 5.7%
The verdict: Another coffee stout that is certainly not skimping on the coffee, Schlafly's offering is one they've been making and refining for a good while. Coffee flavors are big here once again, and it's another deep, dark roast. However, compared to the previous Ninkasi Noir, there's significantly more residual sweetness, even though Noir was the "milk stout" of the two. The sweetness here amplifies the coffee in the way that it sometimes does in these stouts, creating something very much like a tall pint glass of cold brew with plenty of sugar. The coffee is especially pleasant on the nose; this was one of the most appealing beers to smell of the entire tasting, which means everything—capturing the perfect coffee aromatics is a big part of the reason that the industry makes so many coffee stouts to begin with. This one would probably make for an amazing beer float with some vanilla bean ice cream.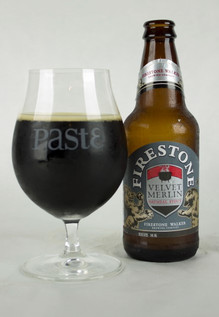 4. Firestone Walker Velvet Merlin
City: Paso Robles, CA
ABV: 5.5%
The verdict: Velvet Merlin is an oatmeal stout that zeroes in on several dimensions of flavor and then just executes the hell out of them. It has some interesting contradictions—you don't usually find a stout so luscious, so creamy, but also this dry. It has one of the most dense mouthfeels you're ever going to experience in a 5.5% ABV stout, and it's all derived via that oatmeal silkiness rather than say, lactose. Delicious coffee and a drier, more charred form of roast are the big flavors, along with some very dark chocolate. What you're probably thinking now, if you've read the whole rest of this piece, is that this description sounds very similar to a lot of them. And that's true. But as with a lot of Firestone Walker's takes on classical styles, it's a familiar type of beer that becomes memorable in their hands.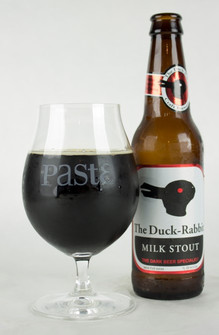 3. Duck Rabbit Milk Stout
City: Farmville, NC
ABV: 5.7%
The verdict: Here's a beer that's been made for more than a decade at least, is the brewery's flagship, and is still flying under the radar. Not many breweries have stouts as the flagship in general, but it makes sense for Duck-Rabbit, who bill themselves as the "dark beer specialists." This is also a beer I'd heard about for a long time but had never tried until now, having come from the Midwest a year ago. We tasted a lot of milk stouts here, but with Duck-Rabbit's we were struck by complexity—in addition to the creamy texture and chocolatey flavors you would expect, there's also a wonderful, berry-like fruitiness to it. As one taster wrote, "complex, but subtle." It feels like a beer with some age on it, a recipe that has been carefully tended to and dialed in over a long period of time. It tastes like craftsmanship.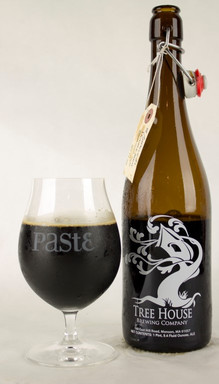 2. Tree House Brewing Co. Double Shot
City: Monson, MA
ABV: 7.6%
The verdict: Tree House is a brewery we've been hearing about for quite a while and trying to get into the tastings for almost as long. We certainly heard plenty about them in the comments section when they weren't represented in the IPA or DIPA tastings, but we weren't really expecting their first foray into our blind tastings to come in the form of a coffee stout. Oh, and what a coffee stout this is. Complex and hugely flavorful, this is definitely one of the beers that had us wondering if we'd accidentally let a stout above 8% ABV slip onto the table. The coffee character is dark, espresso-like and just a touch acrid, but backed up by deep, layered flavors of chestnuts, dark chocolate, smoke, light booziness and toffee. Some who taste this beer will doubtlessly come to the conclusion that it has too much coffee, or that the pungent aroma throws things out of balance, and that's a fair argument. The rest of those present will simply be happy to get more of it for themselves. It's a hedonistic sort of beer.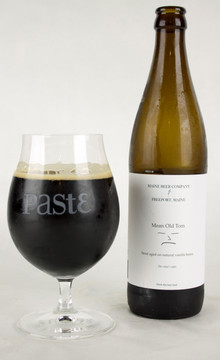 1. Maine Beer Co. Mean Old Tom
City: Freeport, ME
ABV: 6.5%
The verdict: The dominance of Maine Beer Co. in these blind tastings is officially starting to get spooky. We really had no idea what to expect from this particular beer, especially because we've never tasted anything from MBC that isn't hop-forward. They were juggernauts in the 116 IPA blind tasting, but that didn't give us any indication of what we should be expecting from the same brewery when the beer in question is an oatmeal stout aged on vanilla beans. Could they really be as good at making this style of beer as they are at making hoppy beer?
Long story short: Yes, they're really that good, although it's a victory of subtleties rather than some of the flavor bombs also near the top of these rankings. Where the Tree House, Schlafly or Ninkasi beers all bring huge, in-your-face flavors to the table, Maine's offering is all about balance and the clean presentation of complex flavors. There's coffee; there's dark chocolate; there's a certain nuttiness; there's a bit of smoke; there's a perfectly balanced hit of American hops. The vanilla is there as well, but it simply contributes a subtle sweetness that pairs beautifully with the silky texture derived from flaked oats. It feels like a stout that exists between some of the other styles—partially oatmeal stout, partially "American stout," with vanilla bean as the x-factor. There's no denying that it's just a damn good stout.
---
Jim Vorel is Paste's news editor. He tends to like his stouts dry and roasty. You can follow him on Twitter.