This Guy Used 130,000 Social Media Reviews to Determine The Best Ballparks for Craft Beer
Photo via Getty Images, Justin Edmonds
Drink
News
Best ballpark for beer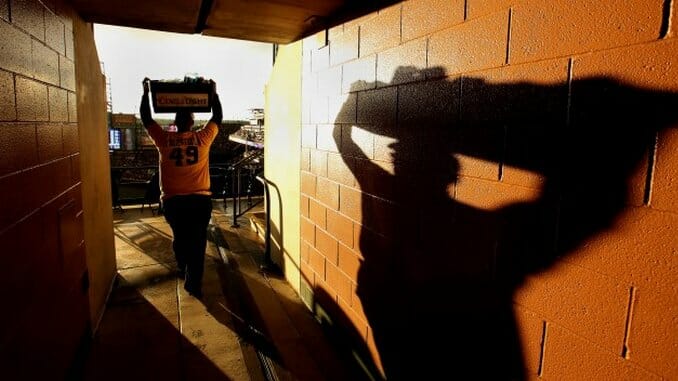 Ever wonder which MLB ballpark is the craft beer champion, at least in the eyes of the fans? Well, now we finally know. Thanks to the work of Max Schleicher, an ardent researcher and data enthusiast over at ReviewTrackers.com, we can say with some degree of certainty that the best craft beer ballpark in the country is Great American Ball Park in Cincinnati, Ohio, home of the Cincinnati Reds.
To determine that title, Schleicher devised an algorithm that pored over more than 130,000 baseball stadium reviews on social media platforms. Crawling through those reviews and using keywords to determine topics and fan sentiment, the algorithm was able to spit out overall rankings of all 30 MLB ballparks, in addition to specific rankings of various amenities such as hot dogs or craft beer selection. For example, the best hot dogs in baseball (according to fan reviews) can apparently be found at San Francisco's AT&T Park, while the absolute worst were at Atlanta's brand new SunTrust Park (ouch, considering that's right in our backyard).
But this is Paste, so what we REALLY care about is the all-important beer ratings, where the Reds come in #1 as a result of both variety and beer-related amenities. In an interview with Ohio.com, Schleicher discussed some of the aspects that made teams such as the Reds score so highly:
"Some Major League teams are wise to this," he said. "The Reds are front-runners because they offer local beer and a lot of selection. That's true of a lot the teams at the top. The Reds have an 85-foot beer bar with 60 taps. The Padres have a 30-plus local breweries on tap at Petco Park. The Indians have 60 different craft beers. Other teams are working to catch up. The White Sox opened up something called the 'Craft Kave' this year. As the name suggests, it's a section dedicated to craft beer. The symbolism is obvious: the White Sox tore down the old Miller Lite Lounge and replaced it with the new Craft Kave."
The takeaway is clear: Baseball fans care about their craft beer experience, and the teams of the league are renovating their facilities with this emerging market firmly in mind. According to Schleicher's data, the prevalence of fan reviews specifically mentioning "beer selection" and local beer has increased 24 percent in the last seven years, and that number is likely to continue growing. Notably, 15 percent of ALL mentions of "local beers" in those social media reviews are about Great American Ball Park, despite it being only one of 30 overall MLB parks. This suggests the effectiveness of Cincy's approach toward the craft beer market—give people local options, and they WILL get excited about them. It certainly doesn't hurt either that Ohio is perennially one of the best (and often most underrated) U.S. states for craft beer, with three different breweries (Columbus Brewing Co., Seventh Son Brewing, The Brew Kettle) placing in the finals of yesterday's blind-tasting and ranking of 176 double IPAs.
And while I'm on the topic, props to my own hometown Chicago White Sox, whose park took home the #1 overall rating for combined "food and drink," and a #6 spot in craft beer, despite being only 20th in the overall ratings. At least we do something well, right? Might as well be food and booze, if not "playing good baseball."