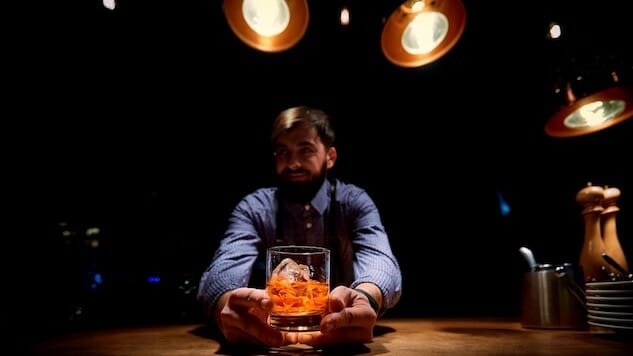 A lot goes through your head in the moments before running a triathlon, but every time I've been in that particular position I devote a second to mortality. Races split participants up by age group, and most ask you to Sharpie your age on December 31 to a calf. Before a recent event in Austin, Texas, that meant I donned "32"—somehow, that influential "21st" year will soon be more than a decade away.
Plenty of people have their first sip of alcohol well-before age 21, but you don't really learn how to drink until that initial rush has passed and you can experience the full breadth of what a bar can offer. When coming to the end of my first decade of dives and decadent drinks, I couldn't help but reflect on a handful of the bars (and their invaluable lessons) that have shaped me as I bounced from city-to-city in that familiar post-college journey.
How to appreciate a whiskey neat
Syracuse University, like many of its peers, hosts a fair share of parties. Earning steady showings in the Princeton Review list of biggest party schools, I encountered many a cheap beer and multicolored punch among its numerous off-campus basements. But the start of my genuine appreciation for alcohol happened not even two miles away. At Al's Wine & Whiskey, I slowly but surely learned how to take whiskey all on its own.
In my pre-21 days, whiskey seemed to only be available in shot glasses or paired with cola. And for an inexperienced palette used to only sugary or watery alcohol, the first harsh swig of Jim or Jack didn't show much potential. But on one faithful night, an older colleague took me inside this dimly lit oasis—a pinball machine in the back, LCD Soundsystem (or whatever the bartender chose) on the speakers, Ira Glass emblazoned on the wall, and the most glorious library-like arrangement of booze I've encountered to date.
Among Al's 1,800 available spirits, somewhere between 300-400 of them are bourbons. But the heat of Kentucky's finest doesn't qualify as entry level—for that, Chip the bartender guided me towards Irish whiskey. Bushmills neat became my gateway into the full body of the spirit since it offers the essence of whiskey without much of an after bite. I'd eventually graduate to heralded local options like Hudson Valley Baby Bourbon or shell out for special occasions with anything from the Dimple Pinch to Pappy Van Winkle (when I got my first job beyond Syracuse), but Chip's sage advice from those first sips of Bushmills has held true ever since: the only right way to take whiskey is how you like it. Because of Al's, I've had it neat, rocks, with a drop of water, and in cocktails. With apologies to Chip, I wouldn't advise it with cola ever again.
---
Always, and forever, tip your bartender
Few places in the world have elbow-to-elbow competition like a bar in San Francisco. So, on a weekend night in the Mission, be prepared to wait a bit between rounds.
That is, be prepared to wait if you haven't put in the necessary groundwork. Whenever we received our meager fellowship checks, a colleague and I would instantly head to the backroom at Dalva, a hidden oasis of advanced cocktails tucked inside a beer bar. It could be Wednesday at 5:30 p.m., but we'd be there trying bartender suggestions, asking about unusual bottles we spotted, and ensuring the end of the tab included the necessary thank-you. After all, these spirit savants had just spent an hour or more giving two 20-somethings informal lessons on everything from amaris and mixology to distilling and the city's bar landscape.
This process, it turned out, had two-fold benefits. On the learning front, we also got to try unusual spirits and more expensive whiskeys than we had a right to, as our trusted bartenders would offer (and join us in enjoying) complimentary samples to encourage curiosity. And on the relationship front, we became regulars—investing time, thought, and tips in appreciation. It didn't happen overnight, but at some point those Friday night lines became a bit more navigable. Though to be honest, we (rightfully) enjoyed the weekday stints more.
---
Floral is your friend
Pretense has no place in a well-rounded appreciation of alcohol. Yet, many an aged imbiber still scoffs at a perfectly delectable Tiki offering, or a light, fruit-forward spritz. I, too, once made such silly mistakes. After first learning to appreciate spirits through whiskey, all I'd order would be whiskey-involved menu items.
The Tavern in Tulsa changed all that. Walking inside this beautiful, postcard-like pub instantly puts you at ease—the aesthetic tells you whatever you order will be good (even if the skeptic inside you says, "wait, does Tulsa do cocktails and isn't the Hanson recording studio down the street?!"). That's a good vibe, because The Tavern's menu absolutely challenged you to move beyond your comfort zone. If you wanted more than a drink during a given night, you would most likely have to move beyond your preferred spirit.
By opting for playful pop-culture names and unusual ingredients, the bar partially removed one of the biggest hurdles for tasting experimentation—uninformed bias. Entomologists say if you want people to try crickets, for instance, serve 'em before you explain 'em. Here, a love for Mad Men may interest you in "The Joan Holloway," which means exposure to barrel-aged gin and the elderflower goodness that is St. Germain. Francophile orders for "The Birkin & Gainsbourg" brought you Lillet Blanc and tea-infused spirits. The Bombay Gimlet (which, OK, obviously contains gin) ultimately educated me on an appreciation for things beyond brown spirits—for my money, a juniper bouquet has never met a better partner than curry.
---
A great bar is a neighborhood bar
In New Orleans, you can drink anywhere. The city's infamous open-container laws and famous go-cups have charmed locals and travelers alike for decades, meaning bars in the city have a higher threshold. So, if you want clientele, you need to do more than offer alcohol—people need a reason not only to come, but to not simply grab and go.
Well people don't just come to Twelve Mile Limit, they come back and stay awhile. Located far beyond the raucous French Quarter, the hip Marigny-Bywater, or even the student-centric sections of Uptown, the Mid-City pub has intentionally served its community better than any pub I've frequented. In this unassuming dive, I learned what to look for when considering becoming a regular somewhere.
Owner T. Cole Newton has a passion for his city and an understanding of its changing dynamics post-Katrina, so he's modeled his bar accordingly. Drinks are creative and delicious but priced for the diverse working class area it calls home ($2 PBRs sit next to delicious local Milk Stouts only a few dollars more; the slowly-becoming-iconic Baudin—whiskey, honey syrup, lemon, and tabasco—is a $12+ cocktail in any other city but just $6 here). Events at the bar are driven by patrons and meant for all: dance parties to Saints games, free food open mics to routine pub quizzes, local candidate town halls to blood drives for Louisiana areas in need. The bathrooms explicitly welcome non-binary and transgender patrons, and signage encourages people to reach out to staff if someone's been overserved or if they're making unwanted advances. This space welcomes everyone to come stay awhile, and more importantly it seems to offer whatever reason you'll need to indulge.
---