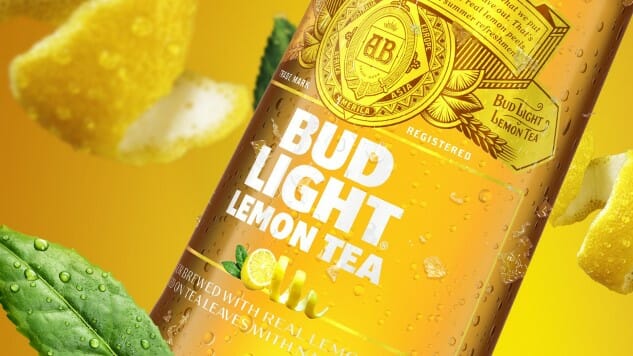 Somehow, I almost let this one slip past me. Perhaps I've just grown bitter and hardened against the idea of being made queasy by AB InBev press releases, but any time you add a new twist of bizarro flavoring to America's most popular (and foul-tasting) light beer, it's an event that should be worthy of some degree of scorn. Bud Light did finish at #22 out of 30 "cheap lagers" back when we blind-tasted those, after all … and the majority of ones it beat were of the malt liquor variety.
This latest twist on the Bud Light formula—which sells less beer every year, putting AB InBev in an increasingly desperate position—is "a light lager brewed with real lemon peels and aged over real black tea leaves to give the beer its distinct flavor profile." The company's press release claims that Bud Light Lemon Tea "complements the already popular Bud Lime and last year's number one new beer innovation, Bud Light Orange, which is also brewed with real lime and orange peels."
Can you just self-declare something as any given year's number one beer innovation? If I claim that my latest homebrew IPA is last year's most vital beer development, does it become true?
"As the number one selling beer in America, it is important for us to continue to innovate and bring consumers the types of products they are demanding," said Bud Light marketing guru Andy Goeler, who previously oversaw AB InBev acquisition Goose Island. "We saw the success of Bud Light Lime and Orange last summer and wanted to bring another beer into our portfolio that uses real lemon peels and tea leaves in the brewing process. Bud Light Lemon Tea is a product that we think consumers are going to love this summer. Its unique taste profile is something we think is going to help attract new people to the Bud Light family."
And there it is, in all seriousness: "Attract new people to the Bud Light family." As the brand continues to bleed market share each and every year, AB InBev is always on the hunt for something, anything that might bring new consumers in the direction of Bud Light-adjacent products. They've run head first into the wall faced by any truly global brand—when there are no more markets to expand into, and enthusiasm for your product is waning every quarter, where can you possibly go from there? And the latest answer is "lemon tea."
Good luck with that, folks. Bud Light Lemon Tea hit store shelves this week, and is expected to be available through September.