Water, barley, hops and yeast—that's all it takes to brew beer, right? While these four cornerstone ingredients have remained the foundation of the brewing process for hundreds of years, the enormous boom of craft brewers around the globe has seen the process take on an entirely new meaning. As the industry continues to evolve, brewers are constantly experimenting with a cornucopia of unusual and inventive ingredients, including fruits, vegetables, herbs and much more.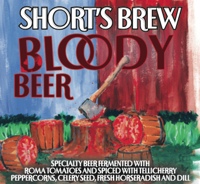 1. Short's Bloody Beer
City: Bellaire, Mich.
ABV: 7%
The Bloody Mary. While you might be more accustomed to seeing this popular cocktail served alongside a scrumptious brunch or as a lifesaving hangover cure, Short's Brewing Company of Bellair, Michigan has something else in store for us. Fermented with Roma tomatoes, then spiced with dill, horseradish, peppercorns, and celery seed, they recreated the Bloody Mary experience in a brand new, beery format. Sure, this sounds a little imposing, but don't be afraid to take a chance on something from one of the bravest brewers in the industry.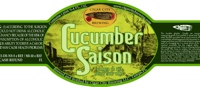 2. Cigar City Cucumber Saison
City: Tampa, Fla.
ABV: 6%
Refreshing, light-bodied and invigorating, Cigar City's Cucumber Saison is a play on a classic Belgian brewing style with the addition of the one and only cucumber. Designed to keep Tampa locals cool during the scorching hot summer months, this takes the vegetable out of the garden and into the brew to create a truly unique profile. Help yourself to an extra serving of veggies with Cigar City's combination of citrusy, fruity, hoppy and 'cucumbery' flavors.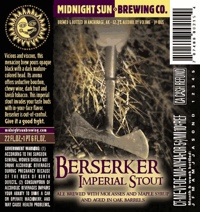 3. Midnight Sun Berserker
City: Ankorage, Alaska
ABV: 12.7%
The aptly titled Berserker hails from America's final frontier, delivering a monstrously delicious imperial stout drinking experience all the way from Anchorage, Alaska. As bold and fearless as the Norse warriors themselves, this viscous beer is brewed with maple syrup and molasses, then aged in bourbon and red wine barrels. After months of slumber in the boozy oak, Berserker is unleashed at nearly 13% abv, dropping a rich, decadent beat down of flavor that will leave your senses aching for more.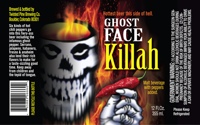 4. Twisted Pine Ghost Face Killah
City: Boulder, Colo.
ABV: 5%
This one has it all – Wu-Tang references, smoky chilies and the spiciest pepper on earth. A ridiculous 200 times hotter than our friend the Jalapeno, Ghost Peppers are so intense they've even been considered for use in hand grenades and defense sprays. Combined with a potent cocktail of Anaheim, Fresno, Jalapeno, Serrano and Habanero chilies, Ghost Face Killah is one of the most intense bottles of beer on the market, making up for its lower alcohol content with a flamethrower-like blast of peppery heat.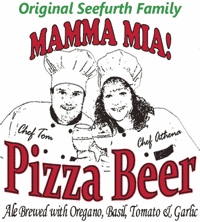 5. Mamma Mia Pizza Beer
City: Campton Township, Ill.
ABV: 4.7%
A homebrewing experiment turned novelty sensation; the Seefurth family's Mamma Mia Pizza Beer is one of the most notorious experimental brews lingering on shelves from coast to coast. Created by adding a margherita pizza to the mash, this utilizes everything from basil and oregano to tomato and garlic in an attempt to truly liquefy America's pizza obsession.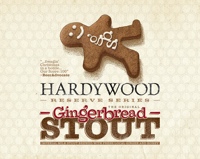 6. Hardywood Gingerbread Stout
City: Richmond, Va.
ABV: 9.2%
The famous holiday cookie is officially drinkable, thanks to Richmond, Virginia's Hardywood Park Craft Brewery. Brewers used Madagascar bourbon vanilla beans, Vietnamese cinnamon and milk sugar, combined with a sampling of local ingredients such as baby ginger and wildflower honey to transform the Gingerbread Man into a super smooth, robust stout. Settle in, kick off your shoes and enjoy the notes of chocolate, vanilla, gingery spice and warmth.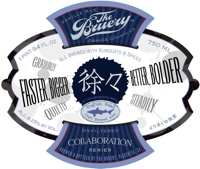 7. The Bruery / Dogfish Head Faster, Bigger, Better, Bolder
City: Placentia, Calif.
ABV: 8.25%
Originally brewed and inspired by the earthquake that hit Japan in 2011, this collaboration between two of the country's most popular and experimental breweries contained a wild mash-up of ingredients and styles from Eastern and Western culture. The base beer was created with rice, and then brewed with a traditional Japanese spice blend containing ginger, cayenne, white sesame seeds, black sesame seeds, poppy seeds, and nori. Finally, they added citrusy kumquats and fermented this crazy concoction with a blend of sake yeast to finish off their exceedingly complex recipe.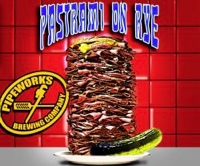 Pipeworks Pastrami on Rye
City: Chicago
ABV: 8.5%
No, you haven't stumbled into the local corner deli; this is one of Chicago's newer craft creations from Pipeworks Brewing Company. A nod to the traditional deli sandwich, brewers used a blend of 11 herbs and spices typically used to cure pastrami to create their sandwich-inspired beer. Mustard seed, bay leaf, red pepper, coriander, ginger, allspice, clove, caraway seed, Tellicherry black peppercorn, cinnamon, nutmeg, rye, dark candi sugar and smoked malt all join the party here, creating a potent strong dark ale with a complex, confounding profile.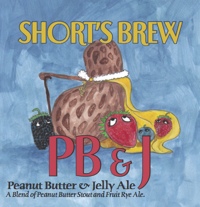 Short's PB & J Stout
City: Bellaire, Mich.
ABV: 8%
The team at Short's has consistently tested the limits of brewing since opening their doors in 2004, building up an enormous lineup of specialty beers, including their PB & J Stout. Created by blending Uber Goober (imperial oatmeal stout made with peanut puree) and The Soft Parade (fruit rye ale with strawberries, blueberries, raspberries and blackberries), this is a deliciously adult version of the popular childhood sandwich.