You're probably not going to decide which festival to attend based on the app you use to keep track of what bands to see where, but whether or not it crashes every five seconds definitely affects your experience. Choose wisely, unless you feel like a sharpie-filled arm or crumpled piece of paper is a better place for your festival agenda.
5. SXSWfm, by SXSW LLC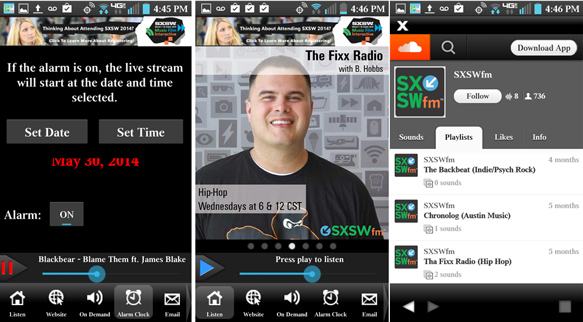 There's a reason the actual SXSW app doesn't make this list. It does every possible thing wrong: moves slowly, crashes often and doesn't sync your schedule between phone and computer (and sometimes fails to save it at all). The redeemer for the developers at SXSW is the radio app, which was a pioneer for other festival stations, and runs year round. The station features genre-specific shows, including Americana, Hip Hop and Indie. Chronolog, a program with Austin Chronicle's Chase Hoffberger and Kevin Curtin, showcases the local music scene, so you can hit up SXSW and ACL acting like a local, even when you're not. Their most popular programs are archived, and the app features an alarm clock so you can wake up in the know.
4. Newport Folk Festival, by Cantina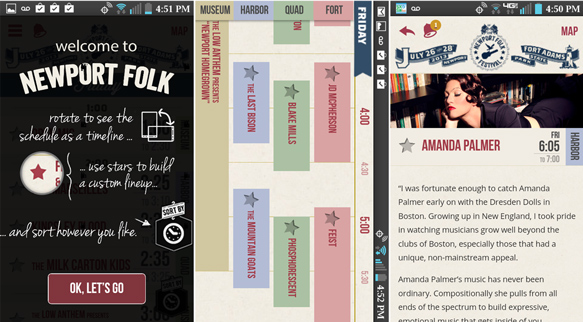 This refreshingly simple app has the essentials: map, news and lineup. You can't even buy your tickets on it, and that's what makes it great. Who downloads a fest app when they don't have tickets? Exactly. The schedule has the standard features (put a star next to the band you want to see), but with a literal twist: tilt your phone to switch between list and timeline format. It's a seemingly obvious touch that gives the app universal appeal.
3. Firefly, by Aloompa LLC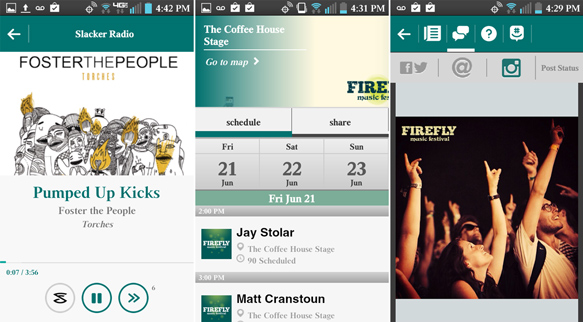 This one is the most extensive fest assistant that's made by the creators of the Governor's Ball, Electric Daisy and Hangout apps. These guys are known for their cute photo booth function, which lets you add souvenir festival filters to your photos and upload them directly to your social media outlets. This one has—you guessed it—fireflies to waft gracefully around you and your friends. Complete with festival map, Slacker radio station and an outline of the grounds' attractions, this app covers almost all the bases. Unfortunately, it lacks a live stream function, which the Aloompa guys included on their Hangout version. Another drawback is that the schedule doesn't include Thursday shows—yet. However, it does take you directly from your band of choice to their place on the map, which is good for those of us who aren't as proficient at remembering which part of the forest has which down-home-hipster name.
2. Coachella, by Aloompa and Goldenvoice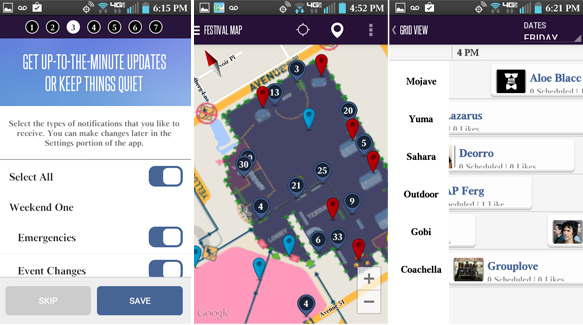 The Coachella app comes with photo booth courtesy of Aloompa (see above), and blows the rest out of the water in terms of setup. When you download the app, you're asked to specify your social media and notification preferences (emergencies, ticket info, etc). The app then uses this information to activate your wristband straight from your phone. Like the Hangout app, it includes the weather on the front page (why don't they all do this?), and you can view the lineup in grid, timeline, or list format, by day or stage. It improves on Firefly and SXSW with its Fun & Essentials page, which tells you where to find things like charging stations, dodgeball, and of course, the trademark ferris wheel.
1. Summerfest, by Crowd Torch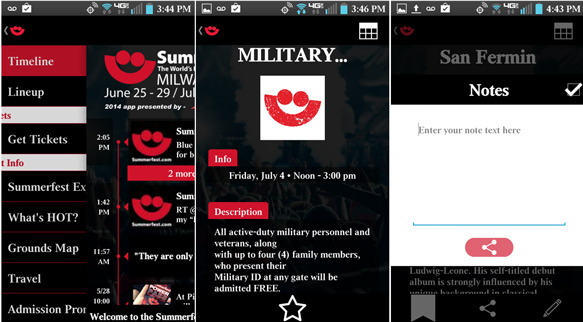 Arguably the world's first modern music festival (the inaugural Summerfest took place a month before Woodstock), Summerfest also boasts the most comprehensive festival app. Compiling the usual lineup, map, radio, photo booth, and social media, the Summerfest app also offers an admission promotions page, which allows visitors to scroll through and see if buying a ticket (also possible using the app) is really necessary that day. You can even donate to Goodwill, buy a motorcycle, or find a buddy in the military to be admitted for free on various days during the festival. The schedule is also extremely user-friendly, allowing users to flag their favorite artists, write notes on them, and share these with their social media followers. It beats scribbling on the back of your Shaky Knees booklet, that's for sure.