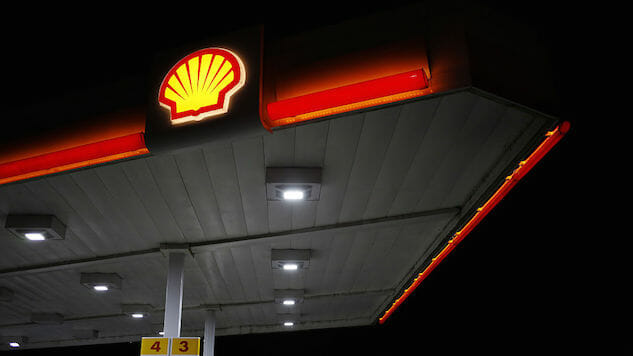 Visiting a recently built RaceTrac is like a lull. From the moment the automatic doors slide open and you step into the fluorescent glow, you're welcomed with the promise of choice.
The entire store begs to be noticed. Clusters of halogen light bulbs point to signs boasting fresh coffee, Crazy Cool varieties of sodas and slushies and contraptions like Swirl World, a self-serve frozen yogurt bar. High-definition screens around the space — behind the registers, beside an arsenal of coffee pots and between designated snack domains — parade coffee, donuts and tiny sandwiches, fare that's readily available in this timeless, fluorescent entity. Blue LED lights highlight Beer Heaven, a separate, chilled room stocked with craft and corporate brews, emulating the neon of the roadside's golden era, while classic rock hums from hidden speakers.
RaceTrac's subtle commercial strategy emulates the zenith of roadside commerce, seducing customers a sense of comfort and nostalgia that they never have to leave behind. What you're feeling is not the rush of road culture — it's carefully crafted commercialism paired with a sugar high.
Forty years ago, the signs glamorizing coffee and donuts weren't necessary, and convenience stores barely existed. Convenience stores swept in with a front so strong that people today mistake them for gas stations. Rather, we fill up at fuel islands attached to c-stores, a modern pharmacy shaped by more than a century of roadside consumerism. We live in a world where stopping for gas is inevitable, and the excitement waits inside.
In this realm, like RaceTrac says, endless options make life easier.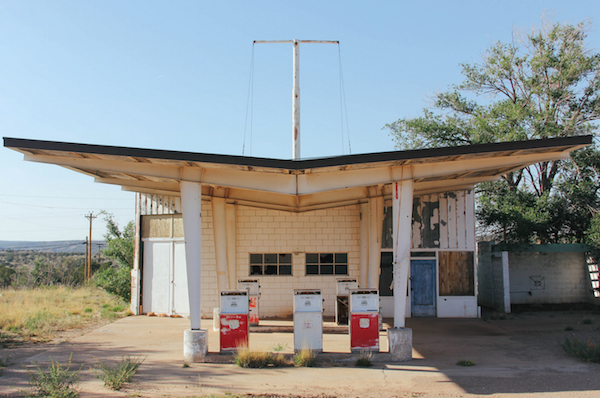 Photo: el toro/Flickr
To say that roadside culture wouldn't exist without gas stations is an understatement — in an age where automobiles were unfamiliar, the road collaborated with gas stations to form a relationship that revolutionized the way Americans travel.
The economic prosperity of the 1920s cranked out thousands of new automobiles each year. By 1925, American roads boasted 20 million motor vehicles. Meanwhile, the 15,000 American gas stations that existed by 1920 grew by approximately 12,000 every year until the following decade. An explosion of gas stations followed, both to support and exploit new drivers, and a series of brand wars ensued throughout the decade — car travel was even encouraged as an affordable alternative to trains during the Great Depression.
After a quick hiatus in the 1940s, the auto industry skyrocketed during the 1950s with pent-up Manifest Destiny and an economy swelling from the recent global war's revenue. Government spending shifted to roads, particularly the construction of the Interstate Freeway System, and commerce followed on the roadside, with gas stations, fast food restaurants and motels blooming along the highways. The rising number of vehicles brought highway expansion and more gas stations, weaving the road and the roadside together.
So, what happened to the humble gas station? Change.
The gasoline industry transformed in the 1960s with the widespread incorporation of self-serve pumps. Prior to the introduction of independent pumping, trained attendants refueled automobiles, adding a small service fee to the customer's total bill — today, New Jersey and Oregon are the only states that still have attendants, although a new law allows rural Oregonians to refill their own tanks at night.
For the first time in decades, the automobile and gas industries opposed one another instead of working together. Subsequently, the marketing turned to commodities that consistently won elsewhere, and stopping at the filling station became less about automobiles and more about passengers who needed a fix in the form of snacks, a clean restroom or a carton of cigarettes.
The remains of the golden age are mere skeletons, former visions of neon splendor with boarded windows and dusty walls. Now that the roadside splendor is gone, people mistake anything on the side of a rural highway for a roadside attraction. Desperate to reconnect with the nostalgia of the highway era, we search for old timey merit in fruit stands, outhouses and super-sized RaceTrac stores.

Photo: Matt McClain for The Washington Post/Getty Images
What then, is the contemporary roadside attraction? The one thing we haven't stopped needing. Decades after the original roadside attractions fell, c-stores have swooped in and assumed their role as entertainer. Consider the New Braunfels Buc-ee's, the world's largest convenience store. Empires like the Texas Chain have repurposed the art of refueling into a roadside attraction.
The stucco and stone monolith amasses 68,000 square feet and sits next to Interstate 35, surrounded by an archipelago of fuel islands on an asphalt lagoon. A bronze cast of the Buc-ee's Beaver stands before the entrance, asserting that this is no fuel stop, but instead roadside commerce's version of a theme park. In a state that prides itself on immensity and commercial culture, whether it's a multi-meat barbecue platter or a friendly neighborhood H-E-B, a convenience store the size of a football field still shocks. Rather than an anomaly, however, the convenience store's size is its winning characteristic.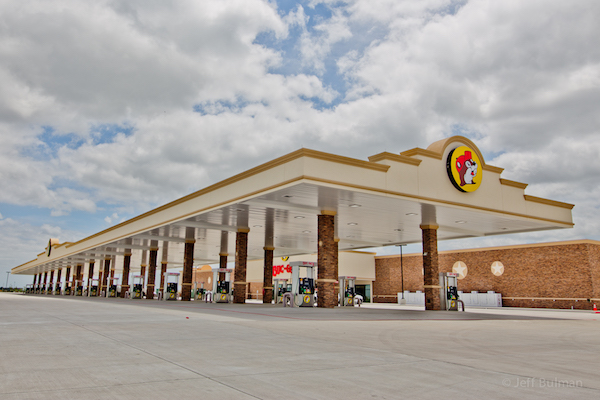 Much of the store's spectacle is credited in its placement. Nothing else is around, so it sticks out like a true roadside landmark. A billboard setting up anticipation for the record-breaking c-store declares this is the last chance for salvation in the form of petroleum and entertainment. The next 18 miles could be painstaking, especially for anyone with a weak bladder.
The only thing more ridiculous than the shop's gargantuan exterior is the inside, an explosion of snack foods, charismatic candy animals and junk emblazoned with a chipper beaver in a red baseball cap. Wackier draws include sporting paraphernalia, such as guns and kayaks, and a massive counter that slings salty meats ranging from sausage to beef jerky. And, like any smart tourist attraction, the New Braunfels Buc-ee's sells shelves and shelves of souvenirs: neon t-shirts reading, "It's a beaver!" and "Are we there yet?" on their backs, gleaming magnets, super-sized plastic cups and piles of stuffed toy beavers ranging from small to human-sized.
Buc-ee's exemplifies a temporary interpretation of convenience, one where quantity and variety override service. It isn't quick, seamless or simple. Unless it's to refill a tank, grab a snack or grace one of 84 impeccably clean toilets, there's no practical or convenient reason to visit. Instead, people come for the spectacle, the roadside gimmick that's been perfected over decades. Given its sheer size and extravagance, the New Braunfels Buc-ee's not only transcends the "get in, get out" mentality present in contemporary fuel chains, but also defies it. Buc-ee's is—and isn't—a convenience store, but it's also a tourist attraction that plays on misguided nostalgia.
Since the first gas station emerged over a century ago, roadside culture and human interaction with the fuel industry have shifted dramatically enough to alter the very definition of highway commerce. In an attempt to hold on to the road's past, we slather the highlights of Americana on institutions that don't fit — institutions that use our misguided nostalgia to their advantage.
The convenience store is sticking around, because it knows what we want.
Sarra Sedghi is Paste Food's Assistant Editor. She can usually be found arguing about mayonnaise on Twitter.