Banksy's New Hotel Has the Worst View in the World
Photos courtesy of Getty / Ilia Yefimovich
Design
Features
Banksy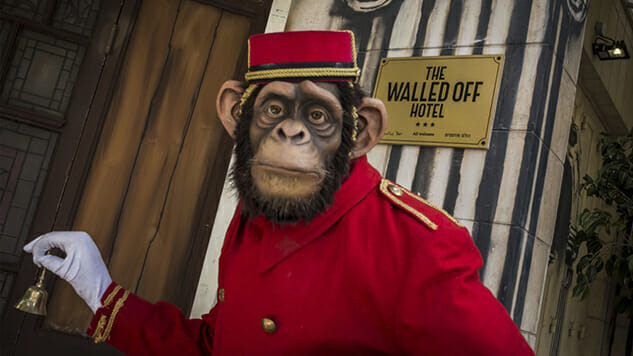 "Walls are hot right now, but I was into them long before [Donald] Trump made it cool," elusive street artist Banksy said in a recent statement. The British graffiti master, painter, and whimsically political agitator-of-the-art-world's latest project is the Walled Off Hotel, a carefully curated 10-room "destination" situated beside the controversial barrier wall separating Israel from the Palestinian territories. The barrier has remained a canvas for some of Banksy's most controversial paintings for over a decade. In the context of his latest work, the barrier wall becomes what the hotel building owner has deemed "the worst view of any hotel in the world."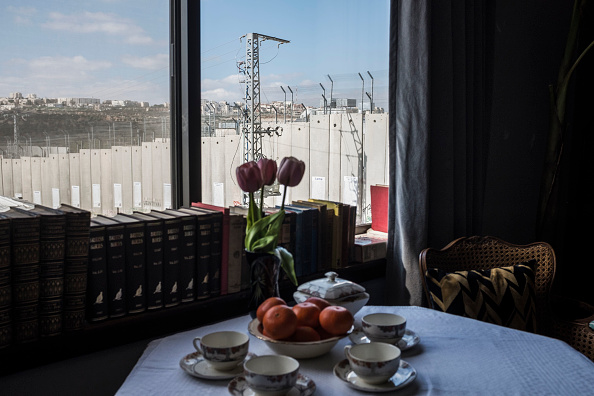 The ten-roomed hotel is the artist's latest attempt to inspire international dialogue surrounding the schismatic Bethlehem wall, disparately referred to as 'security fence' in Hebrew and 'wall of apartheid' in Arabic. Inside the dystopian getaway is a series of works by Banksy as well as a number of works from Palestinian artists, all carefully selected by the artist-turned-hotelier. Upon stepping into the lobby, guests are greeted by a series of Greco-Roman inspired cherubs dangling above a baby grand piano. These angels are no guardians, though, as they appear to be falling violently, their faces affixed with in-flight oxygen masks.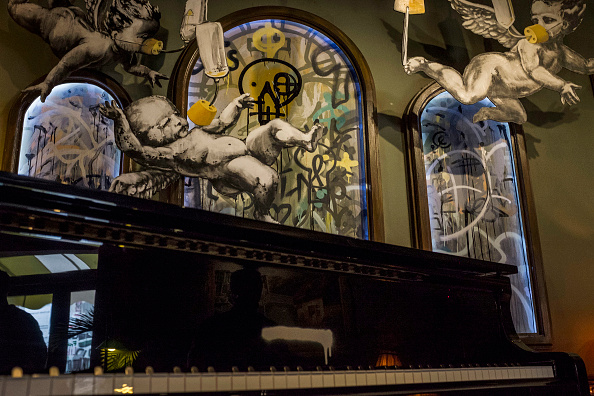 Amidst representations of Banksy's previous artworks, are other hauntingly appropriated fixtures, including a Roman-style bust engulfed by a cloud of tear gas, a portrait of Jesus with a laser target on his forehead and a trophy wall of security cameras and slingshots. Each of the hotel's rooms receives just 25 minutes of sunlight daily and has its own distinct aesthetic—eight were designed by Banksy himself and the others left to two other artists, Sami Musa and Dominique Petrin, who were not permitted to view the rest of the hotel until completion.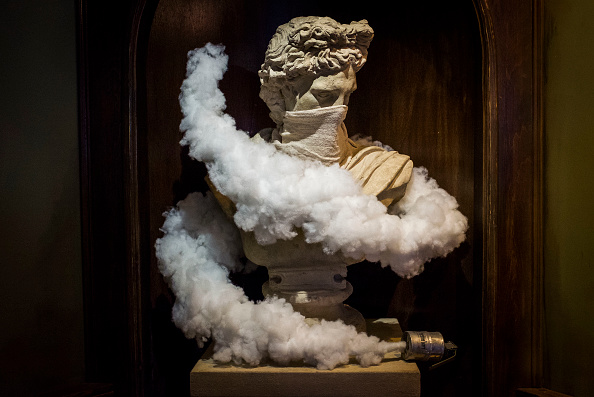 The least expensive beds, at a modest $30 a night, are bunk beds meant to replicate Israeli military barracks, furnished with foot lockers and complimentary earplugs; while the presidential suite, which sleeps up to six, comes with its own home cinema, roof garden, tiki bar, and a jacuzzi whose water tank appears to be speckled with bullet holes.
Banksy, whose last major project of this scale was 2015's "Dismaland," a "bemusement park" situated in the abandoned British coastal town, Tropicana, is confident that security concerns will not keep people away, noting how he successfully packed out the failing English seaside town with his last major installation, which promised to the "the U.K.'s most disappointing tourist attraction in 2015."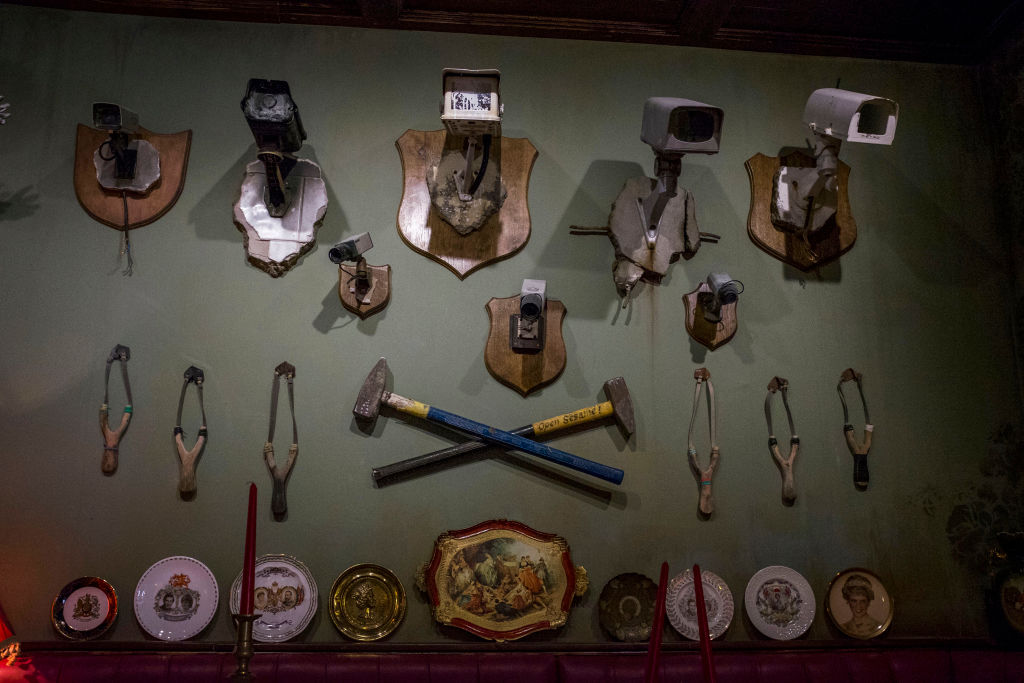 The hotel also has its own museum, with an exhibition dedicated to providing visitors with a comprehensive history of the separation barrier, the most notable piece being a life-sized diorama of Arthur James Balfour whose famous 1917 letter declared Britain's intent to establish "a Jewish homeland in Palestine." In his statement, Banksy expressed, "It's exactly one hundred years since Britain took control of Palestine and started re-arranging the furniture—with chaotic results," coyly continuing "I don't know why, but it felt like a good time to reflect on what happens when the United Kingdom makes a huge political decision without fully comprehending the consequences."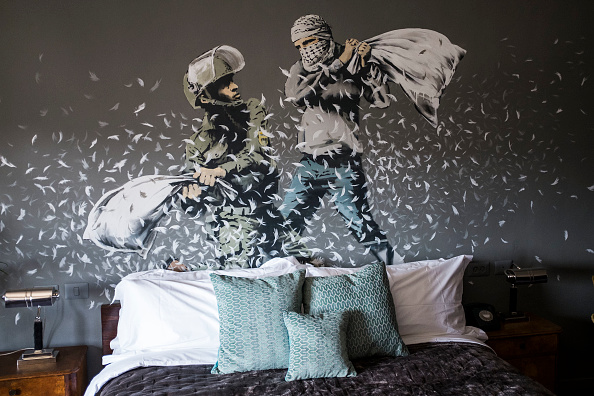 By invoking the equally despised and revered Balfour, it's pretty evident that the artist's statement is a clear reference to Brexit, and further, a warning in the wake of reinvigorated nationalist ideals in Britain, and frankly, the entire western world. Despite the rife contention that encircles the hotel's premises, the building sits in Area C, a portion of the West Bank under Israeli control, which means both Israelis and Palestinians are allowed to visit. According to the hotel's website, the Walled Off Hotel is "not aligned to any political movement or pressure group. The aim is to tell the story of the wall from every side and give visitors the opportunity to discover it for themselves."
An art supply store, bearing the tongue-in-cheek moniker "Wall*Mart" is connected to the hotel in the event that guests want to add their own message to the West Bank barrier. Hotel reservations opened March 11. Visitors are welcome to visit the museum, art gallery, and piano bar every day between 11 am and 7:30 pm GMT.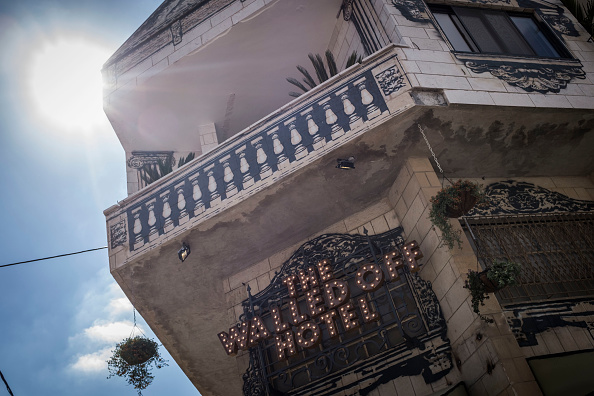 Beside its promotion for upcoming special events, the hotel's website bears a quote from the prolific writer and philosopher, Aldous Huxley: To travel is to discover that everyone is wrong about other countries.
---
Leah Rosenzweig is a regular Paste contributor.