Mother's Day is a time when we celebrate those individuals who delivered us kicking and screaming into the world, and shaped us into the men and women we've become today. To show our profuse love, we provide breakfast in bed, hilarious seasonal sweaters and the occasional piece of jewelry. But we're flipping the formula this year and asking our Moms for something: comic book reviews.
After all, our Mothers shaped our taste, established our moral boundaries and confiscated any piece of music with an explicit lyrics sticker. (It was the '90s.) Now is a perfect time to measure exactly how far the apples fell from the trees.
We couldn't have predicted the results if we'd have tried. Each Paste writer worked with his or her mother to find a good book to review. Two of the Moms reviewed feel-good summer camp adventure Lumberjanes, one additionally analyzed the all-ages Euro exploits of Bandette and writer Steve Foxe gave his mother Batman: The Dark Knight Strikes Again because Steve Foxe is probably evil incarnate.
To say the least, we love you, Moms!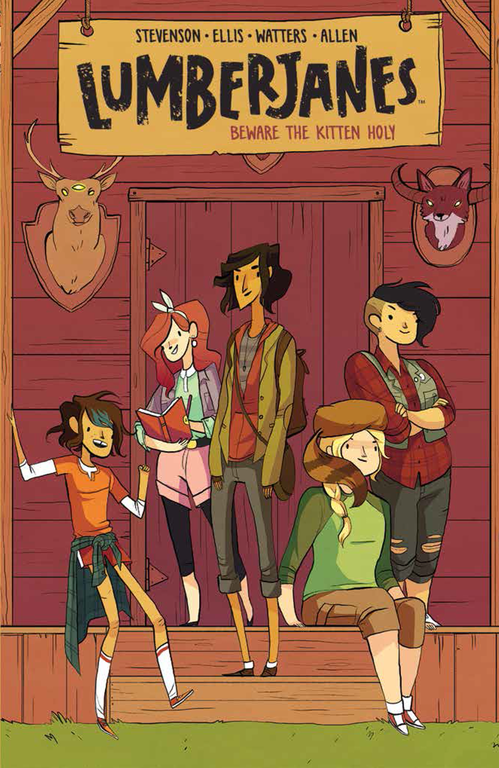 Sue Reviews Lumberjanes Vol. 1: Beware the Kitten Holy by Noelle Stevenson, Grace Ellis and Brooke Allen
Whose Mom Is it? Sean Edgar's, Editor
Occupation: Social Worker
Likes: Christianity, Dove Chocolates, Hugs, Josh Groban
Besides reading Elfquest in my 20's, this is the first comic book I have read in the last 40 years. I found Lumberjanes to be a very delightful and easy read, one that would be appropriate for young teens seeking a little adventure. The images of wolves, yetis, talking statues and other "scary things" were more intriguing than frightening, and no peril ever made me feel like the campers were in legitimate danger.
One message that came through clearly was that of companionship: each camper was there for the others. They cared about one another, and one another's safety. The camp director appeared to be an interesting character as well, understanding the need of teens to explore and sometimes break the rules to experience personal growth and self-realization. In a nice development, the camp counselor had to experience a little adventure of her own before being able to really identify with the experiences of the campers and bond with them.
I especially enjoyed the intrigue surrounding the Camp for Boys, presented so clean and tidy. It didn't take long to understand things were not as they seemed. The one character I did find scary was the boys' Camp Director, wielding his ax!
All in all, I felt Lumberjanes Vol. 1: Beware the Kitten Holy was very well-written, with a nice combination of excitement, adventure and humor.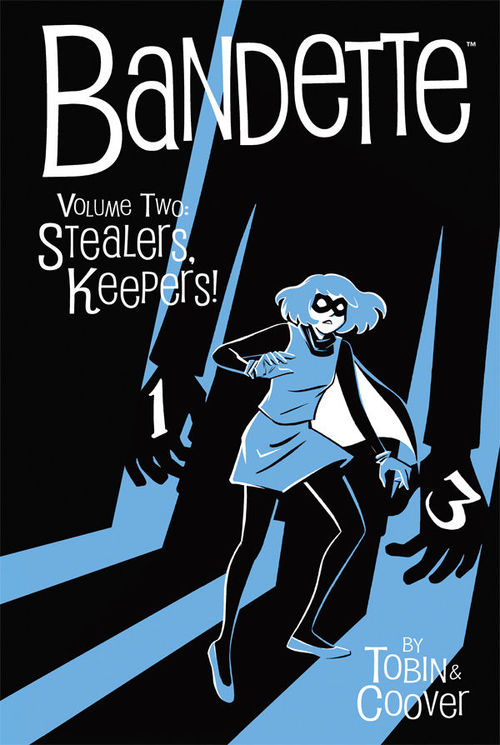 Christiane Reviews Bandette Vol. 2 by Paul Tobin and Colleen Coover and Lumberjanes #13 by Noelle Stevenson, Shannon Watters and Brooke Allen
Whose Mom Is it? Hillary Brown's, Contributing Writer
Occupation: Food Critic
Likes: Telling Waiters What To Do, T-Pain, Korean Soap Operas, Thrift Stores
When I was a child in Paris, I read Tintin, Becassine and Asterix Le Gaulois. I had no problem following the plots and loved the iconic artwork. I never read comics per se. Now that I am an adult and an old one at that, it is difficult for me to switch to what I perceive more as visual art than some literary form. I can count on the fingers of one hand the graphic novels that made me overcome my reliance on the printed word: Marjane Satrapi's Persepolis, Art Spiegelman's Maus and a thing or two by Robert Crumb.
I preferred the adventures of Bandette because the character is stronger and the panels have a regularity I find soothing to the Lumberjanes summer camp trippier format. I found the difference in size between panels more difficult to deal with and somehow stressful. The color saturation is less pleasant to me than the more delicate graphics of Bandette, whose plot I am more interested in and whose colors are more pleasant to the eye. To me, most comics seem to be always shouting and making faces. I like to read for relaxation and intellectual stimulation and I love the fact that, with a novel, you come up with your own representation of the characters and the locations. I may not have the right receptors for comics.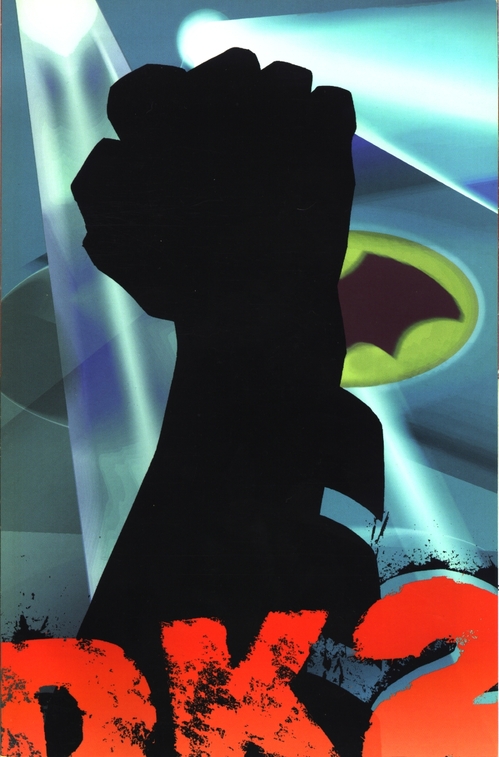 Linda Reviews Batman: The Dark Knight Strikes Again by Frank Miller and Lynn Varley
Whose Mom Is it? Steve Foxe's, Contributing Writer
Occupation: Senior Care Provider/ Retired Ford Motor Company Factory Worker
Likes: Cats, Collecting Rooster Decorations, Vacuuming, Arguing with Telemarketers, Cats
To start with, I am not a comic reader, but I gave it a try with reading The Dark Knight Strikes Again series. I must say I was lost in so many of the issues. Why was Atom in a petri dish? Why is the President a computer-generated figure? Did I miss a lot of issues and events before reading these? Although I did love Kitten with the Chuck shoes that she can turn into roller skates. I liked the part where Batman takes on Lex Luthor, but what's the "Z" all about on his face? In my time of comics the Z was for Zorro! I felt sad for Superman, he's old and worn out. Wonder Woman appears and tells him of their daughter Lara. Wonder Woman and Superman get together and he seems to come to life.
Now there's a Plastic Man, and Flash. So many different heroes and villains that I am unable to keep up with. Then there's bald-headed Batman. Superman is unable to fight and Wonder Woman appears and their daughter wants to help. But she says no.
Ok, now who is the toad? Why is he talking to Lex Luthor? Then the Superchix appear and get arrested. Then all the heroes are there. Captain Marvel is old. Green Lantern is there, but why? Then there's Superman and Lara again, trying to fight off Brainiac, I think.
I am so confused, so much is happening. Then Superman and Lara are talking and all she wants to know about is sex. Then Batman wants to take over and control Superman. Saturn Girl sees the villain, the Joker, but he is supposed to be dead, killed by Kitty. Now I am totally lost as to what is going on. I see Elvis the King. Robin shows up to fight Batman and Batman kills Robin. I always thought they were a team. I think Batman saves Superman from the cave, but I'm not sure as to what has happened.
I have read the DK2 series fives times, and I am still lost. So much going on, so many heroes and villains. I did like some of the artwork, although some seemed sloppy to me. Perhaps I should just stay with my love stories and leave the comics alone.