Podcast Megastars The McElroy Family Are Writing a Marvel Comic
The Adventure Zone Creators Launch The War of the Realms: Journey Into Mystery in April with Artist André Lima Araújo
Main Art by Valerio Schiti
Comics
News
The McElroy Family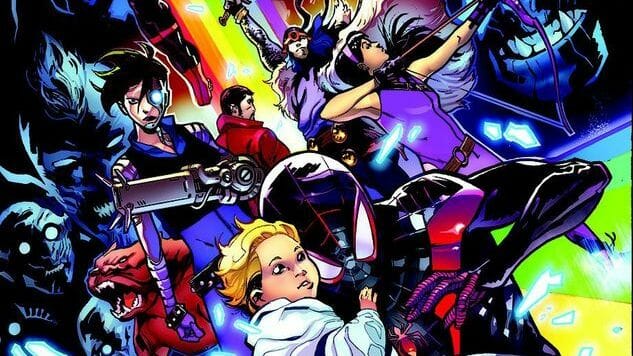 Podcasts are a dime a dozen, but a select few break through the (literal) noise to become absolute sensations, and the McElroy family can claim such a success twice over. Justin, Travis and Griffen McElroy launched My Brother, My Brother and Me in 2010, and, along with their father Clint, spun off the Dungeons & Dragons-inspired The Adventure Zone in 2014. The Adventure Zone, or TAZ, became a runaway nerd hit, landing just as role-playing games found something of a popular resurgence, and has since made the jump to its own New York Times-bestselling graphic novel series at publisher First Second. Beginning April 10th, the McElroy clan will share their swords-and-sorcery talents with an even larger audience when they kick off The War of the Realms: Journey Into Mystery with artist André Lima Araújo for Marvel Comics.
The War of the Realms is the upcoming payoff to years of Thor storylines written by Jason Aaron, and finds the various worlds of Norse mythology drawing battle lines with Earth—or Midgard—caught in the middle. War of the Realms: Journey Into Mystery, which takes its name from the series in which Thor first appeared, follows a band of (mostly) Earth heroes holding the line against frost giants, flame demons and rampaging trolls. Spider-Man: Into the Spider-Verse star Mile Morales, Kate Bishop (the superior Hawkeye), recently returned Norse god Balder the Brave and former Avenger Wonder Man also have to contend with an escort mission: Thor's baby sister (!?) may be Earth's final hope to survive the extinction-level conflict, and everyone wants to get their hands, paws or claws on her.
All four McElroys are credited with scripting duties on the five-issue limited series, and they're joined by Paste favorite André Lima Araújo, who has previously contributed his Euro-cool line work to Black Panther: Long Live the King, Spidey and Silver Surfer. Former Journey Into Mystery artist Valerio Schiti provides cover art—check out his first below, which also features cult-favorite Avengers Arena character Death Locket. The War of the Realms: Journey Into Mystery #1 hits stands and digital retailers April 10th, 2019.

The War of the Realms: Journey Into Mystery #1 Cover Art by Valerio Schiti