Even if 2015 was a year of bizarre and unruly transition, one constant remained: the comics looked damn pretty. Do house styles really matter when publishers allow pencillers, inkers, colorists, flatteners and digital wunderkind this talented to let their muses run wild? The variance is simply inspiring: Jeremy Bastian concocted Victorian fantasy vistas alongside the water color sci-fi escapism of Dustin Nguyen, while Fiona Staples brought her emotional acting to the teenage cast of Riverdale. Here are 11 of our favorite artists from the past 365 days.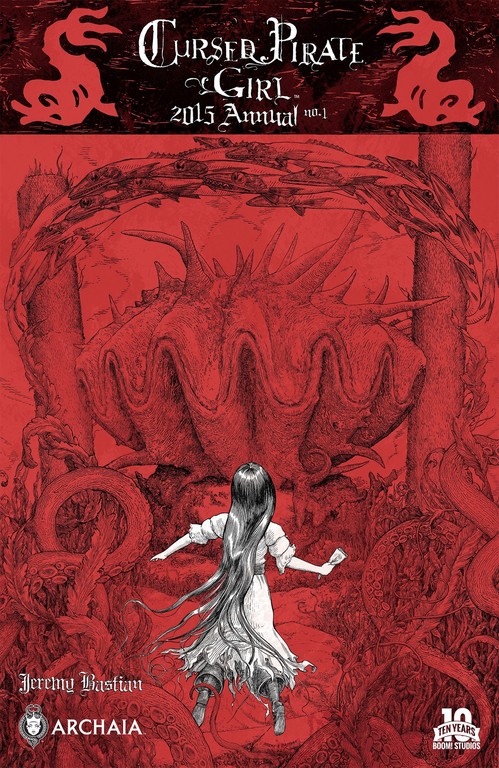 Jeremy Bastian, Cursed Pirate Girl 2015 Annual
In another era, Jeremy Bastian would be illustrating ferocious sea monsters on the outskirts of maritime maps. Today, he brings his inhumanly-detailed renderings of vintage fairy tale escapism to Cursed Pirate Girl, which saw a gorgeous annual this year. Alongside Charles Vess, Bastian continues the turn-of-the-century legacy of pencil-and-ink savants like Arthur Rackham. Obsessive scores of midnight-black lines add limitless texture to a parade of skeletons, knights and, obviously, juvenile pirates searching for their lost parents. The storytelling and paneling also deviate from mainstream techniques, resembling ancient tapestries and stream-of-conscious head trips more than linear time passages. Each page in Cursed Pirate Girl offers more visual information to gnaw on than most full issues, resulting in one of comics' most unique and obsessive experiences this year. Sean Edgar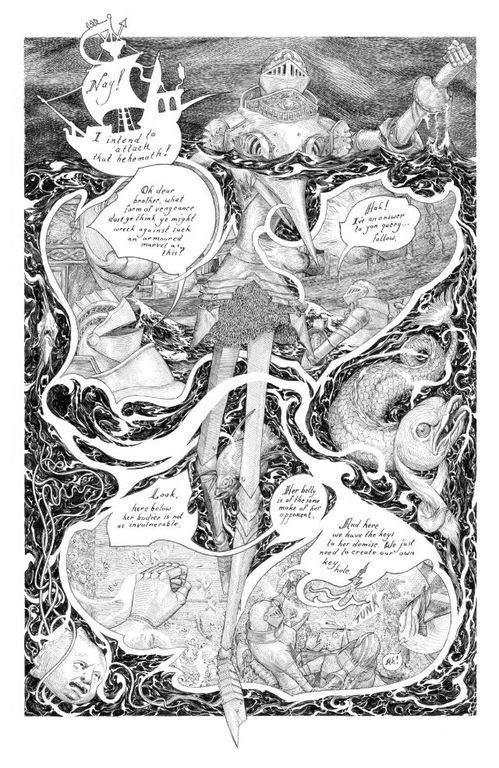 This year marked a massive shift in Greg Capullo and Scott Snyder's Batman. Instead of adhering to Bruce Wayne's slickly-rendered Gotham City, Capullo has recrafted the title with Police Commissioner Jim Gordon behind the Batsuit. This aesthetic shift signaled massive changes to classic iconography, with readers getting a tech-heavy point of view from Gordon's mech suit, as well as some other-worldly baddies like the Tall Man-ish Mr. Bloom. This reorientation gave Capullo the room to stretch out of the neat comfort zone he'd created and perfected, and the result proves that this artist has chops in both the automated and organic world. Whether it's a hero-on-clown brawl or a mech-on-electromonster squabble, Capullo's delivered amazing results every time. Tyler R. Kane
With a 15-year plus career in comics, Cliff Chiang is no breakout newbie. But after so many years of amazing work with Vertigo and DC, 2015 is the year we saw the Wonder Woman artist make the move to Image, drawing Paper Girls with writer Brian K. Vaughn. Chiang's work on Paper Girls is bright, dynamic, and couldn't stray further from his superhero roots, illustrating the strange mystery haunting a group of foul-mouthed, newspaper girls in '80s Cleveland. The first few issues have proven hugely visual, soaring in the hands of a veteran visual storyteller. Tini Howard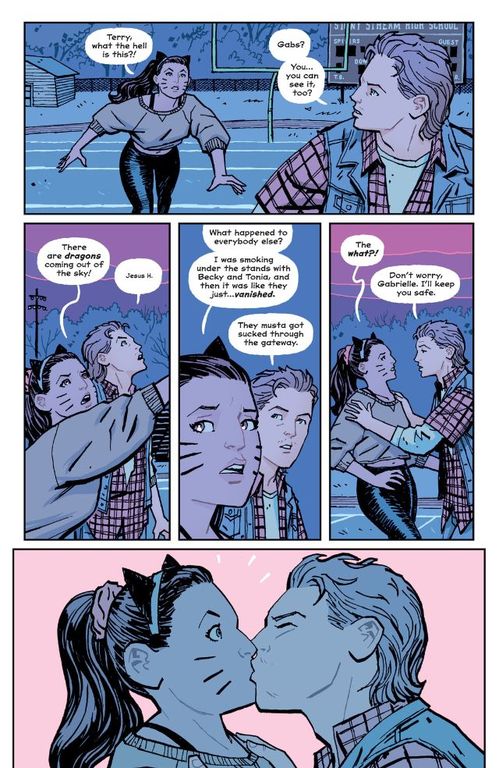 It's hard to mistake the jagged, atmospheric work of Jock for that of anyone else on the comic rack. His ink-heavy, horrific designs have most frequently graced the the interiors of Wytches this year, though he's also had some incredible variant cover work on Spawn, Batman and James Bond. And while Jock's been a mainstay in the comic industry since the early 2000s, this year felt like a perfect showcase for his evolution. Wytches shows Jock at his loosest. His designs flow freely from panel to panel, marking an unsettling progression to more abstract and claustrophobic ends. Tyler R. Kane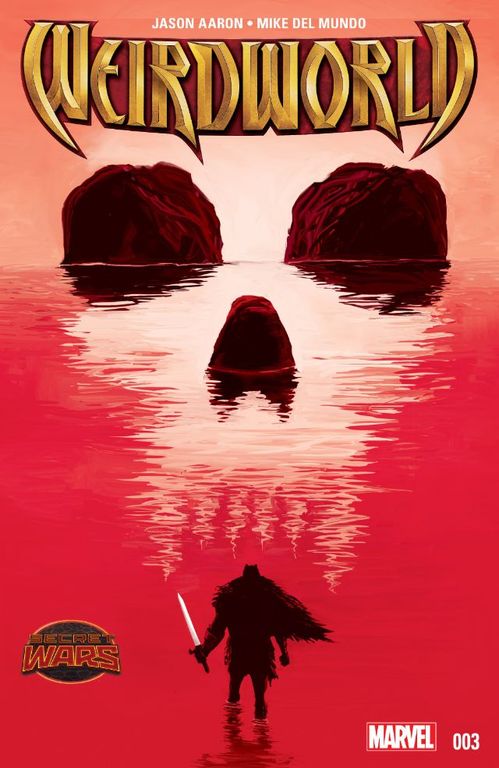 Mike Del Mundo, Weirdworld, Elektra
Cover art and interior storytelling are wildly different beasts, and many talented artists prove to be adept at only one or the other. Despite his exceedingly clever cover compositions, Mike Del Mundo might not be the first artist you'd expect to make the transition seamlessly; digital painters often produce striking single images, but stilted and static sequential work. Similarly, more than a few cover artists respected for their attention to detail offer disappointingly rushed and muddy story pages. Del Mundo confidently avoids these pitfalls, carrying over every trait that makes him a thrilling cover artist to his interior work.
The former X-Men: Legacy cover artist spent the first half of 2015 wrapping up a criminally under-appreciated Elektra run that recalled the work of legend Bill Sienkiewicz on the sai-wielding assassin without merely standing in its shadow. He then kicked off the unusual Secret Wars tie-in Weirdworld with superstar scribe Jason Aaron. The Hyperborea-on-hallucinogens fantasy setting fit Del Mundo's fluid, vibrantly colored style to a T, and we're looking forward to the artist's continued exploration of this uncharted region when the same-titled ongoing launches next year. Steve Foxe
Dustin Nguyen accomplished the miraculous in this year's breakout Image comic, Descender: he made machines infinitely more human than the flesh-and-blood characters hunting them down. In Nguyen's deft hands, metal, pistons and gears transform into something soft and familiar, articulated in hazy water colors. Nguyen's also spent a monumental amount of time fleshing out a cosmos of original worlds and species, each as visually unique and bizarre to match writer Jeff Lemire's subtle scripts. Descender charts one auteur's vision from the molecular to the universal, a full range of artistic control that can't help but astonish. Sean Edgar
So far, there don't seem to be any limits to Nate Powell's lyricism and gift with a brush. His continued work on Top Shelf's March trilogy—the story of civil rights icon John Lewis—has placed him in the spotlight, and it would be easy for him just to sanctify his subject, but he always finds new ways to immerse the reader in the story. His use of hand-lettered text comes across as almost synesthetic, and he exercises an ability both to compose a beautiful panel and to incorporate it into the flow of the narrative. You could frame each page and put it on your wall, but that doesn't mean it feels fussy or draws undue attention to itself. Hillary Brown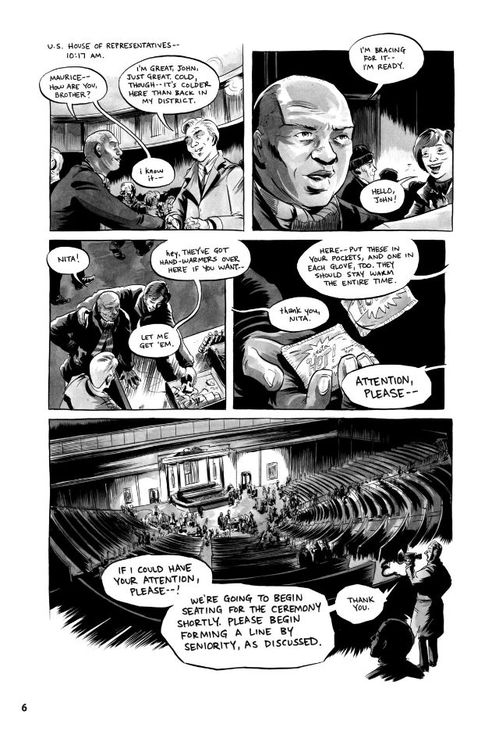 Luke Ramsey, Intelligent Sentient?
Fine art with a foot in comics, Luke Ramsey's obsessive drawings resemble the work of Keith Haring, if Haring hadn't known when to stop adding. Bubble-like figures fill each other's crevices, everything fitting together like a fancy jigsaw puzzle. Ramsey's Intelligent Sentient?, out this year from Drawn & Quarterly, highlights the narrative dimension of his drawings by putting them in sequence, allowing readers to create their own plot from the profusion of visual elements. Hillary Brown
"Best" frequently precludes "fast," as proven by Croatian-born artist Esad Ribi?. The former Thor penciller and painter spent 2015 laboring away at Marvel's massive summer crossover, Secret Wars, a 2015 event that's spilled into 2016 even as its successor, the All-New, All-Different Marvel Now, blasts ahead as scheduled. What Ribi? lacks in expediency, he more than makes up for in pure, breathtaking scale. If The Mighty Thor saw Ribi? channeling heavy metal album covers, Secret Wars is the artist's feet-first leap into acid-trip, space-bound prog rock. Multiversal conflicts have never looked as grand and sweeping as they do in Ribi?'s hands, turning what might have been another in a long line of exhausting events into a tome worthy of the overused word "epic." Let's just hope he's able to progress to another deserving project before 2017 rolls around. Steve Foxe
When Saga burst onto the scene as everyone's favorite comic in 2012, Fiona Staples jumped to the top of most of our Fav Artist lists. The struggle of wanting more Staples art hit a high point this year when she was announced as the starting artist on the 2015 Archie reboot: but what about Saga?! While Fiona's three issue-stint on Archie was followed up by the amazing Annie Wu, Fiona safely maintained her Saga job. But seeing Riverdale refined in Fiona's soft digital paints, pinpoint facial expressions and fluid body language? Even better. Tini Howard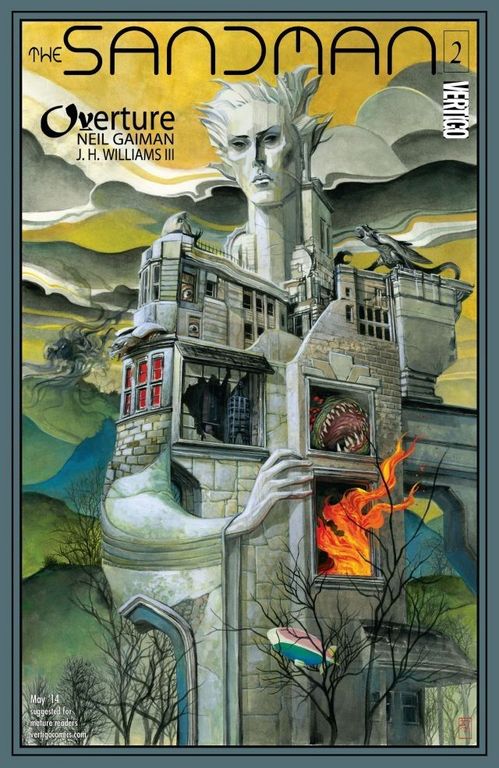 J.H. Williams III, The Sandman: Overture
Neil Gaiman's literary fantasy masterpiece The Sandman is one of the few long-form comic classics without a consistent artist, and while many talented souls left their mark on Morpheus—among them P. Craig Russell, Jill Thompson and Charles Vess—none came close to capturing the ethereal otherworldliness of The Dreaming quite like Overture's J. H. Williams III. The penciller and painter employed every tool honed across an impressive career ranging from Promethea's whirling spreads to Batwoman's differing line weight and ink washes, bringing new life to the homecoming of Gaiman's most enduring creation. Across six oft-delayed issued (genius takes time), Williams III illustrated stunningly bizarre worlds, illogical realities, and entirely new ways of seeing while never losing sight of strong, clear storytelling. Overture may have taken much longer to finish than Vertigo anticipated, but the final product is truly a visual testament for the ages, the perfect prequel and coda to what may very well be the best comic of all time, and unassailable evidence that Williams III is a strong contender for the greatest comic artist of this or any generation. Steve Foxe