The Coolest Comic News of San Diego Comic-Con 2018
Forget the Movie Trailers, Here's What Really Mattered at SDCC
Main Art by Francesco Francavilla/ Bengal/ Jock
Comics
Lists
San Diego Comic-Con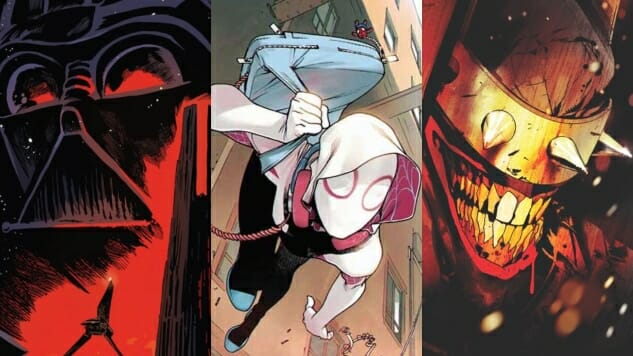 San Diego's Comic-Con International, or SDCC, is a pop-culture juggernaut, marking the middle of summer as the kickoff for the coming year's biggest nerd-adjacent films and television series. Trailers for movies like Godzilla: King of the Monsters and Aquaman dominate the SDCC news cycle, but as excited as we may be for kaiju carnage and CGI sharks, nothing beats learning about upcoming comic series starring your favorite characters (or characters you don't yet know you love). Because SDCC is so big, publishers like Image and BOOM! Studios now opt to release many of their announcements before the show even starts; to prevent this list from getting as long as Hall H's lines, we're narrowing our definition of "SDCC news" to projects announced Wednesday through Sunday of the convention. As such, Marvel and DC Comics dominate the below entries, but a few other sequential-art slingers make their way onto the list as well. Close that YouTube super-cut of movie trailers and take a look at what the sequential art world has waiting for you throughout the rest of 2018.

Gail Simone Joins Catalyst Prime as Chief Architect
Lion Forge's Catalyst Prime shared superhero universe has highlighted one of the most diverse lineups in cape comics, both on and behind the page, but often seems to get lost in the noise of mainstream comics. The publisher aims to turn that around with the appointment of writer Gail Simone to a "Chief Architect" position, where she'll serve as "pit crew, cheerleader and editor" according to her interview with Heidi McDonald at The Beat. Simone has been one of the most influential voices in comics for years, and is currently writing Domino at Marvel Comics and Plastic Man at DC Comics. While firm details on Catalyst Prime's upcoming plans are few, expect more announcements in the coming months.

Batman Gets a New (Old) Look & Detective Comics Team
I guess Batman got jealous of Superman's rediscovered love of underwear on the outside, because Batman's new look takes the Caped Crusader back to his trunks-wearing origins, as seen in the Tony Daniel art above. Batman will sport this costume starting with Batman #53, but will also don it for the new Detective Comics run from writer Peter J. Tomasi and artist Doug Mahnke, neither of whom are strangers to Gotham. Tomasi and Mahnke's tenure begins in Detective Comics #994.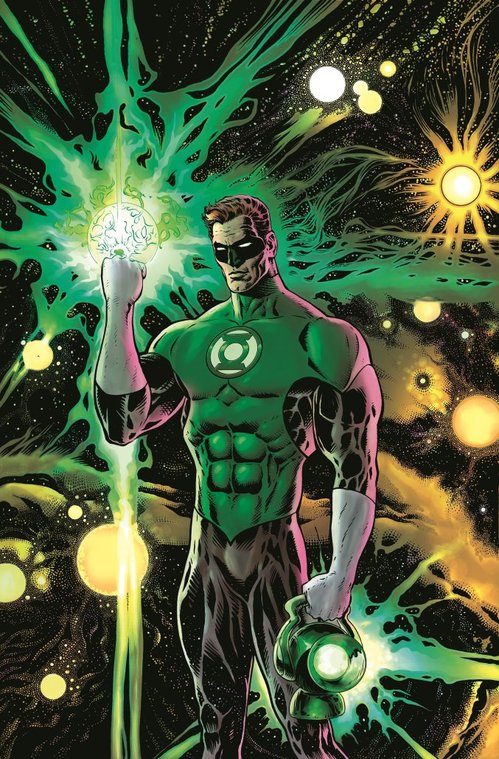 The Green Lantern Cover Art by Liam Sharp
Grant Morrison on The Green Lantern, Kelly Sue DeConnick on Aquaman
DC Comics launched the convention in a major way with the news that legendary Scottish scribe Grant Morrison will join artist Liam Sharp for The Green Lantern, a new Hal Jordan series that jettisons the never-ending apocalyptic stakes of the current Green Lantern franchise for a more intimate space-cop premise. Not to be outdone in the year of his cinematic glory, Aquaman is also getting a major glow-up: Bitch Planet writer Kelly Sue DeConnick and artist Robson Rocha are Aquaman's new ongoing creative team, kicking off with a run that redefines Arthur's origin story, particularly his relationship with his mother. Does any DC hero have a healthy relationship with their mother?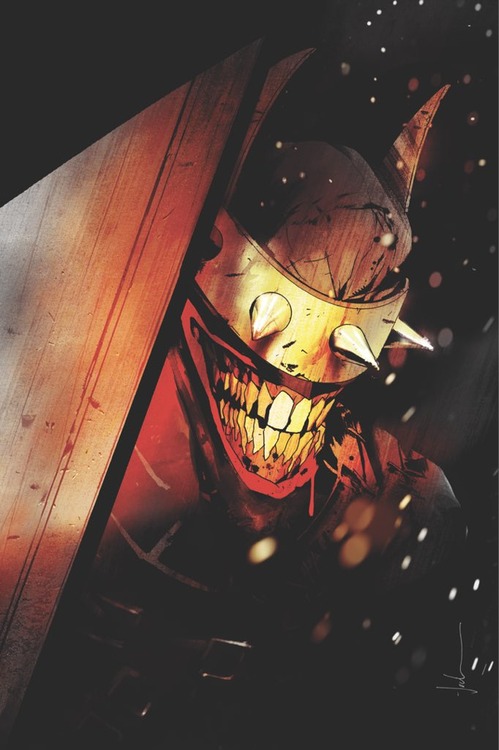 The Batman Who Laughs Art by Jock
Too Many Jokers
Do you like the Clown Prince of Crime? If you don't, DC Comics sure does. The publisher announced or revealed art for no fewer than three Joker-centric stories during SDCC: the long-awaited Batman/Joker: Deadly Duo from Marc Silvestri; the previously announced Batman: Three Jokers over-sized mini-series from Geoff Johns and Jason Fabok; and The Batman Who Laughs, a six-issue series from Scott Snyder and Jock that spins out of the character's appearance in Justice League. The Batman Who Laughs, introduced in Dark Nights: Metal, is a Jokerized Bruce Wayne by way of Hellraiser, and this mini-series will introduce yet another evil Bruce: a Punisher-esque version who killed Joe Chill with the criminal's own gun on the night of his parents' murder. Grim! In less Joker-ific news, DC Comics finally announced a Shazam series from Geoff Johns and artist Dale Eaglesham, which looks to continue the expanded Shazam family introduced during Johns' New 52-era work with the franchise.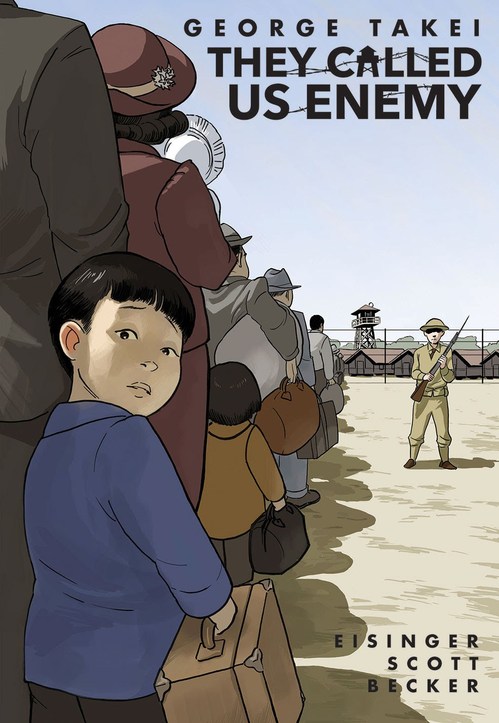 They Called Us Enemy Cover Art by Harmony Becker
George Takei Explores his Childhood in They Called Us Enemy
Actor and activist George Takei has long been vocal about his childhood experience in American internment camps for Japanese Americans, and next year, he'll share that story in sequential-art form. They Called Us Enemy, written with Justin Eisinger and Steven Scott and drawn by artist Harmony Becker, is scheduled for a summer 2019 release from IDW Publishing.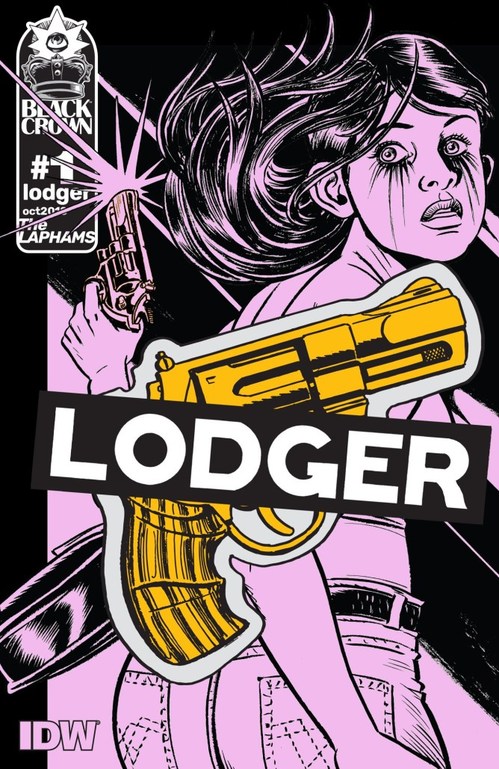 The Lodger Cover Art by David Lapham
David & Maria Lapham Bring The Lodger to Black Crown
Stray Bullets creator David Lapham and his wife/occasional co-writer Maria Lapham announced their new collaboration at SDCC: The Lodger, from Shelly Bond's Black Crown imprint at IDW Publishing. The series follows a mysterious lodger who may or may not be a shape-shifter, taking advantage of the folks willing to rent him a room—a fitting inclusion among Black Crown's offbeat, eerie lineup.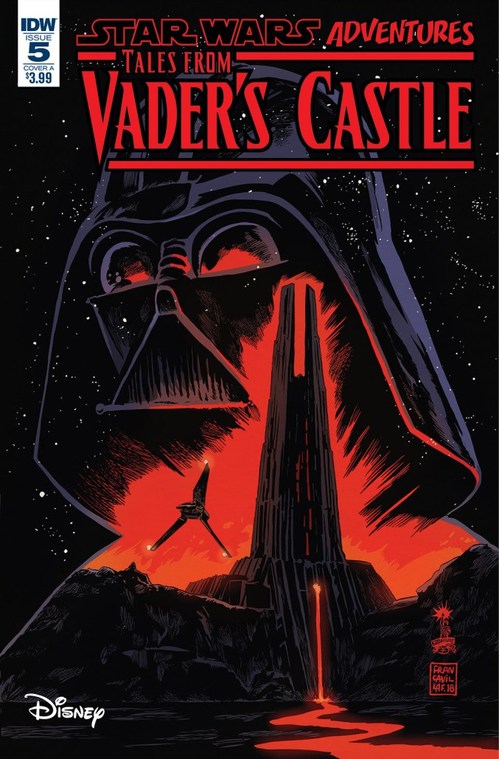 Vader's Castle Cover Art by Francesco Francavilla
Horror Haunts Star Wars in Tales From Vader's Castle
IDW Publishing's all-ages Star Wars comics have been a cute, kid-friendly alternative to Marvel's continuity-heavy tales from a galaxy far, far away, but this Halloween, IDW's license gets creepy. Tales From Vader's Castle, releasing weekly throughout the month of October, teams Star Wars Adventures collaborators Cavan Scott and Derek Charm with a rotating roster of guest artists including Kelley Jones and Robert Hack for horror-influenced stories set in the shadow of Vader's lava-filled abode. Stories are set throughout Star Wars chronology and will feature covers from Charm and fan-favorite Francesco Francavilla.
Also announced on the IDW Publishing licensing front: Teenage Mutant Ninja Turtles: Shredder in Hell from writer/artist Mateus Santolouco, George Romero's Road of the Dead written by Jonathan Maberry and the first revealed creative team from IDW's new partnership with Marvel Comics for original young readers comics, Delilah Dawson and Fico Ossio on Spider-Man.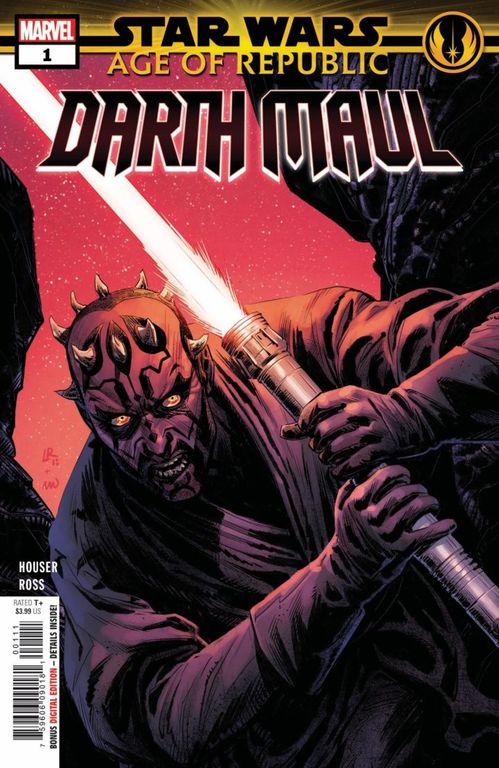 Star Wars: Age of Republic Cover Art by Luke Ross
Marvel Kicks Off 24-Issue Star Wars Epic
Not to be overshadowed by IDW's Star Wars offerings, Marvel Comics announced a new comic epic of their own, formatted as a 24-issue, cross-era epic spotlighting 24 different heroes and villains from the saga. Age of Republic, written by Jody Hauser, covers the prequel era; Age of Rebellion from writer Greg Pak tackles the Original Trilogy; and Age of Resistance tasks writer Tom Taylor with the Disney Sequel time period. Luke Ross will illustrate the initial Age of Republic issue focusing on Darth Maul, but other details are scarce, including whether the series will continue storylines across issues or even eras, or if each installment will be standalone.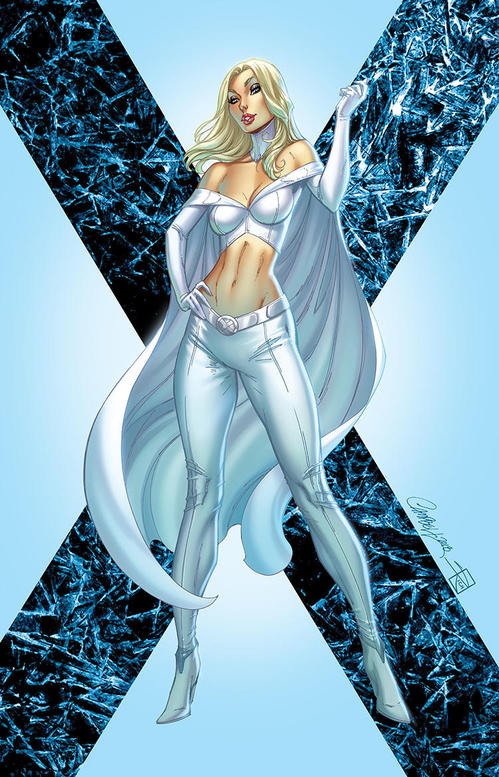 X-Men Black Cover Art by J. Scott Campbell
Uncanny X-Men Returns & Villains Take the Stage in X-Men Black
Gold, Blue, Red and now Black: the X-Men franchise continues spinning the color wheel for a five-issue mini-series beginning this October. Each installment of X-Men Black will focus on a single foe from mutant history—four of whom have actually been X-Men at one point, because that's how Xavier's students roll. Legendary X-Men writer Chris Claremont joins artist Dalibor Talajic for the Magneto-focused kickoff, followed by Leah Williams and Chris Bachalo on Emma Frost, Robbie Thompson and Shawn Crystal on Juggernaut, Scott Aukerman and Nick Bradshaw on Mojo and Seanan McGuire and Marco Failla on Mystique. Each issue also features a backup Apocalypse serial from current Cable writers Zac Thompson and Lonnie Nadler with art by Geraldo Borges. Mr. Sinister fans shouldn't despair: Iceman writer Sina Grace teased that both he and Emma Frost would factor into Bobby Drake's solo series. Also on the X-front, Marvel Comics announced the return of Uncanny X-Men this fall, though no creative team or character roster was revealed.


The Vision Cover Art by Marcos Martin
The Vision Returns…With Writer Chelsea Cain!?
Tom King and Gabriel Hernández Walta's The Vision maxi-series helped launch King into the critical stratosphere, using the android Avenger's domestic dreams as fertile soil for unnerving suburban horror. In one of SDCC's biggest surprises, Marvel announced a new six-issue The Vision series, not from King and Walta, but from Mockingbird writer Chelsea Cain, co-writer Marc Mohan and artist Aud Koch. This volume will pick up right where King and Walta's left off, with [spoiler] The Vision, his daughter Viv and their dog picking up the pieces of their shattered family. Cain, who was harassed by right-wing assholes on social media following her run on Mockingbird, also has an Image Comics series titled Man-Eaters in the works with artist Kate Niemczyk. Other notable news from Marvel's presentation include David Marquez joining The Avengers art team and a Marvel Knights project upcoming from Donny Cates, Tini Howard, Vita Ayala and Matthew Rosenberg.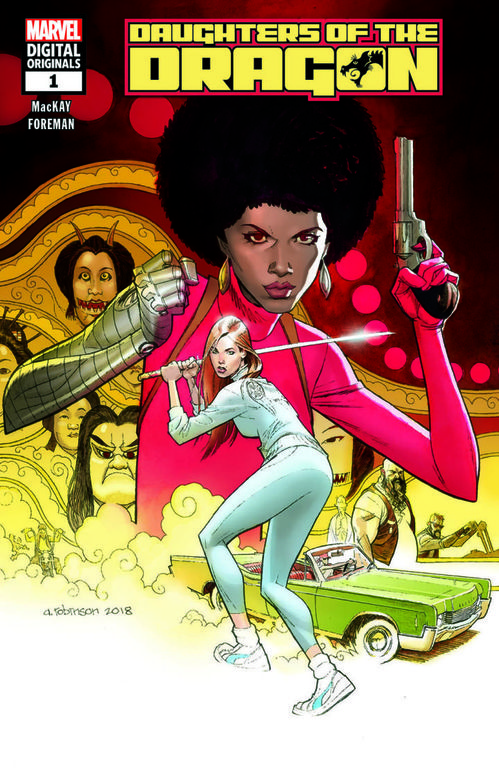 Daughters of the Dragon Cover Art by Andrew Robinson
Marvel Digital Originals Expands with Luke Cage, Iron Fist: Phantom Limb & Daughters of the Dragon
Right before SDCC properly kicked off, Marvel announced a new series of Marvel Digital Originals—digital-first comics released in monthly, double-sized installments designed for "binge-reading" experiences (whatever they think that means). Jessica Jones from Kelly Thompson and Mattia de Lulis officially launched the initiative last Wednesday, and now we know the next three titles on the docket: Luke Cage by Anthony Del Col and Jahnoy Lindsay, Iron Fist: Phantom Limb by Clay McLeod Chapman and Guillermo Sanna and Daughters of the Dragon by Jed MacKay and Travel Foreman. Cloak and Dagger from Dennis Hopeless and David Messina has been retroactively added to the Marvel Digital Originals line as well. While all of these series have corresponding live-action streaming shows, the comics take place in the main Marvel continuity.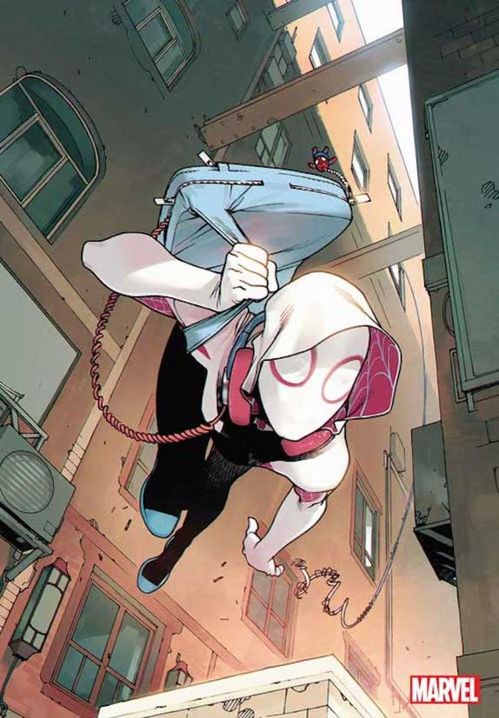 Spider-Gwen: Ghost Spider Cover Art by Bengal
Spider-Gwen: Ghost Spider & Arachnids Galore
You'll need more than eight limbs to pick up all the Spider-comics coming our way from Marvel this fall. In addition to new details for the crossover event Spider-Geddon, SDCC brought arachnid-friendly readers the first look at event tie-ins including Christos Gage and Mike Hawthorne's The Superior Octopus, Jody Hauser and Andrés Genolet's Spider-Girls, Priest and Paolo Siquera's Spider-Force (stylized as [spider-logo]-Force) and the anthology-format Vault of Spiders. Perhaps the most exciting Spider-tease was the cover and creative team for Spider-Gwen: Ghost Spider, the next installment in alternate-universe Gwen Stacy's costumed career. Prose writer Seanan McGuire and artist Rosi Kämpe will be joined by Bengal on covers for the first Spider-Gwen story following original creators Jason Latour and Robbi Rodriguez' departure from the fan-favorite character. No pressure.