Kengo Hanazawa's I Am a Hero is Here to Save Horror Manga
Art by Kengo Hanazawa
Comics
Reviews
Manga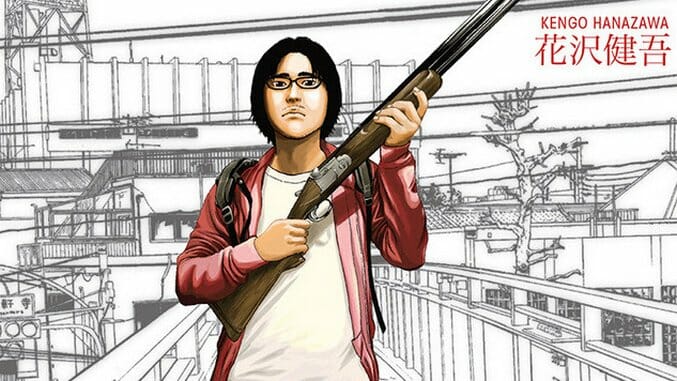 Writer/Artist: Kengo Hanazawa
Translation: Kumar Sivasubramanian
English Adaptation: Philip R. Simon
Publisher: Dark Horse Comics
Release Date: April 26, 2016
Horror fans know the struggle: once you've exhausted the canon offerings in each medium—the classic films, novels and comics of the genre—worthwhile new releases become rarer than sexually active teens who survive slasher films. For every It Follows or Harrow County, there's a slew of forgettable also-stabs, and countless fear-free action outings that incorporate supernatural window dressing to attract hard-up horror junkies. Of all horror media, English-language manga stands out as a particularly malnourished field. Body-horror maestro Junji Ito (Uzumaki, Gyo) dominates, with gonzo punk icon Kazuo Umezu (The Drifting Classroom) serving as a distant-second deep cut. Now, thanks to Dark Horse's translations of Kengo Hanazawa's I Am a Hero, a gruesomely worthy third option has finally hit American shores.
First serialized in Japan in 2009, the Shogakukan Manga Award-winning I Am a Hero follows 35-year-old Hideo Suzuki, an introverted, paranoid manga assistant with obsessive safety rituals and an oddball imaginary friend. Unlike Ito's doomed protagonists, Hideo spends most of the first volume dimly unaware of the growing unease around him. He works long hours, worries about his girlfriend's fidelity and stews with jealousy over the success of fellow manga creators. There is very little that is heroic about Hideo.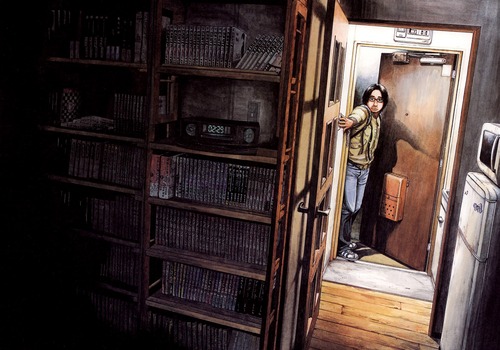 I Am a Hero Interior Art by Kengo Hanazawa
Hanazawa seems largely unconcerned with doling out substantial plot advancement in each chapter, opting instead to pace the story like a traditional American horror film. It's wise, then, of Dark Horse to publish the series in an omnibus format of two volumes per book: the first gruesome attack doesn't come until the very end of the first volume, and the shit doesn't hit the fan until well into the second, after a disturbing, prolonged standoff.
The resulting pace allows much more time to get acquainted with Hideo before his already-pitiable life gets substantially more violent—and to reckon with Hanazawa's photorealistic art approach. It's not uncommon for manga creators, yoked to a strict publishing schedule, to incorporate digital background renderings and other "shortcuts" into their art, but Hanazawa's style may strike some as stiff and overly exact. Settings are at times distractingly detailed, and many background figures feel ripped straight from photo reference—which can make for an unnerving contrast with Hanazawa's more expressive core cast. This same level of obsessive detail makes the horror, when it comes, much more immediate and repulsive—a distinctly different offering than the more abstract terror of Ito and Umezu.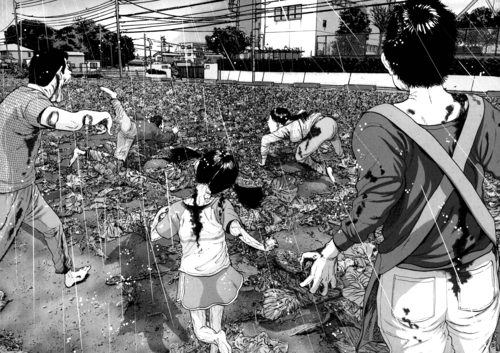 I Am a Hero Interior Art by Kengo Hanazawa
I Am a Hero also makes use of its "down time" to converse with manga as an industry, ruminating on the deplorable working conditions of struggling creators, the unpredictability of success and the sexism that dominates the field. Hanazawa confronts misogyny by having many of his male characters lean into it an almost unbelievable extent; readers may be left uncertain if I Am a Hero is ultimately condemning anti-women attitudes or merely perpetuating them, and it will likely take future volumes before it's made clear. Given the huge body of horror that fetishizes violence against women without critically confronting it, it's commendable that Hanazawa is at least engaging in the conversation within the pages of his work.
Hanazawa's other politically charged theme barely rears its head in this volume, although it's mentioned in promotional materials and featured on the cover. Hideo is one of Japan's small population of licensed gun owners, a hobby which may serve him well as Tokyo falls to a rapidly spreading infection that drives its victims to cannibalistic violence. Gun ownership is tightly regulated in Japan, requiring much stricter training and supervision than in trigger-happy America, and the twist of facing down a "zombie" apocalypse in a nearly firearm-free country should interest even the most jaded fans of the undead.
Horror manga connoisseurs shouldn't come to I Am a Hero expecting traditional "J-horror"; for all of its distinctively Japanese themes, Hanazawa's epic is surprisingly western in its pacing and gory goods. In a genre that has become synonymous with one outsized (if very deserving) name, Hanazawa has managed to tap a new vein. If future volumes continue apace, we'll need to update our Best Horror Comics list ASAP.