Cover Reveal: Jarrett Krosoczka's Graphic Memoir Hey, Kiddo
The Celebrated Children's Cartoonist Reflects on his Mother's Addiction to Heroin and the Search for his Birth Father
Art by Jarrett Krosoczka
Comics
Features
Jarrett Krosoczka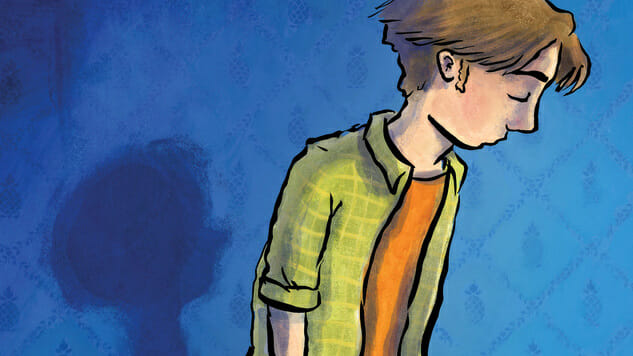 Jarrett Krosoczka is a New York Times bestselling cartoonist, best known for his Lunch Lady series of graphic novels, picture books like Punk Farm and the latest installments of the Star Wars Jedi Academy books first created by Jeffrey Brown. Like an estimated eight million children in the United States, Krosoczka is also the child of a parent who struggled with addiction, which claimed his mother's life last summer.
Krosoczka first spoke publicly about his mother's addiction to heroin and his childhood growing up with his grandparents in a widely shared 2012 TED Talk. On Oct. 9, 2018, Scholastic's Graphix imprint will publish Hey, Kiddo, Krosoczka's memoir about his childhood and teen years, a period of time in which art became a lifeline and a way to process his mother's battles and the absence of his birth father. Paste is proud to exclusively reveal the stepback cover for Hey, Kiddo, which features a teen Krosoczka on the front cover and his childhood self behind the flap. Paste also spoke with Krosoczka over email to find out more about the deeply heartfelt memoir.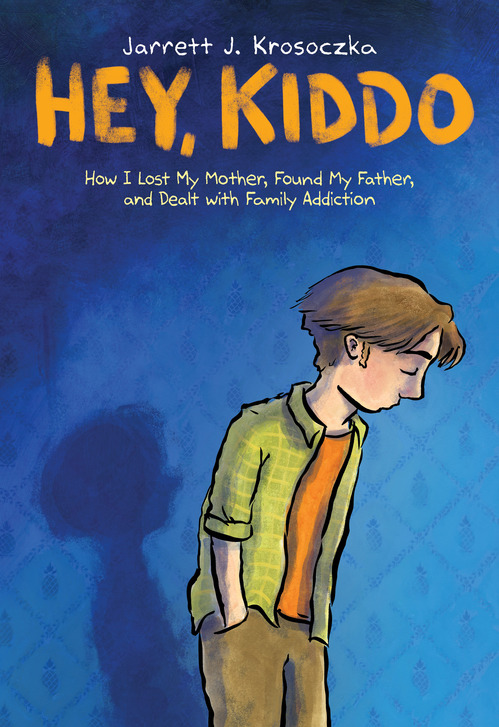 Hey, Kiddo Front Cover Art by Jarrett Krosoczka
Paste: You've said in interviews that Hey, Kiddo has been in the works one way or another for almost 20 years. How much has the scope of the story changed since you first envisioned it? Did you choose to reflect your mother's passing in the book?
Jarrett Krosoczka: When I initially thought about putting the events of my upbringing down on paper, everything was still black and white for me. There were the heroes and the villains, it was all very clear-cut. But more time away from my coming-of-age experiences gave me profound insights on the macro-view of it all. My mother was a drug addict, but in her heart of hearts, she never wanted to be. So what made her that way? She wouldn't have wanted to leave this baby to fill her veins with poison. When I became a parent myself, it was a bit of a Pandora's Box of emotions as I saw the world through my baby's eyes and wondered how my father could have abandoned me when I was so helpless. But then as my kids grew, I also had the epiphany of how difficult it must have been for both of my birth parents to have missed those experiences with me. While Hey, Kiddo is told from the perspective of my teenage self, I was able to write my birth parents with more sympathy than I would have been able to 20 years ago. Even though I'm on the side of the teenage narrator, I've come to learn that life is never black and white but a series of varying tones of grey.
My mother died of a fatal heroin overdose while I was working on rewriting the book. That's a heavy way to lose your mom at any given time, let alone while you are deep into a story that delves into your relationship with her. And those edits were all about digging deeper and getting into the raw emotions of it all. The story of Hey, Kiddo doesn't get past the 1990s—I stay with that teenage voice, so the events of my mother's passing won't be reflected there. I will be penning an afterword from my now-grown-up perspective that I hope will offer some hope to kids whose situations might be similar to my own. I won't be shying away from putting down the realities at hand.
Paste: How has your family responded to the book, and to the popularity of your widely shared TED Talk? Was your mother aware of Hey, Kiddo?
Krosoczka: They have been very supportive and proud. My mother knew I was working on a book about growing up as I did, and she was very supportive of that. She was always very open about using her own experience in a way that might help others suffering from addiction. She and I never did speak about the TED Talk because we were estranged in her final years. Right as my second child was born, my mother started getting arrested again. She claimed she wasn't using, only dealing, but I saw the track marks on her arms and I just knew. I stepped back to focus on raising my children, so she and I weren't in regular contact.
As for what Hey, Kiddo will be, I shared the script with my mother's surviving siblings, who oddly enough are like my siblings too, and the book rang true for all of them. They told me that I was brave to write this book and that meant everything to me. I wanted them to read it because I wanted to see if the story was in line with their memories of the events—it was—but also because I didn't want any surprises on publication day for any individual featured in the book. I also sent an early draft to my brother and sister that I have through my birth father, and they were so very supportive. I sent an early draft to my birth father, too, which I am sure was an excruciatingly difficult read for him. He hasn't commented on it specifically but did say that he wanted to use his real name because he is proud to be my father. (I gave everyone the option of a pseudonym.)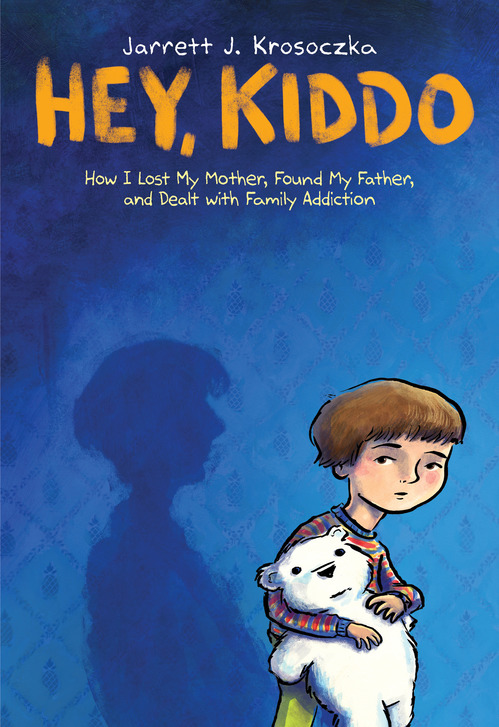 Hey, Kiddo Stepback Cover Art by Jarrett Krosoczka
Paste: Was it ever overwhelming to have other people reach out and share their stories with you following the TED Talk? Do you feel emotionally prepared for the response you'll get with Hey, Kiddo?
Krosoczka: When that video went viral, I couldn't keep up with the emails—logistically or emotionally. I still have a folder of emails that I want to reply to. (So if you are reading this and never got a reply from me, please hang tight. I haven't forgotten you.) I put myself in active therapy to keep me in a good place as I crafted this book. (I had previously been in intermittent therapy, a product of my not prioritizing my mental health.) My therapist is fantastic and is just what I need as I move towards my graphic memoir's publication. Writing the book was difficult, but creating the sketches was absolutely excruciating. I was face to face with these people again. I'll be ready to hit the road for the book tour for Hey, Kiddo when the book releases. By now I can recognize the look someone has right before they share their story with me—which is a privilege, to be given their honesty. And these stories come from every socioeconomic corner of this country, from individuals who are running corporations to individuals who are keeping school lunch lines moving.
Paste: It's estimated that more than eight million children grow up in the U.S. with a parent battling addiction. Did you ever consider publishing Hey, Kiddo as an adult work due to the subject matter, or was it a driving component that kids like you be able to pick this up and see themselves reflected?
Krosoczka: My favorite stories have always been coming-of-age stories. I'm fascinated by the events that help shape people and I'm intrigued by the decisions that people make in response to those events. Growing up, I thought I was the only kid in this situation. I would have been empowered to have had a book like this, and I hope Hey, Kiddo empowers some of those kids in situations that are similar to my own. When I speak at high schools, I share my story. And every time, there is at least one student who bashfully approaches the stage after the talk to say thank you. Those teenagers have given me the motivation I have needed to write this book for them.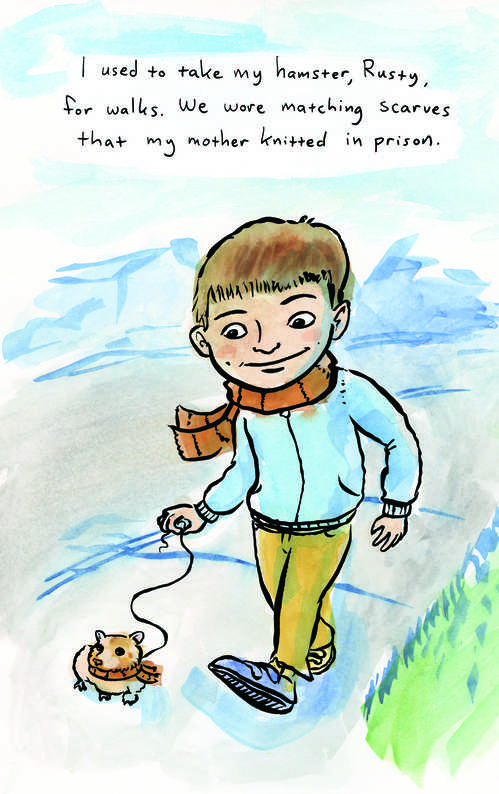 Hey, Kiddo Front Interior Art by Jarrett Krosoczka
Paste: Your career has spanned from picture books to children's graphic novels to Star Wars stories—how did your visual vocabulary have to change for Hey, Kiddo? Did you find yourself relying on different storytelling tools to tackle this subject matter?
Krosoczka: Yeah, this can't look like a Lunch Lady book…
I have this bookshelf in my studio that houses all of my sketchbooks that are filled with observational sketches. And there are dozens of sketchbooks from my teen years and then dozens from when I was in my 20s. As you move along you can almost pinpoint the exact moment when the iPhone was invented because I stopped sketching so feverishly. My time also became consumed by work deadlines and parenthood. A few years ago, I set out to change this and drew an observational sketch every day and posted it on Instagram. This helped me loosen up some and also gave me a deeper visual vocabulary as I honed my drafting skills. Most of my subjects were my own children, who happen to look just like their dear old pops did when he was their age. That exercise in visual development set me on the path to how I approached the art in Hey, Kiddo. The line work loosely creates realistic figures and there are hand painted washes of grey tones throughout. Variant tones of grey—just like real life.