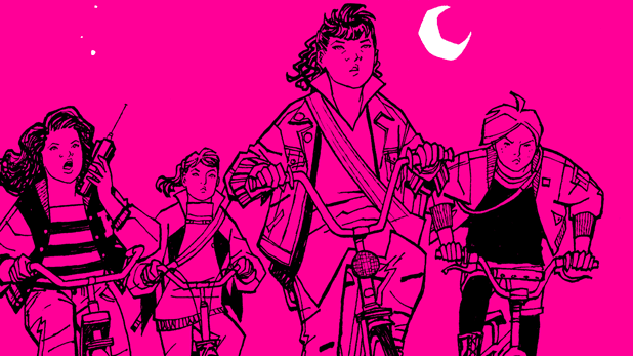 This weekend kicks off the Grand Guignol fever of holiday shopping season: a full-sprint scramble to buy your loved ones something, anything that they'll pay more attention to than the spiked eggnog. The comics medium solves this seasonal dilemma nicely; with publishers still hitting a monthly rhythm of new floppies, trades, omnibuses and other esoterica, the best sequential art is just waiting to be wrapped and nestled under the tree. And really, what could be better this season than stoking the fire and cozying up with some good comics? (The prose offerings this year aren't too shabby, either.)
We've curated a range of reading material and beyond to dive into this year, whether you need to buy for a kid who's just learning their ABCs and has a sweet tooth for benevolent dinosaurs or your dad who's been collecting long-boxes since Gutenberg invented the printing press. Let us know what you're excited about on our Twitter page.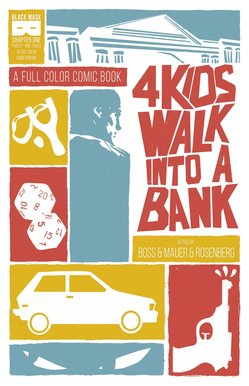 4 Kids Walk Into a Bank
Writer: Matthew Rosenberg
Artist: Tyler Boss
Publisher: Black Mask Studios
Matthew Rosenberg and Tyler Boss' wildly inventive and fearless tale of adolescents facing adult realities remains one of our favorite new books of the year. The book thrives off sharp characterization, coupled with Tyler Boss' pin-point facial expressions and hilarious fantasy sequences. Within this four-issue series from publisher Black Mask, Childhood friends Paige, Pat, Berger and Walter hatch a plan to steal cash to pay off a group of thieves intimidating Paige's father. The inherent clever oozing out of these panels is breathy and rhythmic, probably obscuring the fact that this work was meticulous labor that took years to complete. Like a gorgeous remix of '80s nostalgia art directed by visual icon Saul Bass, 4 Kids Walk Into a Bank ultimately ventured into our hearts. Sean Edgar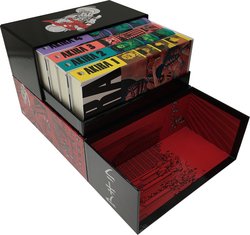 Akira 35th Anniversary Box Set
Writer/Artist: Katsuhiro Otomo
Publisher: Kodansha Comics
Katsuhiro Otomo's manga is a lynchpin of international pop culture, its saga of drugs, motorcycles, government and mayhem seeping into every nook of modern media. The plot concerns two youths imbued with near-godlike power—the titular Akira and Tetsuo—and the destruction they inflict on a pre-and-post-apocalyptic Tokyo. Outside of comics and anime, pioneers ranging from Kanye West to the Wachowskis have channeled its feverish energy into the 21st century. Characters including Stranger Thing's Eleven wouldn't exist in a world without Akira and its reality-warping juvenile delinquents.
Publisher Kodansha has offered various print editions, but its new 35th Anniversary Box Set is intimidatingly attractive. The package includes all six hardcover volumes (presented in their original right-to-left reading order), the Akira Club art book and a patch with protagonist Kaneda's pill logo. Amazon is currently asking $125 for it, which averages around $15 a book; that's an epic deal for one of the best comic expressions in the history of the medium, especially considering that each book holds more than 300 pages on average. Paste will be taking a deeper look into this cyberpunk gamechanger in a new series of features. Sean Edgar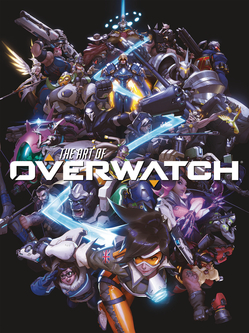 The Art of Overwatch
Publisher: Dark Horse Comics
We already recommended Dark Horse's collection of Overwatch tie-in comics in one of our weekly Required Reading editorials, but for holiday gift-giving purposes, we have to give the nod to the publisher's handsome deluxe art hardcover. Featuring over 350 pages of never-before-seen art and developer commentary, this coffee-table addition is, to borrow a line from the game, on fire. Fans of the hit multiplayer shooter will love pouring over the dozens of pieces of concept art for their favorite characters—as well as characters that didn't, or haven't yet, made the cut. Given Blizzard's knack for Easter eggs and for listening to fan feedback, don't be surprised if some of the odder designs in this compendium one day join Moira, Doomfist, Orisa, Sombra and Ana on the added-character roster. At $49.99 suggested retail price (though you can find it for $30 on Amazon), The Art of Overwatch is easily worth as much as another Loot Box splurge. Steve Foxe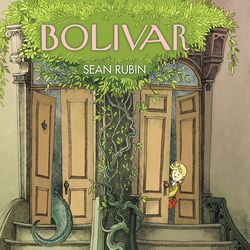 Bolivar
Writer/Artist: Sean Rubin
Publisher: BOOM! Studios
Sean Rubin's Bolivar is as much a charming children's book as it is visual love letter to New York City. Rubin's subtle cross-hatching and soft colors convey a sprawling, majestic panorama of the world's biggest city, and the obvious delights its people are too busy to see. The titular dinosaur is one such wonder, a talking, mild-mannered T-Rex who enjoys corned beef sandwiches and anonymity, evading the public eye without much exertion. Only one little girl—Sybil—seems to notice the hulking grey lizard waltzing around the Upper West Side. The book offers a more accessible reflection on mindfulness, urging the reader to live in the present moment without being consumed with life's cyclical demands, lest unexpected scaly surprises elude notice. That same focus should be applied to Rubin's stunning art—these pages deserve to be studied and absorbed, not glanced upon. An especially stunning subway mosaic of jazz musicians displays just how much care and time the artist has invested into this project. Bolivar is a loving, gentle work in story and execution, and deserves a slot in any library for readers waiting to discover the unexpected. Sean Edgar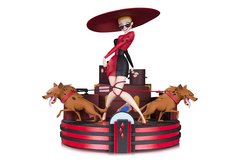 DC Collectibles Harley's Holiday Title Card Statue
Sculptor: Irene Matar
For fans of a certain age, Batman: The Animated Series was a canonical source of pulp excellence that greeted us each and every day after school. Does any cinematic or TV translation of the Dark Knight even hold a candle to Paul Dini and Bruce Timm's art-deco masterpiece? "Harley's Holiday" is a pitch-perfect example of the show's pattering rhythm, versatile characters and moody ambiance. The Dini-penned episode frees Harley Quinn from Arkham Asylum after she receives a clean bill of mental health, previewing what a vital character she is devoid of her toxic relationship with the Joker. This kinetic statue from sculptor Irene Matar casts the episodes title card into three dimensions, as Harley goes on a shopping spree that goes painfully awry. It's a fun moment preserved with meticulous detail—including her symmetrical "babies" flanking the Clown Princess of Crime on each side. With a price tag upward of $300, it's not exactly a stocking stuffer, but it is a charming centerpiece perfect for animation die-hards. Side note: the same episode also features Harley putting the moves on Batman, and if he wasn't currently engaged, all we're saying is that that's a ship we wouldn't mind watching sail even if it ends in splattered pies and concussions. Sean Edgar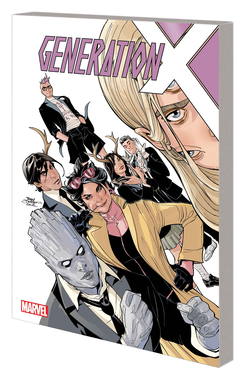 Generation X Vol. 1: Natural Selection
Writer: Christina Strain
Artists: Amilcar Pinna, Alberto Jimenez Alburquerque, Eric Koda
Publisher: Marvel Comics
Less obsessive readers may not be aware, but the last few years were rough on X-Men fans. Although it was never outright admitted, Marvel was seen by many to downplay mutants (whose movie rights are held by Fox) in favor of Inhumans (owned fully by parent company Disney). The result was a handful of X-titles that struggled to find a voice amidst constant Inhuman drama. The past few months have reversed that trend in force and in volume, with a bevy of new X-titles and more on the way. Of the current batch, it's the ancillary titles that stand out: Dennis Hopeless and Victor Ibanez' Jean Grey, Sina Grace and Robert Gill's Iceman and Christina Strain and Amilcar Pinna's take on the long-dormant Generation X concept. This batch of kids isn't comprised of future X-Men, though—they're sorted out with the intention that their powers may be best suited to living and working among humans. While some of the cast has no issues with this, young mutants like Bling! and Quentin Quire are none-too-happy with the designation. Led by Jubilee, this squad of X-teens grapples with their own interpersonal relationships while deciding what they want out of their genetically gifted life and how to go about getting it. While X-Men Gold and Astonishing X-Men may go for broke with high-octane action, Generation X is a heartfelt boon to X-fans invested in the more emotionally complex side of Xavier's dream. The art by Pinna and other contributors may be an acquired taste, but the inclusive teen drama should appeal to fans of books like Ms. Marvel, Lumberjanes and Gotham Academy. Steve Foxe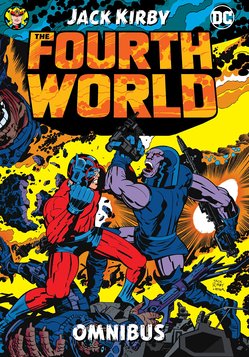 Fourth World by Jack Kirby Omnibus
Writer/Artist: Jack Kirby
Publisher: DC Comics
The influence of Jack Kirby can't be underestimated; the King of Comics helped cultivate the lion's share of Marvel's universe, co-creating The Fantastic Four, X-Men, Avengers and countless other properties during his tenure. But his twilight years witnessed some of the auteur's most daring material, which invoked the Bible, European sci-fi and psychedelia into a grand, and oft-forgotten, slice of comics history. That material has been taking the fore of pop culture recently, with Kirby's Fourth World characters popping up in the best superhero comic today and the latest DC cinematic blockbuster. The Fourth World by Jack Kirby Omnibus compiles that source material in a door-stop collection that's relentlessly bonkers and uncompromising. The general plot revolves around two planets—New Genesis and Apokolips—that stand as disco-bright allegories for heaven and hell. Their respective deities war endlessly in disco-vivid costumes, mouths agape and fists hurtling through the page as the cosmos implodes in the background. It's huge, divisive comics rendered by a genius pursuing a muse only he could see. This 1,536-page tome includes issues from Superman's Pal, Jimmy Olsen; The New Gods; The Forever People and the (classic) Mister Miracle alongside original graphic novel The Hunger Dogs. Complemented by essays from the likes of Mark Evanier and Walter Simonson, this is a near-bottomless well of awesome that will also tone your biceps. Sean Edgar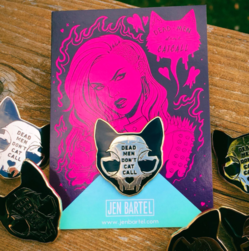 Jen Bartel's Pins and Shirts
Jen Bartel is the fan-favorite artist best known for her extensive cover work on titles like Jem & the Holograms. Her badass-Lisa-Frank aesthetic and fondness of girl-gang imagery have earned her an impressive fan base both in and outside of the comics community. Bartel also runs one of the best merchandise stores in the business, with dozens of prints, hats, shirts and enamel pins. Standouts include her "Don't Tell Me to Smile" shirt featuring a barbwire-bat-wielding young lady, her insanely stylish women of Overwatch print and attractive pins with slogans like "Mermaids Against Misogyny" and "Dead Men Don't Catcall." Nab one of these rallying-cry stocking-stuffers for any of the fed-up women and nonbinary folks in your life. Given the year we've had, that segment of your shopping list probably isn't small. Steve Foxe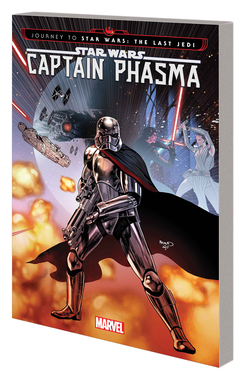 Journey to Star Wars: The Last Jedi: Captain Phasma
Writer: Kelly Thompson
Artist: Marco Checchetto
Publisher: Marvel Comics
Call her the Boba Fett of the new trilogy all you'd like: Captain Phasma is cool. She may have spent The Force Awakens looking shiny, providing exposition and getting dispatched with ease, but the Stormtrooper officer played by Game of Thrones; Gwendoline Christie cut an intimidating, chrome-finished profile and emerged as one of Episode VII's most memorable visuals. This mini-series, which Marvel double-shipped and rush-collected in time for The Last Jedi promotional season, returns to the final moments of the Starkiller Base and explains how Phasma escaped the planet-sized explosion to menace Finn, Rey and the rest of the Resistance in this December's sequel film. Jem and Hawkeye scribe Kelly Thompson joins Marvel's Star Wars family alongside Marco Checchetto, a mainstay who has previously illustrated Obi-Wan & Anakin and Shattered Empire, Marvel's first post-Return of the Jedi outing. The brisk plot may not be essential reading for a galaxy far, far away, but it does help flesh out Phasma's character while ably answering the nagging question of her escape. Steve Foxe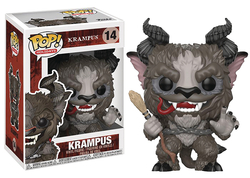 Krampus Funko Pop
Are we reaching by including this fearsomely festive Funko on our comic-book gift guide? Like H.P. Lovecraft's Cthulhu, Krampus is an idea that the nerd realm just can't quit, from a self-titled Image Comics series to 2015's underrated holiday horror film of the same name. This plastic rendition isn't tied to any one item of pop culture, but hits all the necessary marks: pointy horns, rattling chains, goat hooves. And in true capitalist Christmas fashion, ol' Krampus comes in standard, blood-red, flocked, snow-flocked and frozen variant varieties. Fans of the gleefully macabre should enjoy adding this demon to their holiday display. And who can't use a few more Funko Pops cluttering up their shelves? Steve Foxe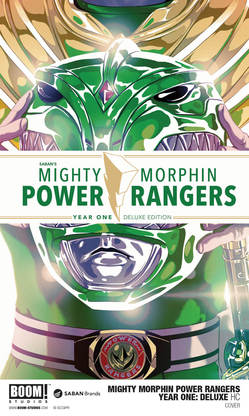 Mighty Morphin Power Rangers Year One Deluxe Hardback
Writer: Kyle Higgins
Artist: Hendry Prasetya
Publisher: BOOM! Studios
Mighty Morpin Power Rangers was the early '90s anomaly that had no right to "work" as well as it did: the Fox Kids upstart recycled footage from the Japanese space-ninja show, Super Sentai, mixed with freshly shot footage of attractive high school co-eds navigating life without crossing any G-rated boundaries. The tones of each aesthetic clashed horrifically, most noticeably in the differing film qualities and Ed-Wood-level costumes. It was kitschy and awful, but also amazing in its brazen oddity, even if its nostalgic appeal wouldn't keep the attention of any millennial who's a hint sober. Credit writer Kyle Higgins and artist Hendry Prasetya for elaborating, refining and tweaking the concept into a much more fruitful, streamlined narrative. Prasetya's art retains the wholesome, day-glo verve of the TV show without faltering into darker extremes. This deluxe hardback collects the first year's worth of story, with nearly 500 pages perfect for grade-school comic fans or nostalgia lovers with elevated taste. Sean Edgar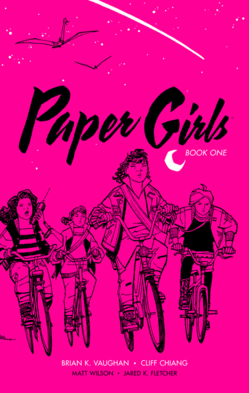 Paper Girls Deluxe Edition Vol. 1
Writer: Brian K. Vaughan
Artist: Cliff Chiang
Publisher: Image Comics
In the pantheon of western comics, few creators have done more to broaden the medium's prospects than Brian K. Vaughan. His diverse, sexy sci-fi outing with artist Fiona Staples, Saga, served as the vanguard for creator-owned comics that weren't afraid to grow up with kids who had devoted their allowance money to Big Two superheroes. His second ongoing at Image Comics appropriately addresses the youth of today, with artist Cliff Chiang and colorist Matt Wilson ushering a bright aesthetic to this story of four kids hijacked into a space-time bildungsroman. Paper Girls certainly fits into the '80s-fueled renaissance that's also bore witness to Stranger Things and an endless stream of Stephen King adaptations, but this comic sports its own neon DNA. Each chapter broadens a sprawling epic involving time-traveling mutant rebels, dinosaur-riding authoritarians and, um, warring water bears. Outside of that rich genre tapestry lies one question: at what age do youths stop trying to change the world and decide to maintain the status quo? Chiang's world-building immaculately contrasts the fantastic with the suburban, complemented by Wilson's casts of magenta and cyan. Knowing the book's sales and Paste's audience, you're probably already reading Paper Girls, but if you're not, this hardback collects the first 10 issues and is the perfect way to catch up. Sean Edgar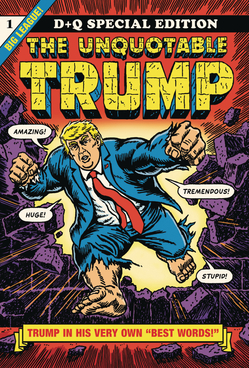 The Unquotable Trump
Writer/Artist: R. Sikoryak
Publisher: Drawn + Quarterly
Here's a risky one: R. Sikoryak's mixture of the hilarious and the depressing in the pages of The Unquotable Trump might be the cathartic laugh someone needs this holiday season, or it might be the final crack in your gift recipient's fragile grasp on sanity. Hurray for 2017! Sikoyrak is one of a host of cartoonists tackling the endless font of vitriol gushing forth from our current administration, and his method is one of mad genius: every word in the book is something Trump has actually said, juxtaposed against renditions of Trump as famous comic-book villains, despots and monsters. Marvel at Trump rejecting climate science on the cover of a Doctor Strange homage. Recoil in horror as Trump appeals to Black Panther with, "What do you have to lose?" Quake in fear as The Walking Donald washes over you while promoting the use of waterboarding. The Unquotable Trump may be just too real to handle right now—and lord knows Trump has provided Sikoryak with another volume's worth of material since this book came out—but the exhausted laugh is worth it. (And a portion of the proceeds go to the ACLU, so you can feel even better about your purchase). Steve Foxe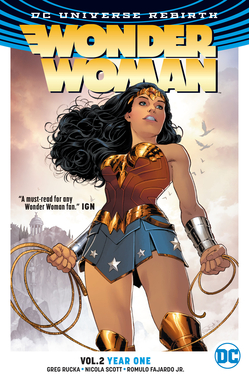 Wonder Woman Vol. 2: Year One
Writer: Greg Rucka
Artist: Nicola Scott
Publisher: DC Comics
Wonder Woman is one of the heroes to benefit most from DC's Rebirth relaunch last year, with the return of fundamental Diana scribe Greg Rucka alongside the powerhouse rotating art team of Nicola Scott and Liam Sharp (with later help from Bilquis Evely and Mirka Andolfo). Rucka and crew took a distinct alternating approach to DC's twice-monthly shipping schedule, with Scott handling the "Year One" origin story and Sharp taking over "The Lies," a modern-day tale that largely undoes controversial revisions to the character. Rucka masterfully blends the classic aspects of the character, established by iconic contributors like George Perez and Phil Jimenez, with the edgier modern DC world, much like Patty Jenkins' emotionally genuine take on the DC cinematic universe. Rucka wrapped up his run with issue #25, and while the full shebang is now available in trade format, the confusingly named Vol. 2: Year One is probably the best starter course around for new Wonder Woman fans on your shopping list. Steve Foxe