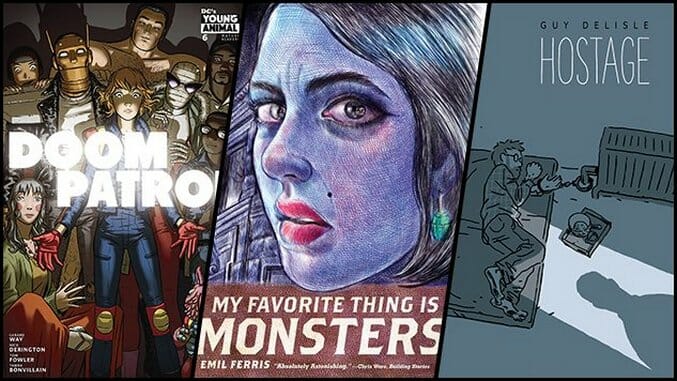 In an interview with Shea Hennum, First Second Editorial Director Mark Siegel used the term "new mainstream" to describe the democratization of comics—an explosion "out of super-hero and memoir, blending all kinds of art styles and narrative approaches, to explore every aspect of fiction and non-fiction, from cooking to physics, from mystical fantasy to a history of the game Tetris." It's a potent dream that's been fantasized often and articulated in many different ways, the thesis accusing publishers of treating comics more as a genre than a medium capable of telling any story. So…are we there yet?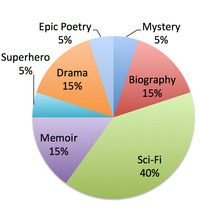 If this list of our favorite comics of the year thus far is any indication, that answer is a strong maybe. Our favorite comic of 2017's first half is a mystery and three biographies sit within our top 10. Other genre outliers include an epic poetry comic translation (Beowulf was a superhero?), a bunch of surreal sci-fi and an adult continuation of a '60s cartoon. Let's break it down in the chart to the left. Admittedly, drama is a bit of a catch-all that holds an umbrella over both Fred Flintstone and disgruntled alcoholic ex-hockey players, but work with us.
Whether Paste's taste dovetails with an expanded, intellectually diverse landscape of sequential art, we can confirm that these works are unanimously excellent. From Jason Aaron and Russell Dauterman's grandiose meditation on morality and godhood in The Mighty Thor to Jillian Tamaki's exploration of technology and isolation in Boundless, the panels from the past six months haven't been afraid to challenge us in the best way possible. Check back in December when we tally up our favorite books from the whole year.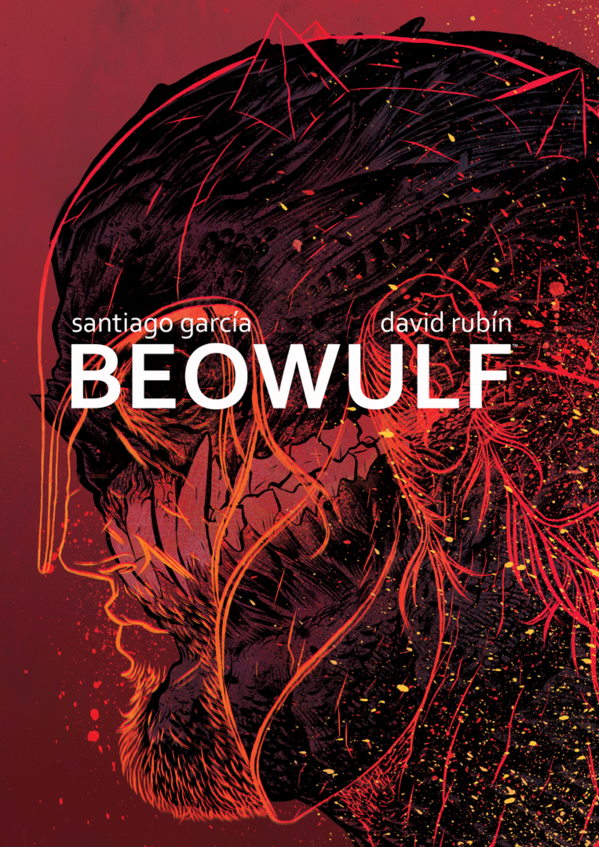 20. Beowulf
Writer: Santiago García
Artist: David Rubin
Publisher: Image Comics
Ether's David Rubín may not have adapted Beowulf solo—he worked with writer Santiago García after the first attached artist had to bow out for health reasons—but this Spanish import stands alongside Rubín's own two-volume retelling of Heracles, Hero, to cement his reputation as a preeminent interpreter of the grand heroic saga. Beowulf eschews most of the anachronisms of Rubín's Hero, which was as much a tribute to Jack Kirby and the superhero myth as it was to Greek mythology, opting to portray a relatively straightforward take on the oldest English-language saga—"straightforward" being a relative term in Rubín's prodigiously talented hands. While there's little in the text that would shock Seamus Heaney, Beowulf's most famous modern translator, García and Rubín instill their version with subtle suggestions and visual decisions that shed new perspective on this much-discussed story. The best example is one of the quietest: before Beowulf's first sinewy tussle with the bloodthirsty monster Grendel, he lies in wait naked in the mead hall (a detail dictated by the epic poem). Rubín breaks down Grendel's discovery of this idealized man into dozens of panels, including close-ups that suggest a sexual awakening in the monster. It's a small moment, not explicitly present in the source material, that tilts the reader's take on the story just enough to suggest that we may not yet have plumbed the depths of what Beowulf has to offer. Steve Foxe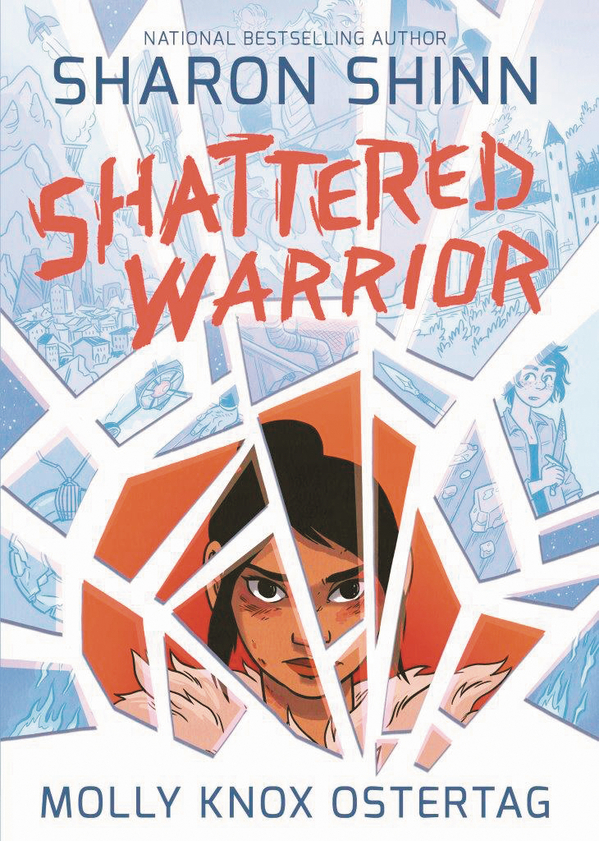 19. Shattered Warrior
Writer: Sharon Shinn
Artist: Molly Knox Ostertag
Publisher: First Second
The story of Shattered Warrior takes place on a planet populated by humans that has been conquered by much more powerful and technically adept aliens, the Derichets. A young woman, Colleen, works in a factory overseen by these tyrants, extracting valuable minerals from hunks of rock. Her family is dead, and she tries to lay low, but when her younger sister is found, she discovers a new sense of purpose. The foundation of the plot isn't all that promising, unless you are easily romanced by simple speculative fiction. But what the authors do with it is what makes the difference. The book has an ability to pick you up and carry you along on its emotional flow. It's an escape and it's a manifesto that says forging new connections is the best thing you can do in a world where your oppressors hold all the power. It's a book about the strength you gain from letting yourself be vulnerable, which makes it both good and important at the present moment. Hillary Brown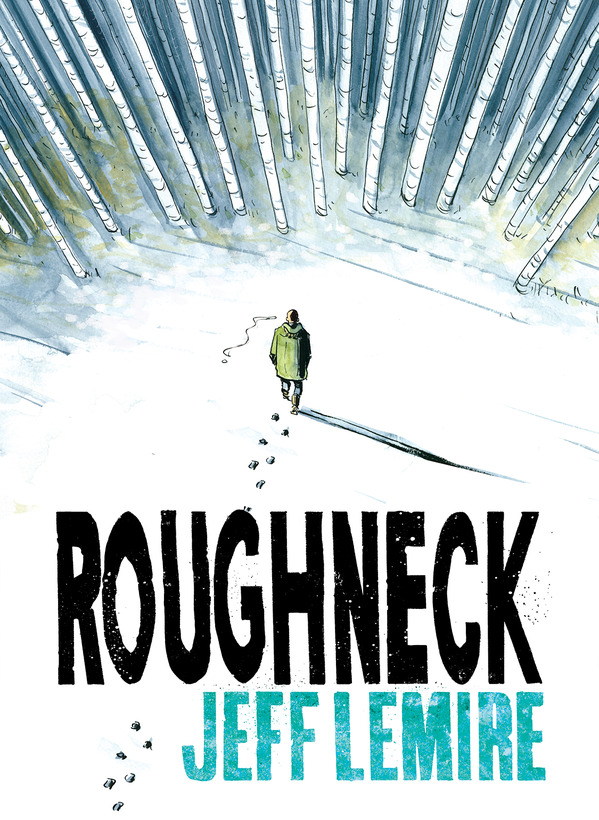 18. Roughneck
Writer/Artist: Jeff Lemire
Publisher: Simon & Schuster/Gallery 13
Jeff Lemire, the master cartoonist of dysfunctional families and rural stillness, returns with this 272-page tome that may be the most concentrated example of his aesthetic. Lemire has cultivated a resonant library of deeply personal work, unmistakable in its themes and sketchy, emaciated lines. Roughneck revolves around a former hockey player who takes refuge in an abandoned hunting lodge with his sister, pursued by an abusive ex. With a book this thick, Lemire has room to dig his scalpel even deeper into these characters while submerging them into the haunting wooded atmosphere that stands as his most frequent character. Sean Edgar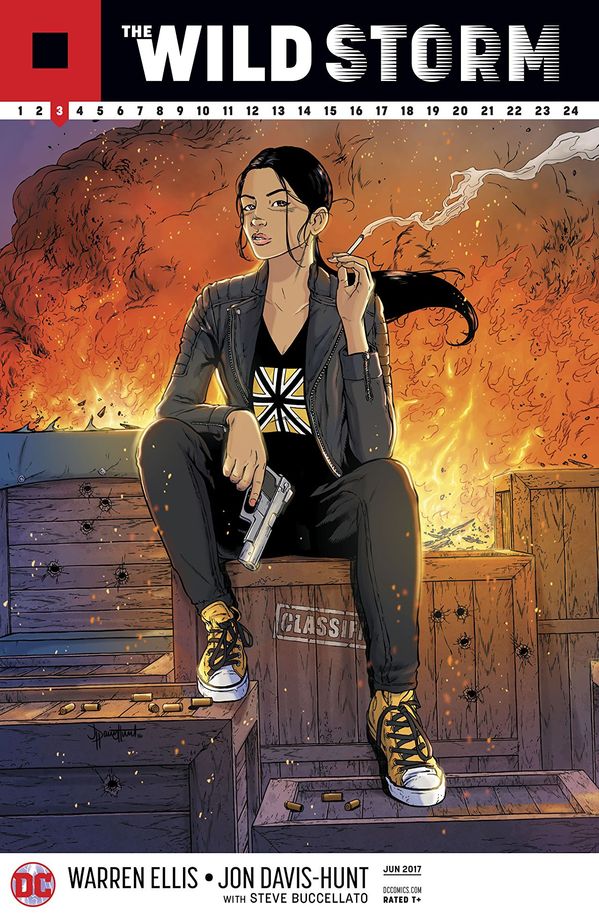 17. The Wild Storm
Writer: Warren Ellis
Artist: Jon Davis-Hunt
Publisher: DC Comics
Late-period Warren Ellis is an interesting writer. He tends to float around Marvel and DC, dropping in for a visit when the mood strikes. In those cases, we're lucky to get six issues of Moon Knight or Karnak, as it seems that Ellis has reserved his long-form energies for some of his more ambitious, creator-owned work including Trees or Injection. Who can blame him? But now, we've been blessed with a 24-issue series from the writer (four issues of which have hit shelves) at DC, in the form of The Wild Storm. It has all the makings of a series from the comic icon: thoughtfully crafted science fiction, scene-chewing super-geniuses, hyper-detailed gore, oligarchic intrigue and a "transkeletal drysuit" (plus other assorted Ellis jargon). With 20 more issues to go, Ellis has plenty of room to stretch, which means we're able to spend time with these characters, to learn about their world and to let the mystery of The Wild Storm unravel with each bullet shot, bone broken and head exploded. Jakob Free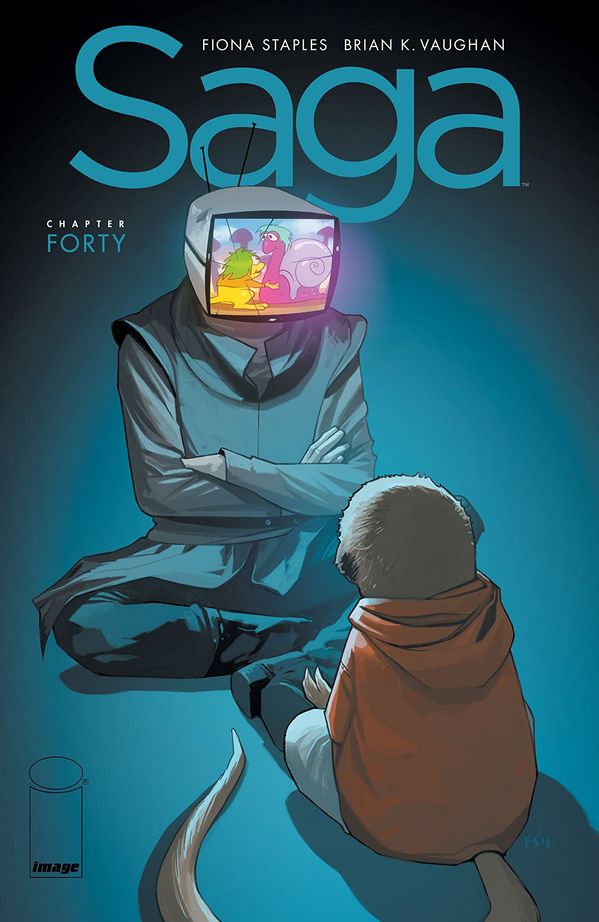 16. Saga
Writer: Brian K. Vaughan
Artist: Fiona Staples
Publisher: Image Comics
If Saga's 43 issues have confirmed anything, it's that writer Brian K. Vaughan and artist Fiona Staples are in this for the (very) long haul. At the end of this winding expedition of family, loyalty, sex and bananas sci-fi, grad students will write their thesis on this landmark comic and upcoming writers will avoid the genre, woefully lamenting, I'm not touching that shit after Saga. The first act witnessed two star-crossed alien lovers give birth to a hybrid baby, united in an us-against-the-universe struggle as two amoral armies pursued them. The second act showed how the greatest battles—drug addiction, infidelity and doubt—can emerge in the most peaceful lulls. The third (each consists of 18 issues, collected in hardback books) is only six issues in, but struck a massive, personal blow against parent heroes Alana and Marko in the last issue. Reading Saga is experiencing an obsessive simulation of a family's life-span, far more real than any comic with preying mantis school teachers should ever be. The creative team hasn't stopped melding sucker-punch creativity with gut-wrenching drama, and not one issue has failed to warrant our endorsement. Sean Edgar



15. Shade the Changing Girl
Writer: Cecil Castellucci
Artists: Marley Zarcone, Chynna Clugston Flores
Publisher: DC Comics/Young Animal
Like most of the Young Animal lineup, Shade fills the void left behind by '90s mature-comics staple Vertigo, a weird and wonderful adventure that feels like a gem from an indie publisher. A play on Steve Ditko's Shade, the Changing Man (better known from Peter Milligan and Chris Bachalo's long Vertigo run with the character), Shade would be captivating if it only focused on the titular character's alien origins and her adventures as she explores a foreign planet. But what really makes the book shine is the balance of the fantastical and mundane, recognizing that being a teenage girl isn't all that different from being a super-powered alien with a magic coat that allows you to possess other people. Our teen years are marked by a youthful drive to escape the known and safe alongside curious shock at the behavior of others.
Marley Zarcone's crisp but flexible art and colorist Kelly Fitzpatrick's palette are vital to making Shade into something both psychedelic and familiar, melting the reality around protagonist Loma even as she manipulates it to her will. This kind of introspective, kaleidoscopic jaunt isn't unheard of in comics, but it is rare, if not completely unprecedented, to have it star a young woman. Loma is allowed to participate in all of the behaviors for which society often derides young women: she's mean to her friends, obsessed with her social standing, constantly reaching for something new and unique. But this doesn't make her any less compelling of a protagonist, or her journey of self-discovery any less important and enjoyable. It's the perfect bridge to more adult comics for fans of shows like Adventure Time and Steven Universe, rife with complicated characters and exciting adventures, but rooted in the desire to know both the world and oneself. Caitlin Rosberg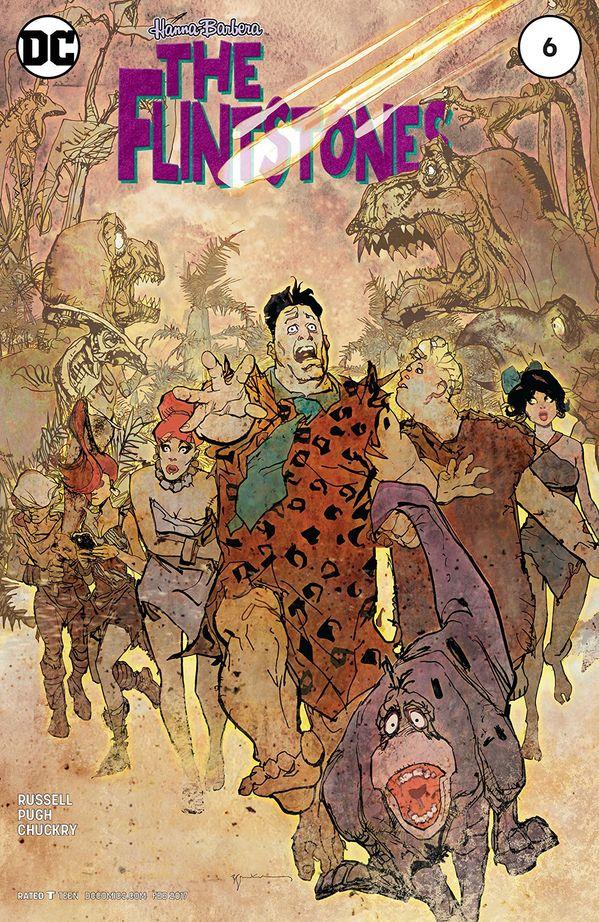 14. The Flintstones
Writer: Mark Russell
Artists: Steve Pugh, Rick Leonardi
Publisher: DC Comics
Paste is still mourning the loss of Mark Russell and artist Ben Caldwell's Prez—could there be a better time for a spunky political palate cleanser?—but at least Russell still has The Flintstones to broadcast his subversive, socially skewed wit. Alongside artists Steve Pugh and Rick Leonardi, Russell has tackled commercialism, monogamy and race in this comic continuation of the classic Hanna-Barbera cartoon. This year has also introduced the goofy green alien, The Great Gazoo, as he grades humanity an "F," while the town of Bedrock grapples with the local church's use of indulgences. Russell addressed similar territory in his hilarious prose Bible remix, God Is Disappointed in You, resulting in plenty of scholar-grade vitriol. Sean Edgar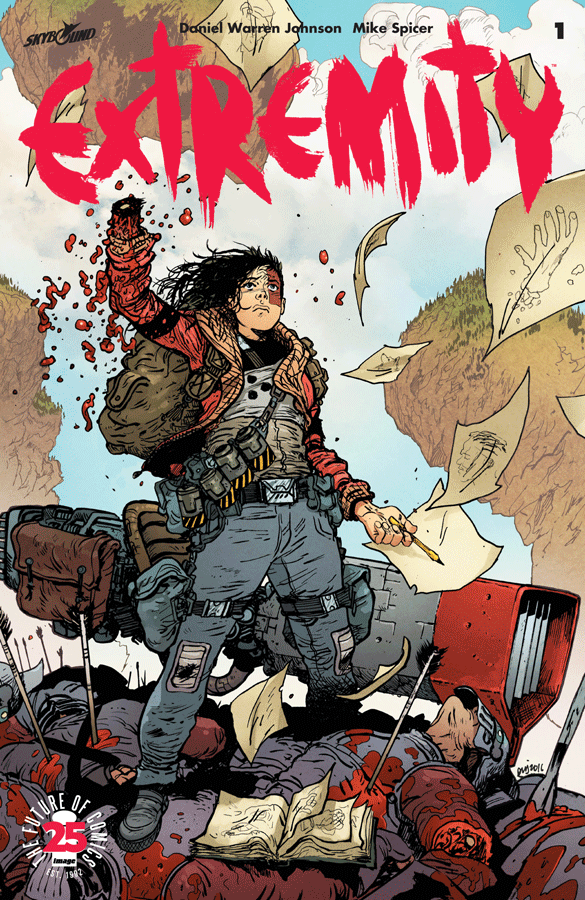 13. Extremity
Writer/Artist: Daniel Warren Johnson
Publisher: Image Comics/Skybound
Paste named Extremity one of its most anticipated comics of 2017, and for good reason: Space Mullet's Daniel Warren Johnson has long been one of the comic industry's best-kept secrets, an "artist's artist" who hasn't quite broken through to the wider readership. Extremity, his violent, bizarre Skybound debut, should finally rectify that travesty. Like an outer-space Fury Road, Extremity is a bloody, fast-paced tale of tribal warfare in a sci-fi world that never conquered class stratification. And like Fury Road's George Miller, Johnson thrusts his readers right into protagonist Thea's revenge-driven conflict at breakneck speed. Steve Foxe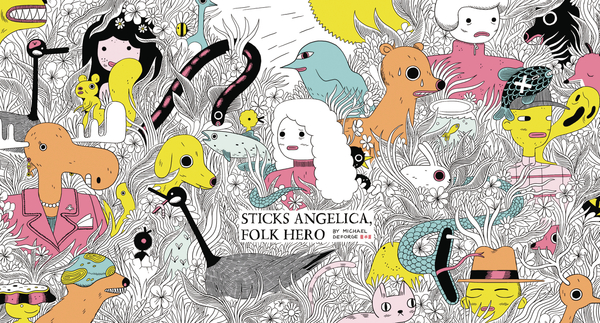 12. Sticks Angelica
Writer/Artist: Michael DeForge
Publisher: Drawn & Quarterly
Sticks Angelica is not Michael DeForge's most serious work. Rendered in black, white and magenta, it's a vehicle for play. That's not to say it doesn't have melancholy moments. The plot is full of missed connections between characters and places, the meaning behind an utterance failing to jump the gap from one brain to another. All of these scenes are faintly sad, but they also have some sweetness to them. The geese, fish, deer, bears, humans, insects and rabbits who populate the book keep trying to reach one another; sometimes, but not frequently, they succeed. The ideas are interesting, and the individual strips, with their delicate patterns and intelligent use of color, produce a mindful, existential experience. Is there meaning in the world? In the wilderness? In the universe? Who knows. But there is art, and DeForge is making it. Hillary Brown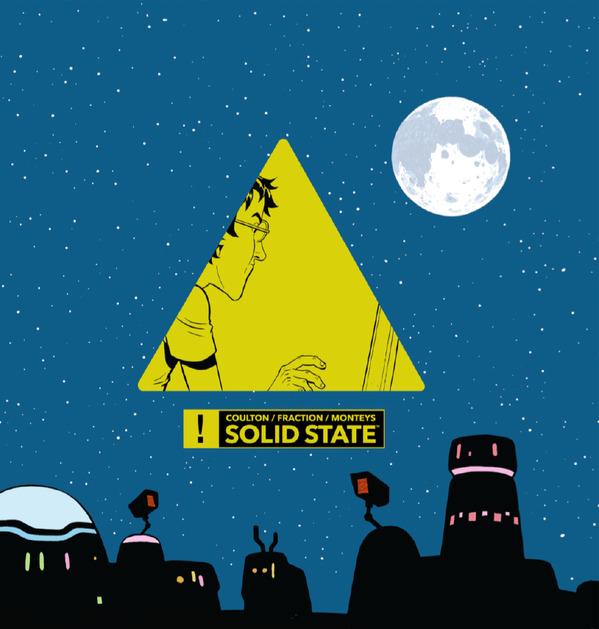 11. Solid State
Writers: Matt Fraction, Jonathan Coulton
Artist: Albert Monteys
Publisher: Image Comics
Things are stranger than they seem, Now I remember what I dream /
What if Kurzweil doesn't make it? What if all the switches get stuck on destroy?
This question makes up the refrain of Jonathan Coulton's "All This Time," a lovely little ditty whose soul-wracking existentialism and infectious dream pop-melody provide the raw speculative kernel from which Matt Fraction and Albert Montey's Solid State blossoms. Nothing so plain as a comic commissioned in some promotional bid for cross-medium synergy, Solid State is an entity all its own apart from the album from which it claims its namesake, and yet the two fit together so that their compliments and contrasts give rise to exciting new readings and possibilities not only for the text itself, but for the future of the media they represent. Set at the dawn of the singularity and brink of human extinction, two men separated by time and space with nothing in common save a first name (Bob) set out on their own separate journeys to bridge the divide between the mistakes of the past and the mysteries of the future. Equal parts wonderful, terrifying and mind-expanding, Solid State's tale of serendipity, causal chaos and the unforeseen perils of science gone sycophantic yields a edifying experience that any reader, comic fan or no, would be tragically remiss to pass on for nothing save the reason of, "Oh, it's just an album comic." Solid State is what happens when three masterful storytellers reach into the zeitgeist, grasp at the root of our loneliest fears and most secret hopes, and manage to pull out something that's not only entertaining, but resonant in its intimate profundity. Toussaint Egan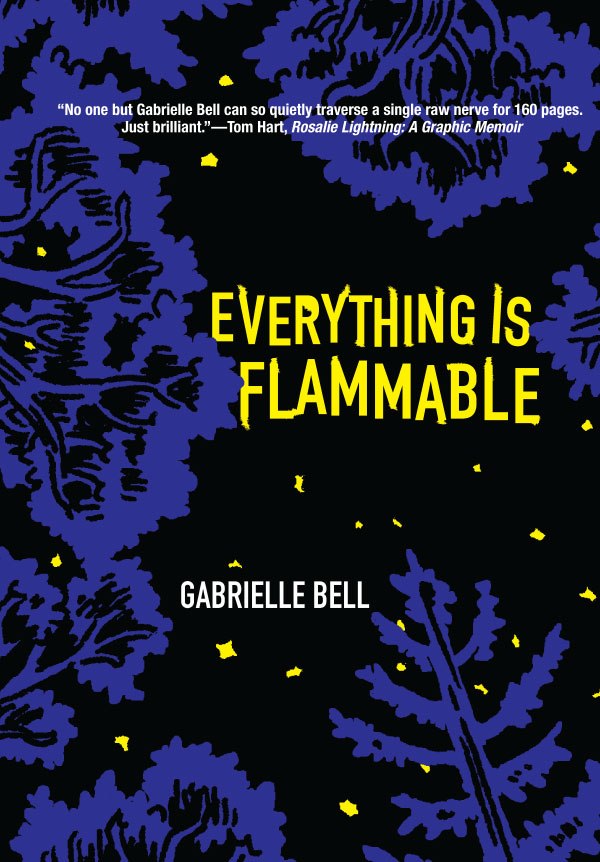 10. Everything Is Flammable
Writer/Artist: Gabrielle Bell
Publisher: Uncivilized Books
Gabrielle Bell's comics arrive from unexpected angles. Whether her stories are dream-like fiction or drawn from life, Bell avoids the predictable, leading the reader to sucker-punch emotional truths that emerge organically from words and pictures. Her work is subtle in its execution and grand in its scope, and never quite goes where one might expect. Over the decades, the focus of Bell's work has shifted slightly: the off-beat surrealism of her shorter works collected in 2009's Cecil and Jordan in New York has given way to the nuanced nonfiction of books like 2012's The Voyeurs. Bell's latest confessional, Everything is Flammable from Uncivilized Books, chronicles her experience after a fire consumes her mother's California house. The graphic novel experiments with structure, telling Bell's story along with several other narratives that serve as counterpoints. It's a deft narrative, a moving story with a tactile sense of place throughout. Tobias Carroll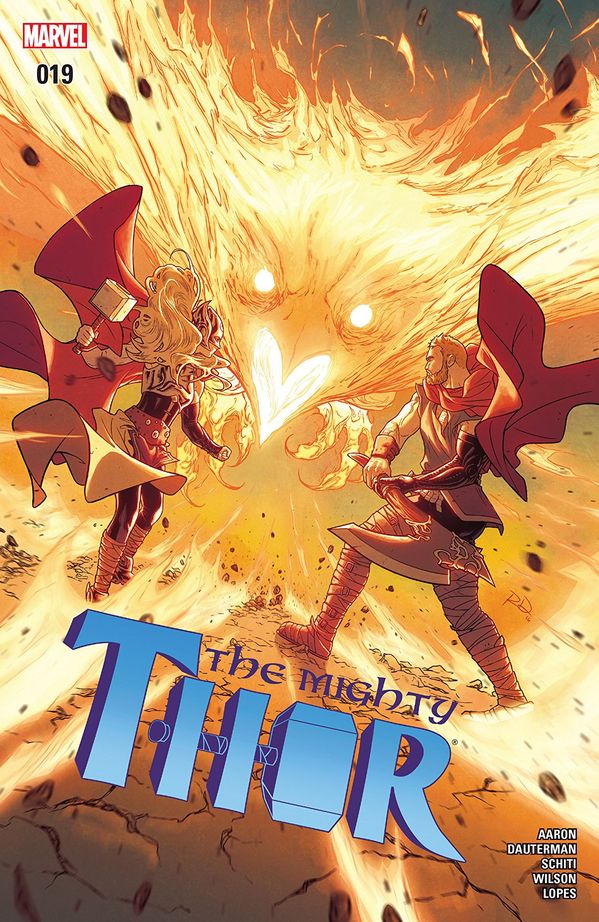 9. The Mighty Thor
Writer: Jason Aaron
Artist: Russell Dauterman, Steve Epting
Publisher: Marvel Comics
"What's the best Thor run?" used to have an easy answer, or rather two easy answers: Stan Lee and Jack Kirby did more than create Marvel's version of the Norwegian thunder god in the '60s—they crafted a sprawling cosmic epic that was at times even more creative than their Fantastic Four run. Then in the 1980s, a long creative drought ended when Walt Simonson brought a cosmic scale and sense of humor back to the title, along with his gorgeous, dynamic art. But these untouchable runs are in touching distance, thanks to Jason Aaron and a string of talented artists. Since taking over the Odinson in 2012, Aaron has been crafting a multidimensional, multi-Thor saga that's more ambitious and fun than anything else Marvel's been putting out in the same time frame, or maybe any time frame. Through the buildup to the recent arc "War of the Realms," Aaron has managed to comment on real-world politics, creating a cosmic United Nations full of elves, trolls, giants, gods and mortals. With the Jane Foster Thor saga, Aaron has incorporated a meta-element into the comic seamlessly, as Odin's rejection of female Thor represents comic fans who can't handle change, especially change involving women. Odin—the ultimate old white man—stands for male domination at its worst, and he's supported by dumbass followers who hang "False Thor" signs that mirror the complaints of change-hating and/or misogynist fans. When Foster clobbers Odin with Mjolnir, it's a beautiful moment. As she puts it, "…when you're a ninety-pound woman dying of cancer…it does feel pretty good to punch god in the face." Mark Peters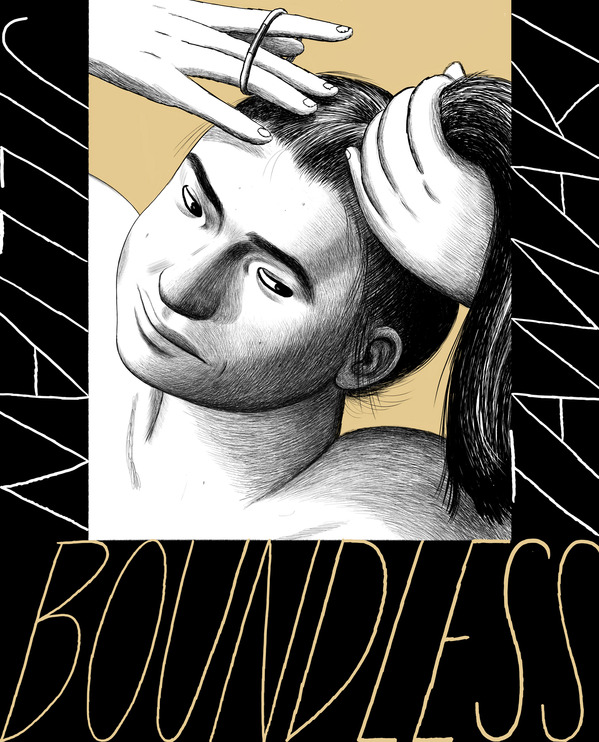 8. Boundless
Writer/Artist: Jillian Tamaki
Publisher: Drawn & Quarterly
At its core, Jillian Tamaki's Boundless is a series of short stories examining concepts of connection—the ever-constant search for purpose. What makes the book feel simultaneously so contemporary and yet time-capsule specific is the pervasive lens through which this theme is explored: a chronicling of modern interactions with technology and culture, often with a focus on how the former has impacted the latter. In the age of tech, connection comes via consumption, relationships with culture defining relationships with people, and defining the individual self…Boundless is many things: contemplative, cynical, amusing, surreal, but mostly it anchors Tamaki as a formidable essayer of modern life, and undeniably one of the finest cartoonists of this generation. Zainab Akhtar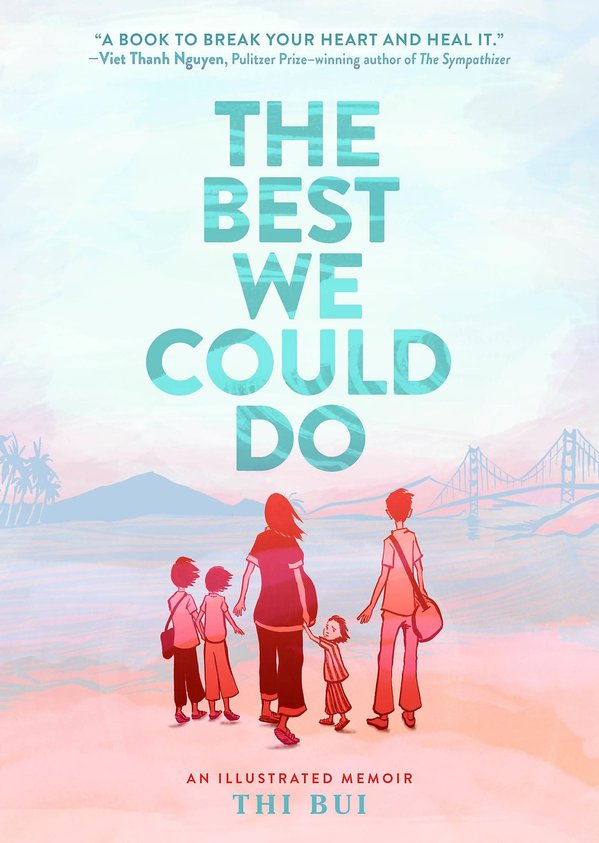 7. The Best We Could Do
Writer/Artist: Thi Bui
Publisher: Abrams
A genre with clunky names including autobiographical novel and visual memoir, the ever-growing library of comics designed to encapsulate real lives is bringing a wide range of important stories to entirely new audiences. Following in the footsteps of authors like Gene Luen Yang and Lucy Knisley, Thi Bui's The Best We Could Do presents the story of the cartoonist's family as it travels from Southeast Asia to America, and the position Bui finds herself caught in as she becomes sandwiched between her child and parents. As with many immigration stories, Bui's book revolves around identity. The Best We Could Do has been a long time in the making, and its author has sold early chapters online, but this printed volume collects all 15 in one place. Born in Saigon, Bui and her family came to America after the fall of South Vietnam, and her story offers readers a particular insight into the life of a family fleeing violence and fear in a time of political upheaval—a reminder of the micro consequences of macro political actions. Caitlin Rosberg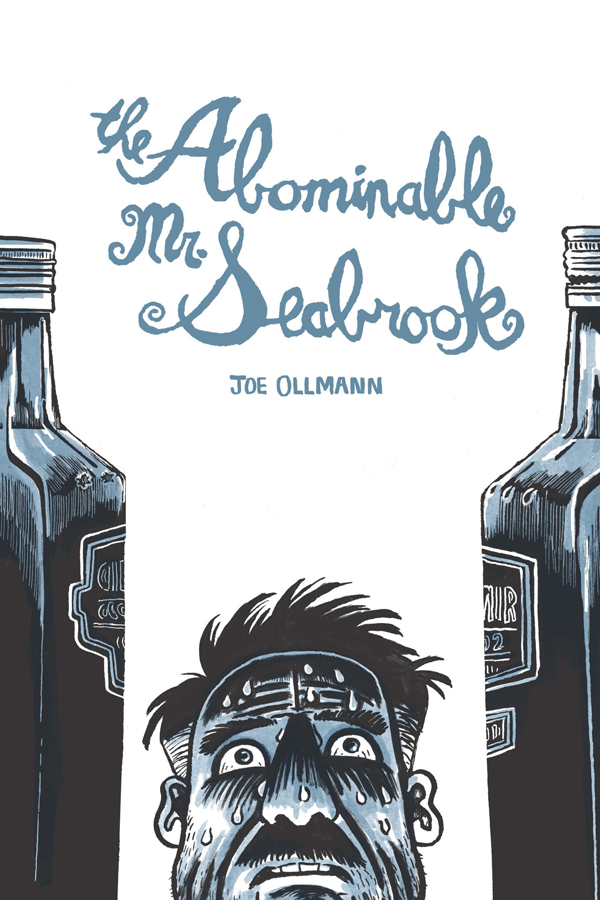 6. The Abominable Mr. Seabrook
Writer/Artist: Joe Ollmann
Publisher: Drawn & Quarterly
In his introduction, Ollmann writes movingly about what attracted him to Seabrook's work: his honesty and his insecurity. (Though Ollmann also notes that both he and his subject have struggled with alcohol, and both blended/blend a desire to believe in the supernatural with an inherent skepticism.) Above and beyond, this volume, which encompasses the scope of a life, makes the case for Seabrook's continued relevance as a writer, and charts an unsettling decline and fall. Ollmann has been involved with continuing Seabrook's legacy in other ways as well, helping facilitate the release of new editions of Seabrook's books Asylum (about his efforts to get sober) and The Magic Island (an account of his visit to Haiti). Before reading Ollmann's clear-headed and empathic account, the name William Seabrook may have been foreign; by the end of it, readers will likely want to order one of his books—the mark of a comprehensive and compelling literary biography. Tobias Carroll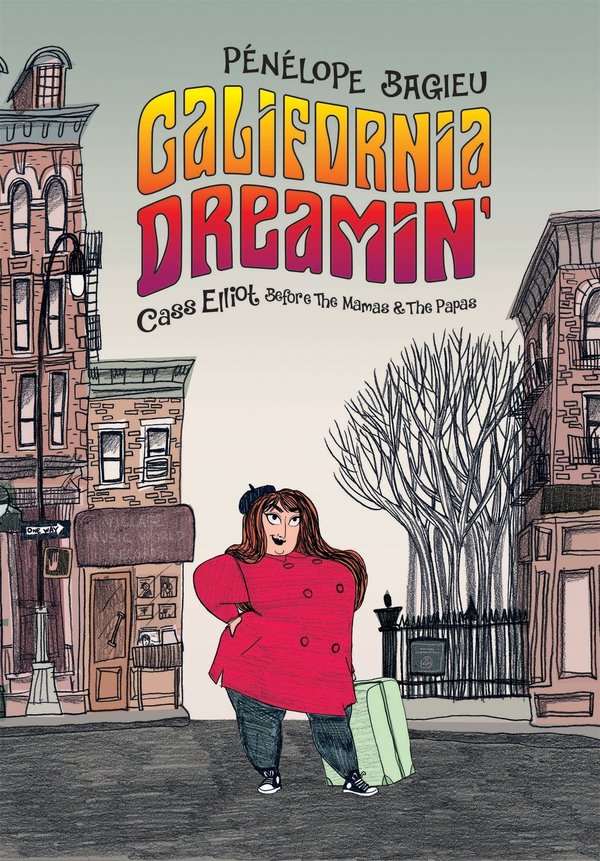 5. California Dreamin'
Writer/Artist: Penelope Bagieu
Publisher: First Second
Pénélope Bagieu's California Dreamin': Cass Elliot Before the Mamas & the Papas offers a daunting proposition. The era of '60s flower-child music is over-romanticized, the outlines of Elliot's life are well known and the subject is primarily auditory, which makes it difficult for a medium that doesn't cater to that sense. But Bagieu clears those hurdles with style while depicting the life of a woman who made huge musical contributions while struggling with her body image and substance abuse. The cartoonist works in pencils, with no color, but the graphic novel doesn't need bright hues to roil with life. Bagieu's line feels personal, as though the reader puts it down on the page with their eyes as they read it. Instead of being cleaned with ink and Photoshop, the aesthetic has an organic quality that fits the story of a woman defined by rough and soft contrasts. It's a wary love song to a complicated artist who provided the world with moments of flowery joy. Hillary Brown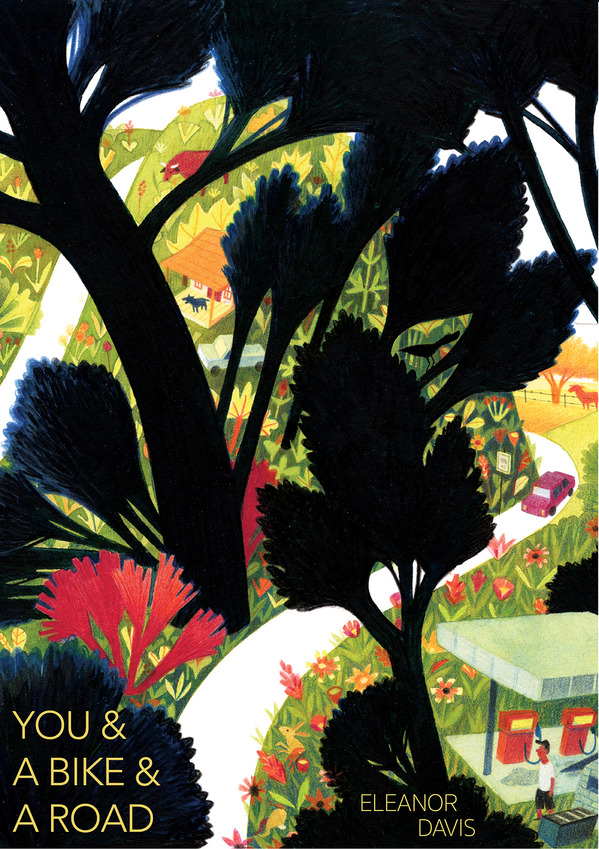 4. You & a Bike & a Road
Writer/Artist: Eleanor Davis
Publisher: Koyama Press
In March of 2016, Eleanor Davis decided to ride her bicycle from her parents' house in Arizona to Athens, Georgia, where she lives. Here and there, she drew things she saw and put them on Instagram. Followers received little dispatches as she made her way from Southwest to Southeast. Sometimes she was discouraged. Other times she seemed overcome by the beauty of the world or the kindness of strangers. The story unfolds slowly, without a classical narrative structure or predictable spikes of drama, but it is fascinating. You & a Bike & a Road, collects those drawings and captures the journey, while compressing the time that it took. It's easily one of the year's best books; the sense of immediacy and unfiltered emotion—its most notable features—are rare and difficult to do well. Hillary Brown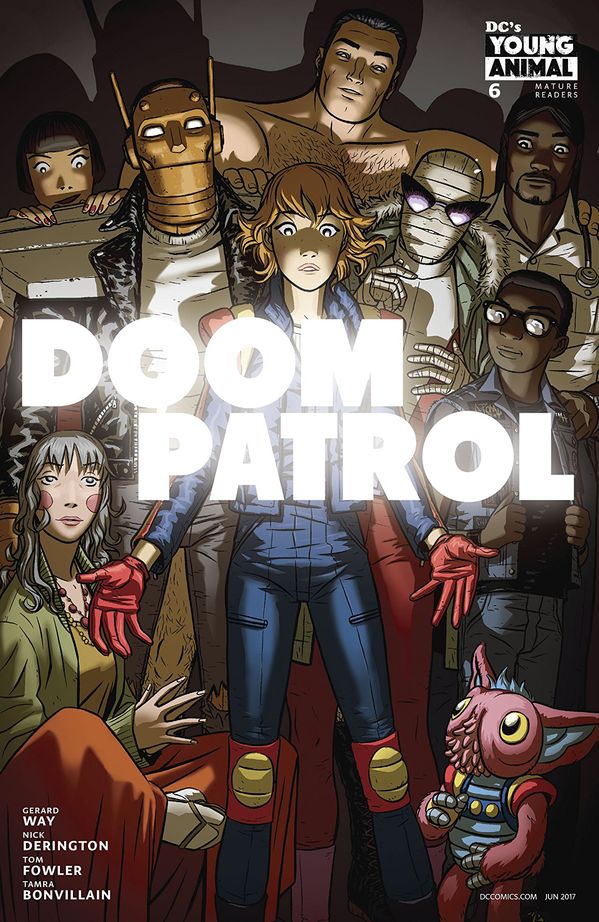 3. Doom Patrol
Writer: Gerard Way
Artist: Nick Derington
Publisher: DC Comics/Young Animal
In a not-altogether-surprising turn of events, it took Young Animal architect Gerard Way and illustration sensation Nick Derington a bit longer than anticipated to wrap the first arc of their psychedelic Doom Patrol reinvention, although fans of the franchise will be hard pressed to argue that initial arc "Brick by Brick" wasn't worth the wait. Way and Derington, with ample assistance from colorist Tamra Bonvillain, distill the gonzo appeal of Grant Morrison and Richard Case's storied run—as well as Rachel Pollack and co's oft-overlooked follow-up—with genuinely new ideas, a feat that's rarer than it should be in the modern comic climate. During an era of reboots eager to trash previous continuities, Way, Derington and Bonvillain folded years of reality-jettisoning storytelling into a fresh story of an EMT in over her head, and a gyro that's more than just tasty street food. It may be a while before we see Doom Patrol Vol. 2, but every long-awaited issue proves the vital need for Young Animal's thesis statement: Comics for Dangerous Humans. Steve Foxe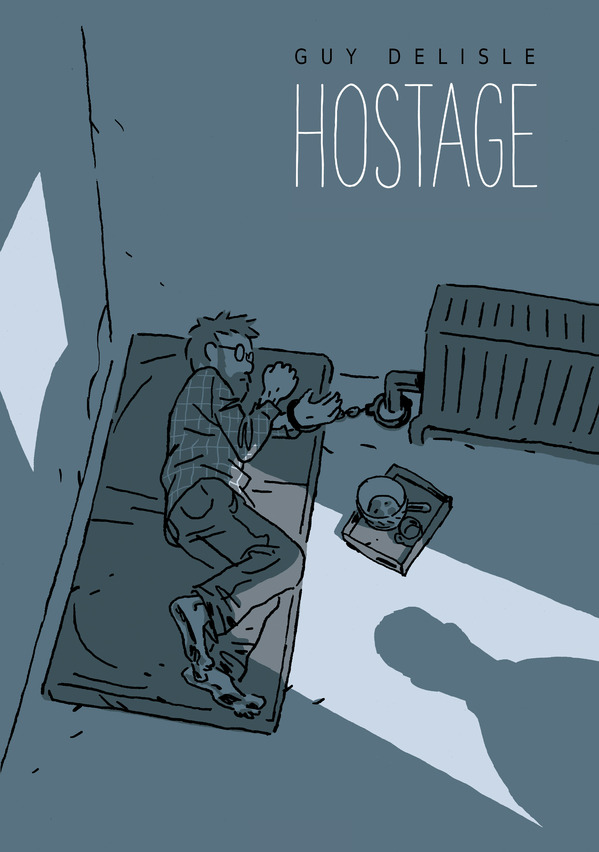 2. Hostage
Writer/Artist: Guy Delisle
Publisher: Drawn & Quarterly
Guy Delisle's library has largely stemmed from the cartoonist's international ventures through exotic geographies including Jerusalem, Burma, North Korea and China. His intimate, stylized lines escorted readers through the areas via travelogues, volleying exciting bits on culture and history with each new panel sequence. Hostage is a jarring departure in both tone and approach. The 436-page doorstop relays the trials of Christophe Andre, a Doctors without Borders employee who was tossed into solitary confinement for 100 days while working in North Caucasus. Instead of the breakneck parade of culture clash and architecture, Delisle now traps readers inside four grim walls alongside his protagonist for a very, very, very long time. This book is an exercise in brutal empathy, a meditation on the sparsely worded monotony and terrifying ambiguity of human captivity. The result is simply intense, a crystalline example of what sequential storytelling is capable of communicating. Sean Edgar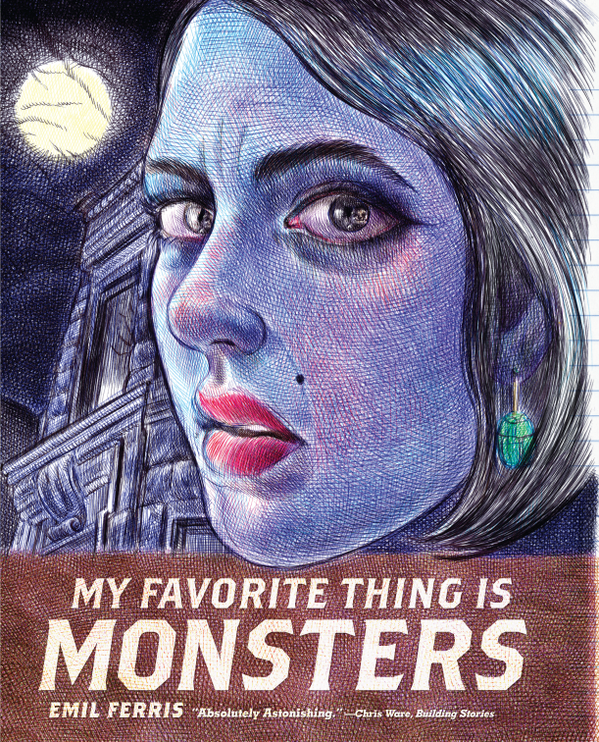 1. My Favorite Thing Is Monsters
Writer/Artist: Emil Ferris
Publisher: Fantagraphics
The first volume of Emil Ferris' debut comic, My Favorite Thing Is Monsters, was scheduled for release last October, timed to coincide with Halloween. But the company that owned the ship carrying the printed books went bankrupt, leaving its cargo in a terrible limbo that delayed the book until this year. In some ways, the hiccup was fitting. Ferris' book has been anticipated for much longer and undergone multiple iterations. It's the sort of achievement that requires a certain sense of mission to complete. But it's here now courtesy publisher Fantagraphics, and it is well worth the wait.
Oversized with a paper binding, My Favorite Thing Is Monsters feels heftier than if it had a board cover, yet ephemeral at the same time. The story draws on EC Comics, Holocaust literature, detective fiction, monster movies, children's literature à la Harriet the Spy and more, weaving a complex tapestry through the 1960s that surprisingly parallels our current era. Are its monsters a metaphor or a reality? And are the people in it who look like monsters the ones we need to fear? Ferris doesn't supply simple answers. Instead, her work fuses the style and atmosphere of noir godfather Raymond Chandler with the passionate moral intensity found beating beneath a good episode of Tales from the Crypt. Hillary Brownp>