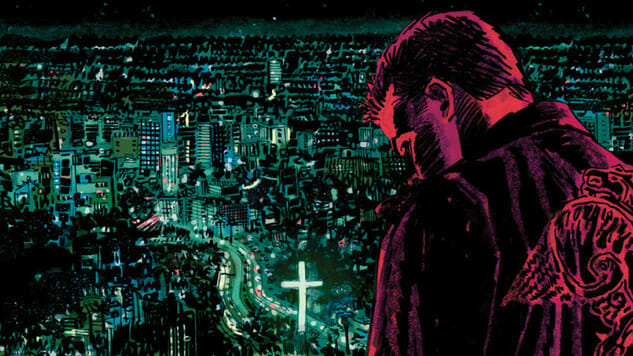 A little over a week ago, Paste helped break the news that BOOM! Studios, the new home of the Buffy the Vampire Slayer comic series, had prepared a secret launch for their companion title, Angel. Revealed to the public just eight days before a special zero issue clandestinely hit comic shops, Angel springs directly out of Buffy the Vampire Slayer #4 and will follow creator Joss Whedon's vampire-with-a-soul in both the modern day and throughout his infamous past. Written by Killmonger and Detective Comics scribe Bryan Edward Hill and drawn by Saban's Go Go Power Rangers artist Gleb Melnikov, Angel returns to shelves May 29th with its official #1 issue—and Paste has an exclusive first look at covers and a plot synopsis.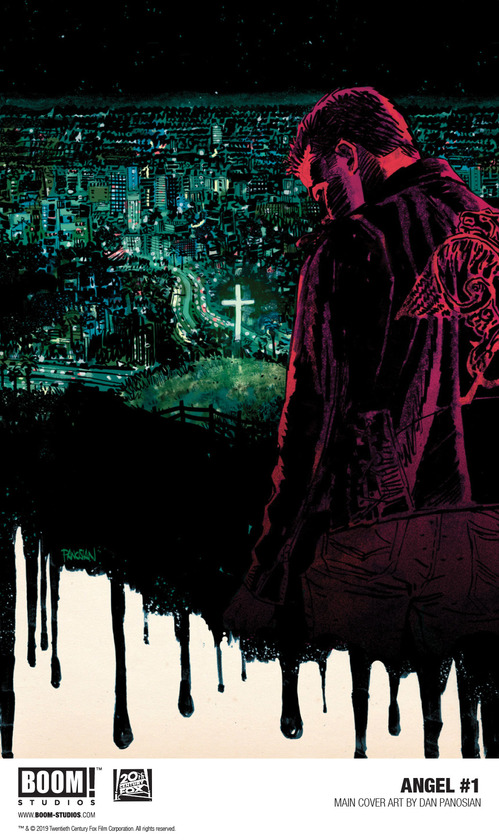 Angel #1 Cover Art by Dan Panosian
"We got our first taste of Angel in yesterday's game-changing Buffy #4 and surprise release of Angel #0, but that's only the start of the newly reimagined vampire's story in this modern Buffyverse." said Jeanine Schaefer, Executive Editor, BOOM! Studios. "The questions weighing on Angel—the possibility of redemption, whether or not we own our own mistakes, and how we weigh the value of the lives around us versus our own—remain extremely relevant today. Bryan and Gleb are tackling that head on, set against the centuries-long backdrop of the horrors Angel has seen and committed, revealing aspects of Angel's history that are sure to shock longtime fans."
Angel #0 and Angel #1 kick off with a demonic uprising that leads Angel away from Los Angeles and straight to Sunnydale, where he discovers that the restoration of his humanity can only come if he takes one more life: a certain Slayer he's never even met. The brooding vamp is still reckoning with the latest death on the never-ending list of debts he owes against his soul—can he make one last sacrifice if it means finally knowing peace?

Angel #1 Variant Cover Art by Scott Buoncristiano
Paste readers can take a first look at Angel #1's main cover from Slots creator Dan Panosian, along with a monster-themed variant cover by illustrator Scott Buoncristiano depicting the terrifying Der Kindestod, from the Buffy the Vampire Slayer season two episode "Killed By Death," above. For more on all things Buffy and Angel, keep your stakes (or fangs!) sharpened at Paste—and don't forget to check out our interview with Angel writer Bryan Edward Hill, too.