Award-Winning Author Nnedi Okorafor to Write New Black Panther Comic
Art by Andre Araujo/Marvel
Comics
News
Black Panther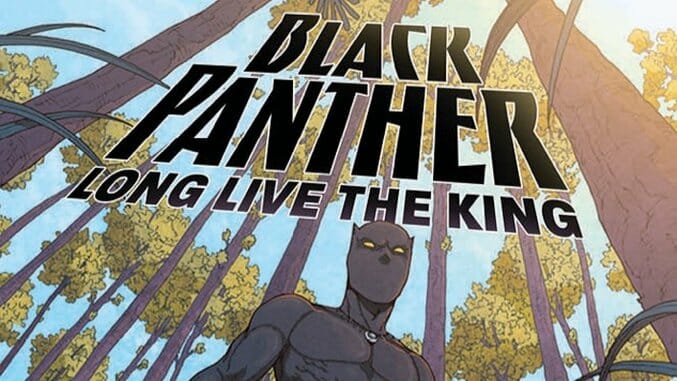 Nnedi Okorafor just expanded her résumé.
The acclaimed sci-fi author has announced that she has been hired by Marvel to write a new series focusing on T'Challa, the king of the fictional nation of Wakanda. Black Panther: Long Live the King will run six issues, with art and colors by Andre Araujo and Chris O'Halloran, respectively, and will be published digitally by Marvel and ComiXology. You can read Okorafor's announcement and see the first issue's cover below:
I'll be writing a 3-issue (so far) storyline of Black Panther for @Marvel. Here's the cover of Issue 1. pic.twitter.com/oaLAK7Q0fY

— Nnedi Okorafor, PhD (@Nnedi) October 4, 2017
Okorafor burst onto the scene in 2005 with the YA novel Zahrah the Windseeker, and has gone on to have a successful, prolific career—her 2010 novel, Who Fears Death, was recently picked up by producer George R.R. Martin and HBO for a television series. This isn't the first time she's written for comics, either. In fact, Nerdist notes that she's written for Marvel before as part of the Venomverse: War Stories anthology.
Few specifics are known about the plot of Okorafor's new series, aside from it centering on T'Challa defending his nation. ComiXology's brief plot synopsis reads:
As the Black Panther and an Avenger, T'Challa has had to save the world time and again — but those duties pale in comparison to his responsibilities as king of Wakanda. As the nation rebuilds in the wake of revolution, T'Challa finds his people besieged by a massive monster tearing through the country, leaving a trail of destruction in its wake!
Black Panther: Long Live the King will run on a biweekly basis starting on Dec. 13, exclusively on ComiXology.