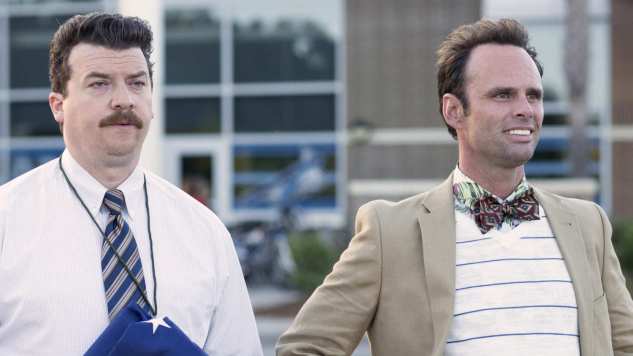 Danny McBride and Jody Hill are the premier satirists of the entitlement of white men, and the rage they're capable of exhibiting when things don't go their way. That's the backbone of The Foot Fist Way, Eastbound & Down, and their new HBO series Vice Principals, which debuts tonight. If you appreciate the vulgar, unhinged, often violent comedy of their past works, you'll probably enjoy Vice Principals. If you don't, you might want to steer clear.
McBride plays one of two vice principals at a high school in South Carolina who are vying to replace the outgoing principal (played in a short cameo by Bill Murray). His character, Neal Gamby, is a lot like Eastbound's Kenny Powers, but without the fame and money that comes with being a major league baseball pitcher. Gamby never knew the drugs and women and success that amplified Powers' egomania to cartoonish levels; he's peaked as a small town disciplinarian who's hated by students, teachers and fellow administrators alike. He's less crazed than Powers, but perhaps even more pathetic, closer to McBride's Foot Fist Way character, Fred Simmons. It's a prototypical McBride role, an angry, unlikable man who is deservedly disrespected by almost everybody he encounters, but over the first six episodes (the only ones we've seen so far) he becomes slightly more sympathetic than you might imagine. It took a few seasons for Powers to even start to redeem himself, a process that McBride and Hill never followed through to completion; Gamby starts to take small steps in that direction by the end of these first six episodes.
Gamby actually looks better in comparison to his fellow vice principal and co-conspirator, Lee Russell, who's played with an effeminate Southern fussiness by the fantastic Walton Goggins. Russell is more put together than Gamby—he's an ingratiating dandy who blatantly courts favor with the teachers and the new principal. He's also a complete sociopath, with hidden reservoirs of rage that are much deeper and more shocking than Gamby's. When the two team up to undermine the out-of-towner brought in to be their new principal, it's Russell who quickly escalates to a criminal level that makes Gamby uncomfortable.
These two men hate each other, but they know each other, and decide to team up to drive the new principal, Dr. Belinda Brown (played by Kimberly Hebert Gregory), away as quickly as possible. Russell's spindly prissiness and Gamby's stout oafishness mesh like a classic comedy duo, and McBride and Goggins are incredibly entertaining when they try to one-up each others' Southern-accented vulgarity.
McBride and Goggins thoroughly dominate the show, but that doesn't prevent other actors from making the most of their screen time. Hebert Gregory plays the unaware victim of their schemes, and her character can be as angry and over-the-top in her revenge as Gamby or Russell. So far she's had more range to cover than the two leads, switching at a notice from intimidating confidence to self-doubt. Brown's tougher than either Gamby or Russell, as she should be, as a black woman and divorced mother of two who's excelled in a world that her two vice principals still struggle in. Brown is a strong enough character that one could imagine her starring in her own show, especially one that focused on her relationship with her hilarious, scene-stealing sons. Sheaun McKinney is also a stand-out as Gamby's only apparent friend within the school, a cafeteria worker whose supreme ambivalence Gamby never quite picks up on.
This is McBride and Goggins' show, though. If they weren't so fantastic at their roles, that might open Vice Principals up to some legitimate anger or derision—a show about two white Southern men trying to ruin the life of a more successful black woman can be more than uncomfortable in 2016 (and it is a little unbelievable that racism has yet to be mentioned once within the show, despite the level of destruction visited upon Brown's property and reputation). Of course the show couldn't say what it's trying to say if it didn't focus on these petty white men. This is a very dark comedy that examines the rage spasms of the angry white man as he comes to grips with sharing power and respect with people who don't look like him. It doesn't get into specific politics, but it's basically savaging the right wing talk radio / Breitbart mindset that has convinced certain middle-aged, straight, white, Christian men that they are somehow the most persecuted demographic in society today. It can be a hard show to watch, and an early episode that is largely Goggins-free is as close to an outright dud as McBride and Hill have ever created, but if you can harmonize to its brutish wavelength, it becomes one of the funniest comedies of the year.
---
Garrett Martin edits Paste's comedy and games sections. He's on Twitter @grmartin.