Timothée Chalamet Gives a Perfect Response to John Mulaney's Jokes About Him
Photos by Matt Winkelmeyer/Getty, Bryan Bedder/Getty
Comedy
News
Timothée Chalamet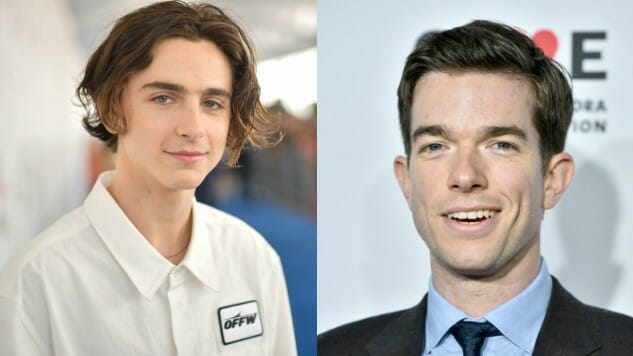 Timothée Chalamet is one of the hottest young stars in Hollywood. Chalamet gave one of the most raw and vulnerable performances of last year in Call Me By Your Name, earning him an Academy Award nomination for Best Actor at just 22 years old. During awards season, hosts of award shows and talk show personalities focused a lot on Chalamet, praising his performance but also poking fun at one very provocative scene from the film involving a peach. Chalamet took every joke and every compliment with sheer dignity and humility, but also as an awards season newcomer with unfathomable appreciation for all the notoriety.
Stand-up star John Mulaney came after Chalamet on the Netflix comedy special Seth Rogen's Hilarity for Charity. The comedian seemed to be annoyed with his wife's infatuation with Chalamet, aka "The Boy," as Mulaney called him.
.@mulaney congratulates @RealChalamet on all of his success. Hilarity for Charity, streaming now. pic.twitter.com/zNqCi5lvdj

— Netflix Is A Joke (@NetflixIsAJoke) April 7, 2018
The young Oscar nominee, of course, was made aware of the clip and gave the most perfect response.
yes I? watched it from the gas station

— Timothée Chalamet (@RealChalamet) April 8, 2018
The Call Me By Your Name star is referring to jokes about his wardrobe that were cracked at the Independent Spirit Awards, which was hosted by Mulaney and Nick Kroll. Kroll said during the awards show, "Timothée, thanks for taking a break from the gas station." Mulaney also referred to his wife's obsession with the young actor at the event, as well, which Timothée took in stride.
tb to this iconic line pic.twitter.com/pQM2eVyUJ0

— renée (@timothalamet) April 8, 2018
Mulaney responded in turn to Chalamet's acknowledgement, apologizing and saying he is an "enormous fan," and would love to partake in The Amazing Race with the actor.
Chalamet, I joke ONLY because I am an enormous fan, in awe of your talent, & terrified of my own age and mortality. Also it turns out you are 6'0. Please accept my apology. You're a good man and we should do the Amazin Race together if you're free. Im free. https://t.co/oXBoo5Fsjn

— John Mulaney (@mulaney) April 8, 2018
You can read our review of Hilarity for Charity, which is streaming on Netflix now, and learn more about the special here. Be sure to catch Chalamet in the forthcoming drama Beautiful Boy, out later this year.