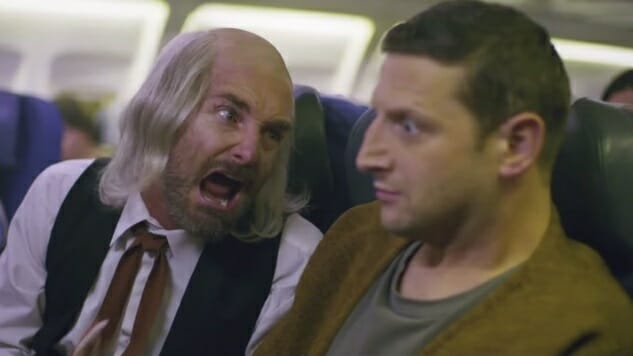 I Think You Should Leave with Tim Robinson, a show that we like very much here at Paste, launched on Netflix this past Tuesday. If you have the means to watch it, you should think about doing so—it's very funny and you can finish the whole season in about half the time it takes to watch that new Avengers movie.
If our recommendation isn't enough, though—and if you don't already know Robinson's work from Detroiters, Saturday Night Live, Netflix's The Characters and elsewhere—maybe this video will be the inspiration you need.
In this sketch from the second episode, "Thanks for Thinking They're Cool," Will Forte (one of many recognizable guest stars throughout the series) plays a typically absurd Will Forte character: a cantankerous old man who sits next to Robinson and his partner on a flight. It's not one of those random airline coincidences, though, but something deeper, more personal, and more vindictive. If you like Forte's style of comedy—absurd, awkward, committing fully to a concept or joke and taking it to uncomfortable extremes—you'll almost definitely love Robinson and his show, too.
Check out the sketch below. The rest of the episode, and the whole season of I Think You Should Leave with Tim Robinson, is now streaming on Netflix.