Netflix's New Sketch Show, I Think You Should Leave with Tim Robinson, Is Brilliantly Weird and Uncomfortable
Main photo by Lara Solanki, photos courtesy of Netflix
Comedy
Reviews
Tim Robinson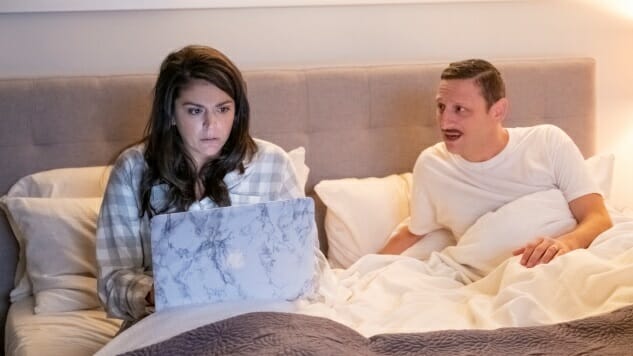 This is the fate of former SNL cast members: they'll always be referred to as such, even the ones like Tim Robinson, who was only on-camera for a season and whose best work can be found elsewhere. The co-star and co-creator of Comedy Central's dearly missed Detroiters, Robinson is equally comfortable on either side of the camera—he's a fantastic sketch comedy writer who's just as good of a performer, and who has carved out a unique and immediately recognizable niche in both. He puts both skills to brilliant use in his new Netflix show, I Think You Should Leave with Tim Robinson, which is now streaming.
Robinson is a master of embarrassment. His sketches tend to focus on two types of characters: people who tell small lies that grow larger and more obvious as they refuse to come clean, and people who are too irrational, confused or stubborn to understand what's happening—or refuse to understand because that would require admitting their own ignorance. This might sound like typical cringe comedy turf, but Robinson keeps it fresh by extending ideas behind all bounds of logic, resulting in characters or situations so utterly absurd that you won't even think of comparing them to such cringe comedy forefathers as Larry David or Ricky Gervais.
For instance: one sketch in a later episode starts off like a parody of rock 'n' roll biopics. A band is finishing up a gospel song in a small recording studio in what looks like the late '50s, and a dismissive label guy says they're not interested. They're looking for something new, something teenagers can get excited about. So the frontman—tall, handsome, with a deep baritone drawl—starts to make up a song on the fly, with Robinson on bass following along. They play the first verse of a Johnny Cash-esque country-rock story-song about a saloon murder, the label guy is instantly interested, and then Robinson's character launches into a loud, tuneless, absolutely hilarious second verse full of nonsense lyrics that are still somehow internally consistent with each other. It's a parody of a stereotypical biopic scene (one that was already terminally skewered by Walk Hard), but the execution is what makes it work so well. Robinson's caterwauling and ridiculous lyrics are objectively terrible, and yet his character delivers them with the utmost confidence, acting not confused but angry and in disbelief when the label guy tells him they prefer the frontman's lyrics. That sense of delusion, that utter disconnect between Robinson's character and the world around him, is a recurring theme, and part of what makes this show so great.
I Think You Should Leave is full of guest stars. Many are from SNL—Will Forte, Cecily Strong, Vanessa Bayer—and some were on Detroiters—Richardson pops up twice, and Shawntay Dalon is in a sketch. Tim Heidecker, Patti Harrison, Steven Yeun, Brandon Wardell, Conner O'Malley and others also show up. They never pull the spotlight away from Robinson, though, even when, as with Heidecker and Harrison, they're the lead in the sketch. That's because Robinson's voice as a writer is so strong and unmistakable that it dominates throughout the whole show. You won't forget who's responsible for these sketches, even if it's Heidecker taking the lead as a smug older record collector and jazz fan dating a millennial who just doesn't know enough about the Colgate Comedy Hour. (Robinson's not the sole writer—Detroiters co-creator Zach Kanin is credited on all six episodes, as is Forte's longtime collaborator John Solomon.)
Another thing that makes this show work so well is its brevity. Each episode is about 18 minutes long. It's long enough to make an impression, while also having a more leisurely pace than, say, an Adult Swim show that runs for 12 minutes. It also never drags on, though, and rarely has a bad sketch. It's lean in the best way, and is the first time I've binged an entire show in one sitting and didn't feel guilty about it.
Netflix's domination of the comedy scene hasn't come without controversy. Details are hard to come by, but by all accounts the pay scale is heavily tilted towards the megastars, while successful professional comedians with long, proven careers can often make more money elsewhere. They release so much stand-up that a less established comedian can just get buried in the flood of new specials that arrive week in and week out. They've taken chances before—the 15-minute Comedy Lineup specials gave opportunities to some of the best rising comedians around, and the one-off sketch anthology The Characters let creators like Lauren Lapkus, Kate Berlant, and Robinson do pretty much whatever they wanted with a full half-hour. I Think You Should Leave is one of the first projects to come out of Netflix's comedy wing that feels like something that couldn't exist elsewhere, though. Between the odd length and the peculiarity of Robinson's vision, it's hard to imagine this show coming out through any other method. If Netflix wants to prove that it's interested not just in volume but in quality, it should greenlight more projects like this one, from other comedians as talented and idiosyncratic as Robinson.
---
I Think You Should Leave with Tim Robinson is now streaming on Netflix.
Garrett Martin edits Paste's comedy and games sections. He's on Twitter @grmartin.