HBO Shares New Righteous Gemstones Trailer Ahead of Danny McBride Televangelist Comedy's August Premiere
In the Name of the Father, the Son and the Holy Scheming ...
Photos by Fred Norris/HBO
Comedy
News
The Righteous Gemstones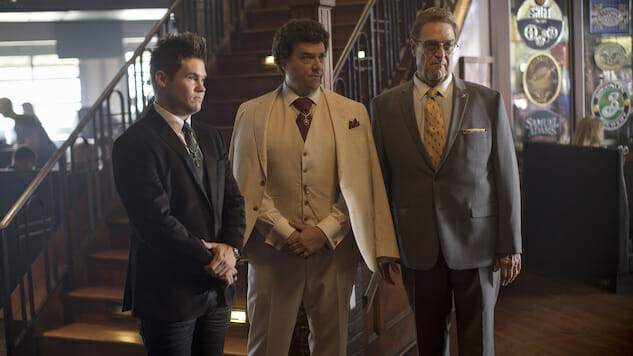 Danny McBride's love for making light of the unconventional knows no bounds.
HBO just released a new trailer for McBride's forthcoming comedy series The Righteous Gemstones, and it already looks like a steaming, satirical hodgepodge of televangelist scheme-age.
Starring McBride, John Goodman and Adam Devine, The Righteous Gemstones follows a world-famous southern televangelist family knee-deep in deviance, corruption and sham piety—think Succession, but with grubby, unholy Christians.
The trailer introduces McBride's gruff sideburned character, who is described by HBO as seeing himself "as a maverick in the ministry game, taking what his father, Eli Gemstone (John Goodman), has built and expanded it for a modern audience," and finds Devine doing his best Adam Lambert in a gelled faux-hawk and cross chains. Shenanigans ensue in the Gemstones' megachurch, a giant baptism pool and a white Jeep Wrangler.
Gemstones also features Edi Patterson, Cassidy Freeman and Walton Goggins in recurring roles, and is created, written, directed and executive produced by starchild McBride himself. Longtime McBride collaborators Jody Hill and David Gordon Green also serve as executive producers and directors.
The show premieres on HBO on Aug. 18. Check out the new trailer below.