The Muppets Join Josh Groban and Violinist Lindsey Stirling To Perform "Pure Imagination"
Comedy
Video
The Muppets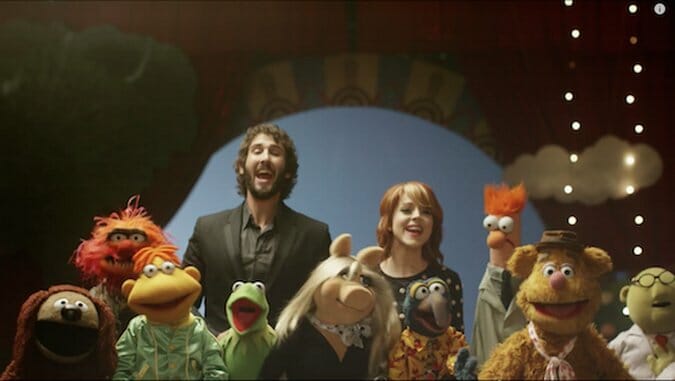 The Muppets have teamed up with Josh Groban and violinist/YouTube star Lindsey Stirling to perform a beautiful and hysterical rendition the Willy Wonka classic "Pure Imagination." Kermit the Frog directed the music video, and it went about as well as you would expect, with the cast of characters all doing their best to avoid total catastrophe on the set.
Groban remains cool and collected throughout the performance, crooning the lyrics with his silky smooth voice, while Stirling joins in with her vibrant violin and elegant dance steps. But right from the start, a million little complications begin to arise, from technical difficulties to Miss Piggy's own ego. Despite the general chaos, the crew pulls through and is able to complete the song with the Muppets joining Groban and Stirling in center stage at the end.
The skit was part of a slate of collaboration videos where the Muppets would make guest appearances in various popular YouTube channels.
Watch the hilarity ensue above.