Roy Wood Jr. to Deliver "State of Black Sh*t" Response on Tonight's Live, Post-State of the Union Daily Show
Photo by Jason Kempin
Comedy
News
The Daily Show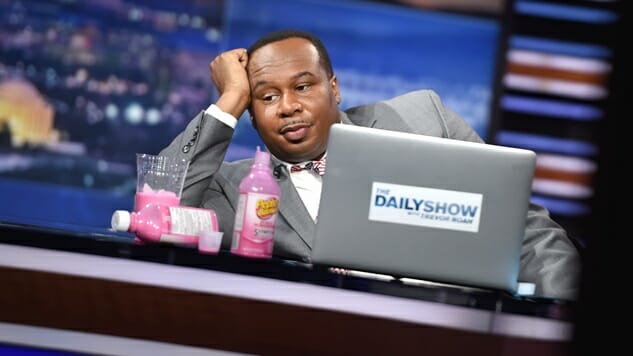 Tonight's State of the Union barrels closer with each coming hour, but the national worry over what will come out of our president's mouth tonight is being matched by the humorous amount of responses to Trump's speech that are being planned. Late this afternoon, another name has joined the likes of Sen. Bernie Sanders and Rep. Joe Kennedy: The Daily Show's own Chief Black Correspondent, Roy Wood Jr.
FOR IMMEDIATE RELEASE: Correspondent @RoyWoodJr to deliver "State of Black Shit" response to President Trump's #SOTU tonight at 11/10c LIVE on Comedy Central. pic.twitter.com/tAUbhOqWQT

— The Daily Show (@TheDailyShow) January 30, 2018
Yes, The Daily Show's live post-State of the Union coverage will include Wood delivering the "State of Black Shit" response to the State of the Union. Following the aforementioned Congressmen as well as "Auntie Maxine Waters, and probably Trump himself because responding to his own speech is seems like something he would do," Wood will deliver his own address, covering a "wide range of black shit." The speech promises to address "mass incarceration, the Nigerian bobsled team, and Oprah" among other other topics falling under the purview of "Black Shit."
This "eighth or ninth response to the State of the Union" falls right in line with all of the other addresses and responses, as appointment television for a nation desperately in need of calming, direction and leadership amidst a continually widening gap in partisanship.
The "State of Black Shit" response will be delivered during The Daily Show with Trevor Noah State of the Union 2018: The President Goes An Hour without Watching TV, airing tonight at 11 p.m. EST.