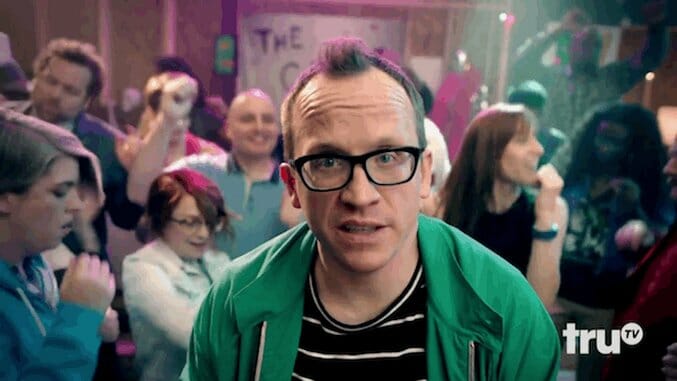 Chris Gethard's eponymous quirky variety show has long been a fringe hit for the cool geeks. But it's slowly gotten more attention—thanks, in part, to Gethard's own star rising through projects like his recent comedy special on HBO and last year's indie hit Don't Think Twice—and is moving to truTV starting August 3. This can be either good or bad, depending on when he came on your radar.
"People often say that our show is a misfit of island toys," Gethard explains.
Gethard and several of his co-stars were speaking to journalists on Thursday at the Television Critics Association press day. They all admitted that they were a little bewildered by the experience; after all, this is a project that started at Upright Citizens Brigade in New York before heading to public access, then Fusion and now truTV.
"We've worked so hard to make it great. If it isn't great, I want it to be a complete train wreck," Gethard says. "That's what I think makes great television. There is no middle ground."
This version, like a previous iteration that was on public access, is live.
"Tru actually proposed that to us," Gethard says. "Our show that premiered on the Fusion network was taped, but it was live when it was on public access. Tru was like, 'do you want to do it live again?' I was like, 'great!', but in my head I was thinking, 'this could be a really bad idea…'"
How does this show fit into the supersaturated late-night landscape?
"I think character-based comedy used to be a big piece of late night and I think now it's about games and hashtags," Gethard says. "That stuff's great and, as modern as our show tries to be with technology, I miss characters."
What do you mean by "live"? How can I watch it?
"We'll be live on TV with a 10-second delay and the east coast can watch it as it happens," Gethard says. "Anybody else who has a cable provider can watch it through the [network's] app or Apple TV and Roku and all these things… Our international viewers won't be able to get access to it live, which is a bummer for them but we hope they're still supportive of us."
How many of the guest stars know what they're getting into?
TCGS's guest stars have included Will Ferrell, who knew what he was getting into because he was an executive producer on the show. Other stars, like Amy Poehler and Jon Hamm, have happily played along. And, "very oddly, the person who has understood the vibe the most is Sean 'Diddy' Combs," Gethard says. He's even offered to help them book talent.
Why does Gethard think that is?
"I think it has a reputation of being a place where you get to show a different side of yourself and you get to kind of not worry about plugging your stuff," he says, adding. ""They're just human beings who want to hang out."
How have fans responded to the show's move to truTV?
"I have a lot of roots in the punk rock scene and the Brooklyn DIY scene and so there is always the sell-out aspect," Gethard says. "Some people do say you're selling out. I feel like, at the end of the day, I do feel like we're selling out. We've advanced from public television to Fusion to tru. Those are clearly steps toward a bigger platform, a commercial platform. [But] I think one of the things fan really appreciate is we put our money where our mouth is. If we commit that we're going to do it our way. Tru's been really great in saying we don't want to change it. We'll take some big swings. If it doesn't go well, we'll be on our way. If it fails, it fails. But it gives us a lot of freedom."
"We've had some corporate sponsorship leak in [before], like on Fusion, our music stage was sponsored," he says. "I see on Twitter, 'you sellouts.' Yeah, when AT&T is sponsoring your music performances… but I think one of the things our fans appreciate is that Fusion kept us alive and gave us a business opportunity, but was also not a total comedy network. I think truTV has a real focus on comedy."
What do those new to the program need to know about other people on it?
"I'm a real cool lady," deadpans Shannon O'Neill, Gethard's co-host and long-time friend.
"I think it's crazy because I should probably be dead, but I'm on television," says series emcee Murphy Meyer. "I'm from a very depressing area in Pennsylvania and I loved heroine, so those two things went together."
The show will also be bringing along fan-favorite characters.
"This is Vacation Jason," Gethard says, pointing to Riley Soloner, in character as a man permanently on vacation. "Some people may say it's a bad idea to bring a fictional character to a panel."
"I'm confused right now," Soloner says as his character. "I've never been in a room with so many people working."
---
Whitney Friedlander is an entertainment journalist with, what some may argue, an unhealthy love affair with her TV. A former staff writer at both Los Angeles Times and Variety, her writing has also appeared in Esquire, Elle, Complex, Vulture, Marie Claire, Toronto Star and others. She lives in Los Angeles with her husband, son and very photogenic cat.