T.J. Miller Arrested for Making a Bomb Threat on an Amtrak Train
Photos courtesy of Getty Images
Comedy
News
T..J. Miller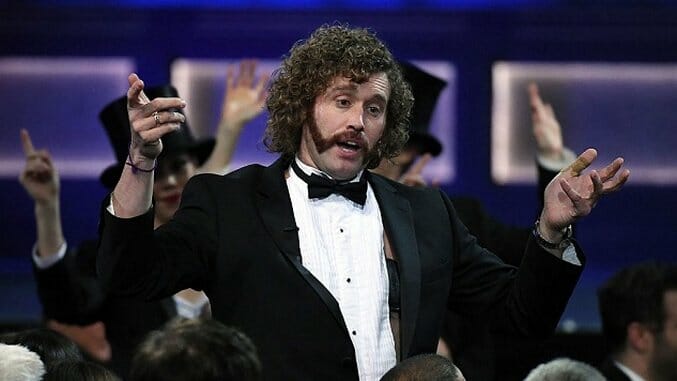 T.J. Miller, star of The Emoji Movie and Office Christmas Party, was arrested Monday morning at LaGuardia Airport. He was charged by the US Attorney's Office for the District Connecticut with making a false bomb threat on an Amtrak train last month, according to a Department of Justice press release.
The actor, seen recently in Crashing and Silicon Valley, allegedly called 911 from a New York City-bound train on March 18th to report that a woman on the train "has a bomb in her bag." He told the dispatcher he was on Train 2256, which was stopped in Westport, Connecticut. Passengers were ordered to exit the train so a bomb squad could search it; no such device was found.
Miller, who continues to perform at clubs around the country despite the sexual assault allegations levied against him in December, was in fact on Train 2258. When Amtrak officials stopped that train too, it was searched and found to be clear of explosives or explosive materials. Though an Amtrak attendant reported that Miller appeared to be intoxicated when he boarded the train, he said he had only consumed "one glass of wine." When an investigator asked if he suffered from any mental illness, he replied: "No, absolutely not. This is the first time I've ever made a call like this before. I am worried for everyone on that train. Someone has to check that lady out."
Interestingly, the Department of Justice's complaint alleges that the Deadpool co-star, also known for his starring role in Comedy Central's The Gorburger Show, "was motivated by a grudge" against the woman he alleged to be transporting a bomb. He had also "been involved in hostile exchanges with a woman who was sitting in a different row from him," though it's unclear whether this refers to the same woman he reported. As for her, investigators found that she was not carrying any explosives, and that she did not even have a "carry on suitcase with a handle," as Miller had reported. In fact, she "would have been largely out of MILLER's view unless he repeatedly stood up to observe her over or around the intervening seat row, or rows," according to Justice.
Miller appeared before a New Haven judge today and was released on a $100,000 bond. He has since tweeted about his upcoming shows at the Helium Comedy Club in Philadelphia, where he is slated to perform this weekend.