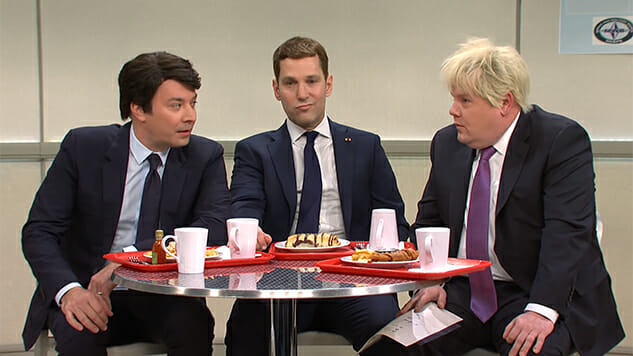 The best SNL cold opens take the most absurd happenings of the week and amp them up with comedy and cleverly disguised celebrities, a formula that worked well for Saturday's episode. After Canadian Prime Minister Justin Trudeau, U.K. Prime Minister Boris Johnson, and French President Emmanuel Macron were overheard mocking Donald Trump at NATO, SNL called in the troops (Jimmy Fallon, Paul Rudd, and James Corden), for a skit elaborating on the debacle in a perfectly chosen setting. In a political era where world leaders behave like children, there's no better place to take things back than to the petty halls of high school, or more specifically, the cafeteria.
The cold open starts out hot with swoon-worthy slow mo as Jimmy Fallon returns to his SNL roots as Justin Trudeau, Paul Rudd waltzes in as Emmanuel Macron, and James Corden tries to keep up as UK Prime minister Boris Johnson. The three claim a table, but there's a slight problem: there's an extra empty chair that Alec Baldwin's Donald Trump tries to take. This isn't The Roast of Alec Baldwin, so the three "cool kids" don't want Trump to hear their jokes, nor do the world leaders want to start WW3 by flat out saying, Mean Girls style, "you can't sit with us." To solve the problem, another surprise guest is invited to the table who's usually known for playing a different political figure.
It's the kind of bullying backstory that John Hughes heroes are made of, except Trump is far too set in his ways for character development. Of course, if impeachment does come, maybe Trump will get a sendoff set to the Simple Minds song "Don't You (Forget About Me)". History and the rest of us unfortunately will not.
Watch the NATO Cold Open clip below.