What Lindy West Had to Say About Hulu's Shrill at a Portland Q&A
Photo by Allyson Riggs, courtesy of Hulu
Comedy
Features
Shrill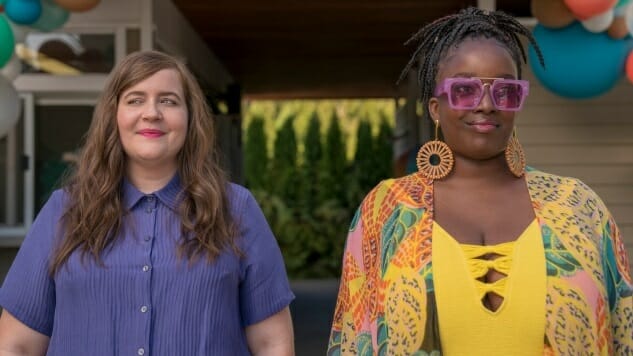 If there's one place to shoot a quirky comedy show about body positivity, rejecting toxic masculinity, and being open to people of all sizes and backgrounds without kowtowing to the right's "tolerate my intolerance" bullshit, Portland, Ore. would be it. The producers of Hulu's new show Shrill, based on Lindy West's best-selling memoir about navigating the male-dominant world as a plus size woman, must have been aware of this since they chose to shoot entirely in the city I proudly claim to be my home. In order to celebrate the show's Portland roots, the Portland Film Office hosted a screening of the first two episodes followed by a Q&A with West at the prestigious Hollywood Theatre, known mainly by us cinephiles for their spectacular 70mm screenings.
This was a loving showcase for fans of West's work, residents curious about the show, and a significant amount of the cast and crew. The place was packed with women ready to support West and SNL's Aidy Bryant's personification of West's experiences. Judging by the laughter and applause-filled reaction to the episodes, they were far from disappointed. Before the screening began, West quickly took to the stage and said how proud she was that the entire show, including the interiors, were shot on location in our proud-to-be-weird city. The way it effortlessly captures Portland's spirit, a laid back amalgamation of hipster and hippie culture, is one of Shrill's best qualities.
Even if we're watching interior scenes that could have easily been shot on soundstages, the choice to capture the 100% authenticity of the city helps the narrative's credibility. As Portlanders, we've all been in many homes that look like the ones in the show—the minimalist architecture, the decorations full of DIY art, and the fair trade, globe-spanning cultural aesthetic. An unkempt backyard overrun with wild weeds is a central location for the first two episodes, and every Portlander knows at least three people with the exact same backyard that screams, "I like nature but I'm lazy." Shrill earn its PDX credentials through tiny details like this.
Bryant plays Annie, an insecure freelance writer struggling to have her writing published at the hipster magazine she works at. Most of her insecurities and self-debasement comes from her inability to accept herself as a plus size woman. It's hard to blame her, since her environment, even in a liberal city like Portland, is predetermined to pity her based on her looks. The first episode begins with a slim fitness instructor trying to convince Annie to join her intense workout program because she "has a thin person trapped underneath the fat." As West specified during the Q&A, much of the condescending and downright hurtful commentary directed at Annie by her social environment comes from the writing team's personal experiences. For example, the encounter with the fitness instructor apparently came directly from a real interaction experienced by Aidy Bryant, who also serves as co-writer on all six episodes.
This personal connection to the characters creates an undeniably empathetic experience. Apart from sporting a woman lead with a body type rarely seen on TV, the first episode doubles down on pissing off right wing toxic masculinity by depicting an abortion in a refreshingly affectionate and levelheaded way. After Annie gets knocked up by her loser fuck buddy (Luka Jones), who's so embarrassed by her that he makes her take the back exit whenever his friends come to visit, she doesn't come to the decision of ending the pregnancy flippantly. There's even a bittersweet scene where she confides in her roommate and BFF (Lolly Adefope who, as good as Bryant is, kind of steals the show) about her desire to one day have a child.
I found it interesting that I could relate to the protagonist as a freelance writer, but not as a plus size person. Her struggle to get her work published, and her excitement when that dream finally happens, all feel like moments from my life. However, I couldn't relate to a scene where she checks out her article and finds horrific comments that disparage her looks. As many insulting comments on my work I received from trolls over the last 15 years, I never had anyone make fun of my obviously chunky figure. This accentuates how this kind of body shaming is largely targeted specifically at women.
During the Q&A, moderated by a lovingly exuberant plus size model, West answered many questions from fans. She was open, honest and charming as hell. She found it ironic that she wrote the book because of Hollywood's obsession with a certain body type, but then multiple networks were interested in a production with a plus size woman for a lead. She said that Bryant, who she describes as "a miracle from the lord I don't believe in," was her first choice. When the project was in development, they reached out to Bryant's publicist, who declined the offer. That's why it was surprising that it was Bryant who later called the production wanting to become a creative part of it. Even though she doesn't want to rank the fatness of her writers, she said that having fat writers helped in creating the authenticity of the show. The writing team drew a lot from their personal experiences when constructing Annie's journey into self-confidence and body positivity.
After an amiable riff on how to pronounce "gif," West answered a question about how to handle trolls and bullies in a simple but effective way: The answer is solidarity and finding a community of like-minded people. She ended with "You need people around you to remind you you're not a pig." She said that even though the show's existence is a big step forward for fat people, progress takes a long time and we need to speak out for those who can't speak for themselves. This being a Portland crowd, it's not surprising but is nevertheless encouraging that this line got a big applause. There were also other nuggets: She felt closest to Portland when it came time to pick a shooting location. She never met Lorne Michaels even though he's a producer on the show. The fourth episode about a pool party is her favorite. And the asshole boss played by John Cameron Mitchell is definitely, but maybe a little bit, but probably not based on her old boss, Dan Savage.
Shrill is currently streaming on Hulu. Cold brew some fair trade coffee with a bird on its logo, pour it into your Keep Portland Weird mug and enjoy the show.
---
Oktay Ege Kozak is a screenwriter, script coach and film critic. He lives near Portland, Ore., with his wife, daughter, and two King Charles Spaniels.