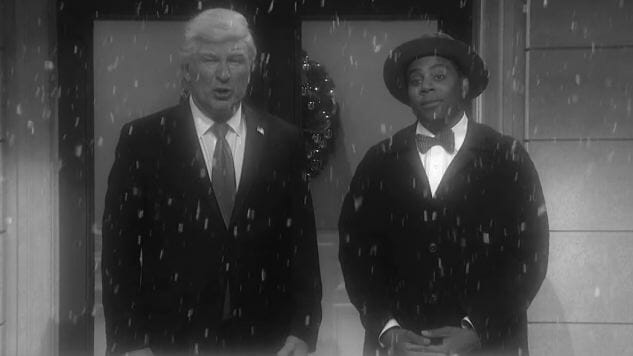 It's a Sunday in 2018, so that can only mean one thing: we've got some kind of Trump-tweaking SNL business to share with you. It might not be the future we envisioned, but it's the one we created, and now we all just have to deal with it.
SNL's surprisingly good Christmas episode got off to a predictably bad start with another round of Trump administration celebrity impressions. 'Tis the season, so this one was dressed up as a parody of It's a Wonderful Life, with a beset-on-all-sides Trump getting a glimpse of what life would be like if he hadn't been elected president. This is at least the third time SNL has done an It's a Wonderful Life parody—this remains the best (and only good) one—but you can probably give a TV show a pass for only running three parodies of one of the most iconic movies ever during a 43-year span. Still, if you're at all familiar with the '86 sketch, it's hard to not judge the new one against it, in which case you'll most likely find the Trump version even more wanting than it already is.
The familiar faces show up. Alec Baldwin's zombified Trump is the star, of course. Alex Moffat and Mikey Day return as sons Eric and Don Jr., with SNL's man-child version of Eric suddenly having at least a little bit of brains. You've got Cecily Strong as Melania, Kate McKinnon as Kellyanne Conway, Aidy Bryant as Sarah Huckabee Sanders—basically, if a current cast member has ever had a notable role as a Trump figure, they're in this thing. And then the celebrity cameos return, with Ben Stiller as Michael Cohen, Robert De Niro as Robert Mueller, and last night's host Matt Damon as the beer-loving, weirdly emotional grown-up frat boy Brett Kavanaugh. The one joke repeated over and over is that everybody's life would be much better if Trump hadn't been elected, and of course Trump himself isn't smart enough to pick up on the lesson.
If you decide to watch it, do so for one reason: Kenan Thompson as Trump's guardian angel. SNL's longest-tenured cast member is bulletproof, and once again is the star of a sketch in which he only plays a supporting role.