Saturday Night Live Delivers a Decent Enough Episode Despite Bringing Back Baldwin's Boring Trump
Comedy
Reviews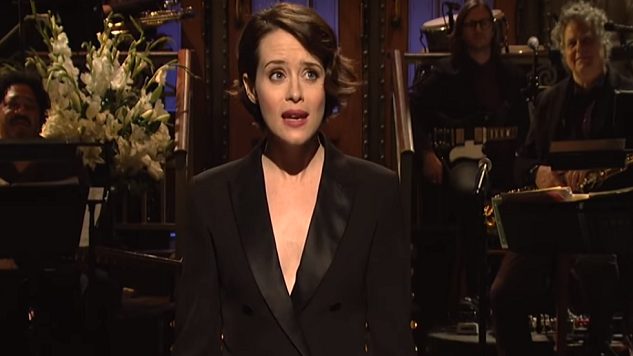 This week's SNL cold open was Cecily Strong's Melania and Alec Baldwin's Donald addressing some concerns about the Mueller investigation on a balcony because of course it was. A lot has been said about Alec Baldwin's failure of a Trump impression, but is anyone captivated by this semi-serialized soap opera SNL's been opening with for the past two years? Are we still excited to see Beck Bennett drop in as a shirtless putin? Not even Fred Armisen as a bro'd out version of Mohammed Bin Salman or Ben Stiller as a mopey Michael Cohen could save this ailing premise from going nowhere. To be fair, Kate McKinnon as a tiny, vampiric Rudy Giuliani was enough to elicit some kind of laugh, but only insofar that you wish the entire sketch was hers.
I know I've spent maybe a solid quarter of what's only a 500 word review on the cold open, but it's really indicative of why this show is just so… hard to watch. Garrett's busy, so the task of reviewing last week's episode of Saturday Night Live fell to me, and I always knew comedy could bore me and annoy me, but I never thought it would hurt. All that being said, it's too easy to hate on Saturday Night Live, especially being an unhappy, Twitter-poisoned internet writer that thinks his "taste" is too "edgy" for the "mainstream," man, so I want to address what this episode did right.
Sexually Weird Morning Joe
This was my second favorite sketch of the night, mostly because it took a setup that could've been boring (a straight up Morning Joe spoof), forewent any political predictability, and just focused on making everyone uncomfortable. Everything from Alex Moffat's Joe Scarborough playing the most confidently white jazz man on the planet ("We blew the roof off that joint until 11 AM.") to Kate McKinnon's Mika Brzezinski constantly taking the most detached sips of her multiple Jamba Juices was solid, with great supporting performances by Studio 8H ghoul Kenan Thompson and resident funny face Mikey Day.
Netflix Commercial
I'm a sucker for fake commercials, especially fake trailers, so this sketch about Netflix's content proliferation bringing about the singularity was extremely my shit. I've written about my issues with the streaming service before and their habit of gobbling up property without care, hesitation, or proper consideration, so it's fun seeing the giant be taken to task for producing garbage. My two favorite jokes are Officer Winslow ( a gritty take on Family Matters with Kenan Thompson playing an unhinged Winslow) and Leslie Jones in a Van Getting Batteries an offshoot of Comedians in Cars Getting Coffee.
The real winner of the night, however, was Dad Christmas which seems lifted from another, much darker sketch show entirely. It's an effective conflation of tone— the overly cheery yuletide vibe mixed with the sadness of a divorced Dad just trying his best. I really love this sketch, and it has the perfect button. I tried finding a clip of it online, but apparently it's been scrubbed due to backlash? Of course— SNL actually does something right and immediately pretends it didn't happen.
The host, Claire Foy of The Crown didn't make too much of an impact except for occasionally giving the writers a fun, posh British accent to work with. I skipped the musical performances because my job is reviewing comedy and I didn't want to watch the show any longer than I had to. Next week's episode features Jason Momoa and Mumford and Sons, so I'm sure there will be a lot of articles about how Jason Momoa is somehow both hot and funny? What? Can you imagine such a thing?