Sam Jay Announces Debut Stand-up Album, Donna's Daughter
Images via Comedy Central
Comedy
News
Sam Jay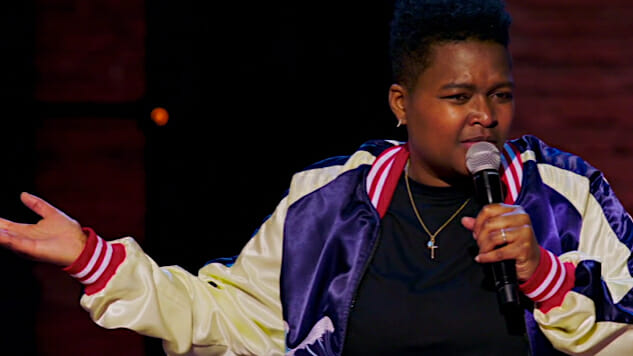 Boston-born, New York-based comic and Saturday Night Live writer Sam Jay announced Tuesday that she is releasing her debut stand-up comedy album through Comedy Central Records in July. Jay also has a 15-minute Netflix special that is set to air on July 3 as part of Netflix's The Comedy Lineup series, which follows her half-hour Comedy Central Presents … set, released last year.
2017 was a great year for the comedian, as she made our list of the 10 best comedians we saw at Just for Laughs 2017. With the impending debut of Jay's new album, 2018 is shaping up to be a hell of a breakthrough year for her.
Jay's debut album Donna's Daughter is a hybrid comedy album that mixes hip-hop production influences with the standard trappings of stand-up comedy LPs, with hip-hop beats, voicemails and recorded conversations from Jay's life making the album deeply personal and hilarious at the same time. Donna's Daughter will be available digitally on Friday, July 6.
Until then, check out a track from the album here and a clip from Jay's Comedy Central Presents … segment below. The tracklist for the album and the album's cover art are also located below.
Donna's Daughter Tracklist:
01. Intro/Short
02. Uber Pool + Interlude
03. Dick Juice
04. 1st GF
05. Checking Friend + Interlude
06. Gays Shouldn't Marry
07. The Fight
08. Eatin' Ass
09. Same Gay
10. Adoption
11. Period Sync
12. Nazis
13. Trump
14. White Aliens + Outro
Donna's Daughter Album Art: