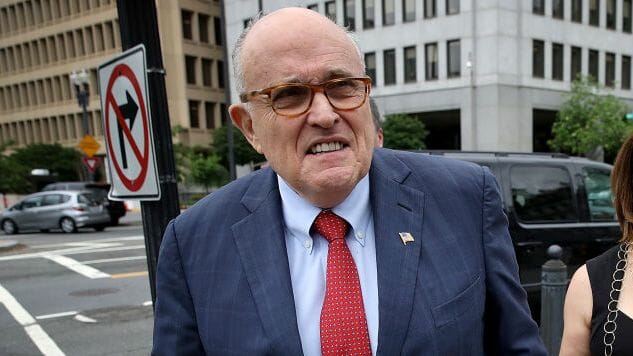 Twitter gets a bad rap. Without it Rudy Giuliani never could've enraptured a global audience for entire seconds by cryptically writing the word "You," as he did early this morning.
You

— Rudy Giuliani (@RudyGiuliani) July 29, 2018
No Twitter, no "You." No "You," no Twitter jokes about "You." And no Twitter jokes about "You," no articles that are just collections of Twitter jokes about "You" hastily cobbled together by editors who spent the whole day Doing Stuff and are just looking for an easy way to unwind on a Sunday night, okay.
Be proud, Twitter. You might've ruined society by making it easier than ever for hate and disinformation to burrow their way into the hearts and minds of the masses, but without you none of… this would be possible. Thanks?
And IIIIIIIIIIIII-EEEEEE-IIIIIIII, will always love https://t.co/5dp9GRl8A6

— Fred Delicious (@Fred_Delicious) July 29, 2018
Look at the stars, look how they shine for https://t.co/qzsITNDr8f

— Michael (@Home_Halfway) July 29, 2018
CRANK DAT SOULJA BOY

— David Roth (@david_j_roth) July 29, 2018
make me feel like a natural woman https://t.co/LCIs2PE43P

— Alan McGuinness (@Alan_McGuinness) July 29, 2018
CANT HANDLE THE TRUTH!!!

— Tony Posnanski (@tonyposnanski) July 29, 2018
I learned it by watching https://t.co/hFBhYiTJnO

— ANGRY NEW YEAR (@SweetieBirdR) July 29, 2018
Trump: whose going to be indicted next? https://t.co/l7rWzKOAPo

— David Hogg (@davidhogg111) July 29, 2018
looks around haphazardly

— Dylan Haines (@DHaines1) July 29, 2018
… know he's guilty. https://t.co/FuvBiQB5V4

— Smith (@WriteSmitty) July 29, 2018
Even this is a lie. https://t.co/h971F15A1C

— Twitic (@badshowbiz) July 29, 2018
….are not a very good lawyer https://t.co/dhZmb5sGR5

— Molly Jong-Fast (@MollyJongFast) July 29, 2018
it's been 18 hours, time to do a Giuliani "you" bit

— Churlish (@Cryptoterra) July 29, 2018
Rudy Giuliani https://t.co/nAUprkqKmx

— Ed Balls (@edballs) July 29, 2018