Rob Riggle Has Become the John Madden of Oversized Miniature Golf
The Star of ABC's Holey Moley Talks About America's New Favorite Spectator Sport
Screencaps from YouTube
Comedy
Features
Rob Riggle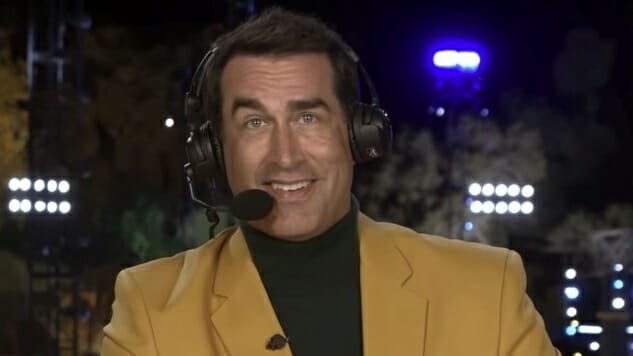 I believe Rob Riggle when he tells me that Holey Moley is "going to be a show like nobody's seen before." There haven't been too many primetime game shows that combine a massively inflated miniature golf course with physical challenges that look like they're ripped right out of American Gladiators. Holey Moley is the latest show to hook viewers with the promise of grown adults taking bumps into swimming pools, but this time with a healthy serving of mini golf and laughs from Riggle as the blazer-wearing color commentator. Part sport, part stunt show, and all spectacle, Holey Moley is a summer TV guilty pleasure that can actually be enjoyed guilt-free.
Paste recently talked to Riggle about Holey Moley, miniature golf, and the rigors of color commentary. Here's what the Fox NFL comedian and former star of Saturday Night Live and The Daily Show had to say about the true sport of kings.
Paste: How big are we talking, these courses?
Rob Riggle: Bigger than anything that's ever been done before. Boom! How about that one? When it comes to miniature golf I think this is as big as it's ever been done. The holes are massive, they require a lot of golfing skill, some physical skill, but at the same time it's open to everybody. It'll challenge everybody who plays.
Paste: How big can mini golf get before it just becomes golf?
Riggle: I don't know the answer to that. I know it'll always be mini golf if you only have one club, the putter. And that's what prevents it from crossing the line into anything else. But it's on a scale that I've never seen before for miniature golf, and it's definitely a lot of fun. It'll be impressive.
Paste: Are you a big fan of the sport of mini golf, or the pastime, or whatever you'd call it?
Riggle: Sure. I grew up. like I think most people in the world but definitely here in America… During the summer my parents had a place down at the lake in the Ozarks and there was all kinds of stuff—go-karts, mini golf, water slides—and it was all part of the package. Playing miniature golf was always something we did. I always had a blast doing it. My son out here in California, I've taken him and his friends to go miniature golfing, and they always have a blast. I think it's everywhere, it's something that most people have engaged in, and it's something most people can do.
Paste: Do you prefer the mini golf with the obstacles and buildings and stuff, or the more straight-forward, skill-based, "banking it off the walls instead of having to dodge the windmill" type of game?
Riggle: I think the mini golf course that offers a little bit of both is what I prefer. It is fun to try and hit it in the clown's mouth, so to speak, and then have it shoot out down two levels and a whole staircase away. There's something fun about that. But there's also something fun about trying to do bank shots and get around obstacles. The perfect mini golf course has both of those.
Paste: Holy Moley sounds like it has a bit of a physical challenge element to it. What kind of physical tests did contestants have to go through to make it onto the show?
Riggle: I'm not sure if they went through any testing, necessarily, for physical abilities. We had a wide range, we have elderly ladies out there with young teenagers, 19 or 20 year old people. We had experienced athletes, professional PGA golfers, we had just a wide variety—we had bodybuilders, we had all kinds of people competing. The spectrum couldn't be any bigger as far as the competitors go. Some of our golfholes are probably more challenging than others with regard to physical abilities but I think it was pretty fair. When we got down to the finals some of the stuff got tougher, maybe. But I think it was a pretty fair representation—when you say "extreme mini golf," you're going to get what you expect.
Paste: You've done so many things over your career—comedy fans know you by name, but you're one of those guys where my parents know who you are but don't know your name. They're like, "oh hey! It's that guy. That guy's funny." How's it feel to be that kind of comedy "that guy" type actor?
Riggle: Judy Greer wrote a wonderful book, and now I'm going to screw up the title, but I believe it was called Where Do I Know You From [Close—it's I Don't Know What You Know Me From—Ed.], and it's just, that's everybody's life in this business. I have no problem with it. As long as I'm a working actor and comedian, I'm overjoyed to be doing that. This project, actually, kind of jumped out of me and I was very interested right away because it was an opportunity to work with one of the best sports play-by-play announcers there is in Joe Tessitore, who does Monday Night Football. He's an absolute pro—he's been doing it his whole life. And I just love the juxtaposition of Joe giving the fans at home a real play-by-play sports announcer call, and then me chiming in like an idiot and cracking him up. I think we had a lot of fun together—I did, I hope Joe did to. I'm pretty sure he did. That's what made it fun for me, I got to bring some comedy to it, and we kept it light and a lot of fun. But being "that guy" happens all the time, what are you gonna do.
Paste: Did you have to do any kind of commentary training, or take refreshers on mini golf strategy, or anything, or is it solely comedy you're bringing to the show?
Riggle: The good thing about mini golf is that it's not necessarily rocket science. Although there could be a lot of geometry. But I trusted my own instincts on that one.
Holey Moley airs Thursdays on ABC at 8 p.m. ET.
---
Senior editor Garrett Martin writes about videogames, comedy, travel, theme parks, wrestling, and anything else that gets in his way. He's on Twitter @grmartin.