What We Learned from Rihanna Day-Drinking with Seth Meyers
Photo by Jon Pack/NBC
Comedy
News
Rihanna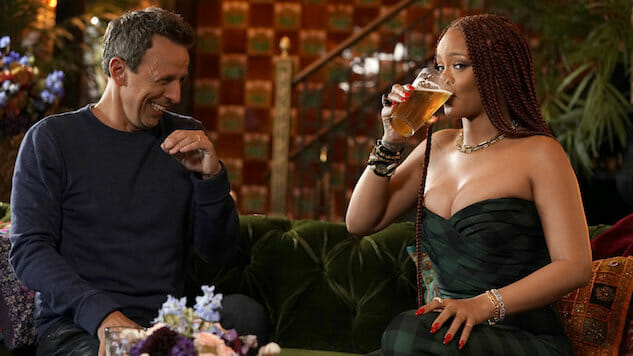 Deep down in the bottom of all of our hearts lies a burning desire to get hammered with Rihanna on a Wednesday afternoon. But unlike the rest of the general public, Seth Meyers has the power to make it happen with the snap of his fingers.
So, yes—he did, and the Late Night host spent a day drinking with the musician-entrepreneur (and newly named wealthiest female musician in the world) in New York City, which Rihanna prefaced with chugging a beer and deadpanning: "This is what I call a prom date." Here's what we learned:
Rihanna might not know what nut milks are
Meyers began by mixing a series of drinks based on some of Rihanna's titles, notably "Bitch Better Have My Bunny," in which Meyers beheads a chocolate bunny and pours tequila into it like a chalice, and "Diamonds in the Rye," which consists of rye whiskey and Blue Diamond almond milk. This is where we find out Rihanna has likely never heard the term "nut milk" before—when Meyers deflects her comment that she doesn't like milk by offering that it's a nut milk alternative, she orders: "Don't even say that ever again."
She can (almost) remember every occasion she wore her outfits on
Oh—how the liquor kicks in, baby! Meyers leads the musician through a round of drinking games, beginning with presenting images of her more outlandish outfits and asking her to recall where she wore them. She gets stumped on the iconic image of her wearing a red, heart-shaped fur coat, but has super-sonic memory otherwise. Meyers ends up sloshed by the end of the game.
She considered being a pilot
It's all loosey-goosey from here on out. Meyers prods Rihanna for romantic advice and she cracks a blowjob joke about his wife. Rihanna prods Meyers for career advice and he suggests she should take up piloting ("I actually wanted to be a pilot when I realized my grades sucked," she said. Well, the more you know).
She doesn't have time for Game of Thrones
Interestingly enough, we also find out Rihanna has never seen Game of Thrones after Meyers fires a terrible pickup line about the show at her—turns out overseeing two-dozen business ventures and working on a long-awaited ninth album doesn't exactly leave you with enough patience to sit through eight seasons of a godforsaken HBO show. Makes sense.
The segment concludes with Rihanna drunkenly giving Meyers a makeover with her FENTY cosmetics, comparing him to a creature from Avatar and both stars making fools of themselves screaming the lyrics to "Work" amongst a backdrop of deflated set crew members. It's cute.
The segment is genuinely fun to watch and perhaps the most memorable day-drunk bit Late Night has featured thus far. Past segments have featured Kelly Clarkson and the Food Network's unabashed insouciant goddess Ina Garten.
Check out the segment below.