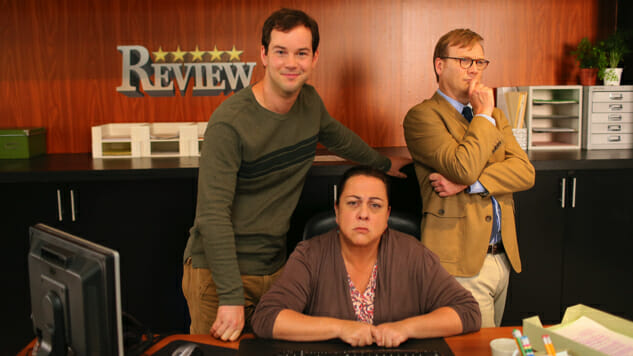 Comedy Central's delightfully dark mockumentary comedy Review, anchored by forever-underserved funnyman Andy Daly, is your textbook cult favorite. Those in the know, including several of us at Paste, are fervent fans of the show, but your average television viewer has no clue it even exists—you've likely either watched it endlessly, or never seen a second. Fortunately for those of you in the latter category, yours truly falls into the former.
Last we heard, Review will end this spring after a truncated third season of some sort, which, on the one hand, is a damn shame. But on the other hand, it gives us an excuse to revisit this criminally under-watched show, and to offer the uninitiated an exhaustive primer on its highs and slightly-less-highs. Below, you'll find our ranking of all 49 of the show's reviews so far, executed by Daly's intrepid life critic Forrest MacNeil in the course of his show within the show.
Before we begin, a few quick notes on methodology: Review's reviews are ranked here by general entertainment value, as well as by how well they fit into the show as a whole while still functioning as self-contained stories. Each review is reviewed on Forrest's patented five-star scale, for which we will hopefully not be sued—to be clear, this entire show is amazing, so these ratings are solely relative to the show's other reviews. Lastly, reviews within reviews, like when Forrest is asked to review getting kicked in the balls while reviewing what it's like to give a six-star review—yeah, this is going to get meta—fall under the umbrellas of their containing reviews.
Now, without any further ado, let's review some reviews.
---
49. Pillow Fight (Season 2, Episode 9)
At this point in the show's second season, Forrest is in prison while awaiting his murder trial. The joke here is merely that his prison-yard pillow fight quickly devolves into a violent affair—"a twisted bloodsport in disguise"—but at least there's some fun physical comedy in the execution of that simplistic idea, and Forrest's enthusiasm about the showdown is amusingly misguided.
Review Review Review: One star.
---
48. Hunting (Season 1, Episode 2)
This review, from very early in the show's run, is a fun, if forgettable example of just how blithely bad Forrest can be at his job. Though he wisely enlists the help of his father-in-law, played by a game (no pun intended) Fred Willard (Best in Show), Forrest is woefully unprepared for his hunting trip. But he goes anyway, "for the sake of human understanding," and gets mauled by a tiger for his trouble.
Review Review Review: One and a half stars.
---
47. Getting Rich Quick (Season 1, Episode 7)
Forrest's efforts to get rich quick put him in the sights of a faux-Tony Robbins type who hosts a financial self-help seminar. Though Forrest's work on Review has put a hurting on his finances, he shells out nearly two grand to get in the door, only to learn that the seminar's big secret is attendees need to come up with a million-dollar idea for themselves. Forrest's ignorance of that results in his stealing one from another attendee at the last minute, which goes about as smoothly as you would imagine. "I'm beginning to think nothing will ever go well for you, Forrest," remarks his airheaded co-host A.J. Gibbs (Megan Stevenson, Franklin & Bash). As her observation suggests, "Getting Rich Quick" is fun, but mostly just redundant.
Review Review Review: One and a half stars.
---
46. Having a Best Friend (Season 1, Episode 5)
Unfortunately for Forrest, "Having a Best Friend" is not an experience he is in any position to speak to. Like so much of this show, this review is ballasted with sadness, as Forrest's efforts to befriend his neighbor Gene reveal his loneliness and general emotional devastation after his unwilling divorce. Forrest's catty competition with Carlos, Gene's actual best friend, is the highlight of this segment, as their supremely petty "friend-off" finds Forrest resorting to bribery (and overlooking the only actual friend that he has). As always, Forrest's pain is our gain.
Review Review Review: One and a half stars.
---
45. Haunted House (Season 2, Episode 5)
Forrest's review of a night spent in a haunted house starts out silly before taking a turn for the sad, then another for the absurd. Our beleaguered life reviewer plans to camp out in a local ghost hang-out with his father (Max Gail, Barney Miller), but ends up breaking and entering his former home, where he lived with his wife before his show forced him to divorce her. His drunken haunting of the house ends badly, of course, when he is belly-stabbed by an elderly woman. Just another pathetic and punishing day at the office for poor Forrest.
Review Review Review: Two stars.
44. Buried Alive (Season 2, Episode 6)
It's not enough for Forrest to simply be forced into the "ghoulish" experience of being buried alive—per the sadistic laws of the Review universe, he must also be told by Suzanne (Jessica St. Clair, Veep), his beloved then-ex-wife, that she is getting remarried to an absolute asshole. Forrest goes from simply making the best of his temporary burial to feeling like he belongs in the coffin, and the comical awfulness keeps piling on when Forrest's dimwitted assistants are unable to locate his plot. "Buried Alive" is quite clever and uses its brevity to its advantage, but is mostly memorable for delivering a significant plot point.
Review Review Review: Two stars.
---
43. Marrying Someone You Just Met (Season 1, Episode 8)
Review is easily boiled down to one central conflict: Forrest's idealistic lust for life versus the universe's constant, brutal disdain for him. The poor man's bubble is perpetually being burst, and this review is no exception. Though "Marrying Someone You Just Met" primarily just sets up dominoes for the show to knock down, it's a treat to watch Forrest gradually realize that his new wife Eliza, portrayed by a fun-hinged Maria Thayer (Comedy Bang! Bang!), is not so much amiable and spontaneous as she is frighteningly wild. Eliza's casual introduction of the "sex truck" in her yard is one of Forrest's first hints that their quick-draw marriage is doomed, and yet his unchecked optimism soldiers on.
Review Review Review: Two stars.
---
42. Being Hunted (Season 2, Episode 9)
This review, in which Forrest is stalked by a former Navy SEAL, is hardly funny, seeing as how Forrest's life is at stake, and far more so than usual. However, "Being Hunted" is a key cog in the Review narrative, as it ends the show's second season with a near-literal cliffhanger to be, thankfully, resolved in the forthcoming third installment. Unfortunately, this is one of the show's few segments that never made it to YouTube, but trust me when I tell you it's gripping.
Review Review Review: Two stars.
---
41. Catfishing (Season 2, Episode 5)
"Catfishing" mostly makes hay from our middle-aged life reviewer's tenuous grasp of the internet, such as an early bit in which Forrest has his executive assistant Lucille (Tara Karsian, Brooklyn Nine-Nine) painstakingly spell out "the HTML website address for googling things." But this review has more to offer than just Forrest's technological incompetence: it also provides him yet another chance to recapture Suzanne's heart, if only through a fake man with the ludicrous name Ace Shrift (an anagram for "Catfisher"). Forrest's ex, of course, calls his bluff, forcing him to track down the man whose handsome face he's used on Ace in order to further perpetrate his ruse. Another setup-heavy segment, "Catfishing" sets in motion an arc that will bedevil Forrest for much of Review season two.
Review Review Review: Two stars.
---
40. Life of the Party (Season 1, Episode 8)
Of all the insane things Forrest is asked to do in the course of his reviews, being the life of the party is perhaps one of the most realistically attainable tasks he's given. Our intrepid life reviewer is an utter goober, sure, but a genial one—how hard could it really be for Forrest to charm a group of revellers? Excruciatingly hard, apparently. You may pull a muscle cringing at "Life of the Party," which mostly consists of Forrest laughing at his own crass gags and generally getting his Michael Scott on. But despite his weapons-grade awkwardness, it's hard not to root for Forrest, and though his flash-in-the-pan marriage to Eliza doesn't survive this review, it does have a surprisingly affecting happy ending.
Review Review Review: Two and a half stars.
39. Conspiracy Theory (Season 2, Episode 9)
"Conspiracy Theory" is one hell of a head-trip of a review, but although it makes up most of a deep and strangely satisfying season two finale, there's not a whole lot of value in it as a stand-alone. Forrest finds it easy to believe in a conspiracy, preferring to search for the unseen author(s) of his troubles—the Review-minati, if you will—rather than facing the fact that his show puts him utterly at the mercy of random chance. Determining that an inordinate number of his reviews have nearly killed him, Forrest falls down a rabbit hole of paranoia: what if his producer Grant Grunderschmidt (James Urbaniak, The Venture Bros.) is the one engineering all of his suffering? The resonant truth of "Conspiracy Theory" is twofold: first, of course Grant is culpable, because turning Forrest's agony into good television is his entire job description; but second, Forrest ultimately has no one to blame but himself.
Review Review Review: Two and a half stars.
---
38. Sleeping with a Celebrity (Season 1, Episode 4)
"Sleeping with a Celebrity," like "Getting Rich Quick," finds Forrest's profession giving him a chance at something he desperately needs as a person. Still reeling from his review of divorce, Forrest armors himself in self-delusion and goes in search of a celeb he can bed. His contrived and creepy attempts to seduce Ashley Tisdale crash and burn, each laugh also laced with a wince, and the life reviewer ends up recalibrating his definition of celebrity to include "the Ashley Tisdale of traffic reporting," resulting in what A.J. accurately calls "the saddest rebound anyone ever saw." Enjoying this review requires a taste for cringe comedy that stings—Review sure can serve that up.
Review Review Review: Two and a half stars.
---
37. Bare-Knuckle Brawl (Season 2, Episode 1)
As the first review of season two—an installment Review's producers must have questioned whether they would ever get to make—"Bare-Knuckle Brawl" understandably opts to start things with a bang, or to be precise, three bangs. Suffice to say Forrest's efforts to deliver "a righteous pummeling" go even more forcefully sideways than most of his other failed attempts at life experiences, though this review also introduces the lovely Allison Tolman (Fargo) as Forrest's new (doomed) love interest, which proves a key addition to the beginnings of an excellent second season.
Review Review Review: Two and a half stars.
---
36. Public Speaking (Season 2, Episode 6)
"Public Speaking" finds Forrest doing two things that he does often: attempting, against all odds, to get back into Suzanne's good graces, and making an utter ass of himself. The life reviewer chooses to give his public speech at Suzanne and Joe Dale Jr.'s (Christopher Robles, Sharknado) rehearsal dinner, to which he was not at all invited, and you may never uncringe after watching it. "There is no such thing as the perfect speech," Forrest later opines, perhaps the most obvious observation possible given what has just transpired. But ultimately, Forrest is able to undo some of his awful deeds in this review, exposing Joe Dale Jr.'s philandering and giving Suzanne the heartfelt apology she has so richly deserved.
Review Review Review: Two and a half stars.
---
35. Running from the Law (Season 1, Episode 8)
This review features Forrest's far-too-temporary second wife Eliza, who all but steals the show (and a police officer). Forrest's idea of a crime that will piss off the po-po is throwing a brick at them with an attached note that reads, "No one likes the police." His bride, however, has more of an armed kidnapping approach in mind, which gets way too intense for a law-abiding citizen like Forrest. Though "Running from the Law" is subordinate to the episode's overarching Eliza storyline and suffers for it, it does give us flustered Forrest, if nothing else, which is always fun.
Review Review Review: Two and a half stars.
34. Sleeping with Your Teacher (Season 2, Episode 3)
Forrest, having burned through one happy marriage and two promising relationships at this point in the series, is all too eager to sleep with an educator. Misinterpreting Iowan high-schooler Steven Shae's (Jacob Manown, Tim and Eric's Bedtime Stories) general review request as being specific to Steven's own algebra teacher, Mrs. Greenfield (Lennon Parham, Veep), Forrest makes the married woman his "sex target," demonstrating the frightening ease of social media stalking in the process. Astonishingly, "Sleeping with Your Teacher" goes off without a hitch for Forrest, though he does devastate poor Steven by "mak[ing] beautiful and athletic love to the woman of [his] dreams." The key is knowing Forrest's comeuppance is right around the corner.
Review Review Review: Two and a half stars.
---
33. Curing a Gay Person (Season 2, Episode 2)
"Gay people have existed since people have existed," Forrest observes at the outset of "Curing a Gay Person," which functions as a sister segment to "Racism" (ranked #22). Manipulated by his producer Grant into executing this fundamentally homophobic review, Forrest reasons that if a gay man can "get over" his sexual orientation, then Forrest can get over his beloved ex-wife, Suzanne. After he tracks down a conflicted young gay man, Tim (Johnny Pemberton, Superstore), Forrest attempts to put his woefully fallacious theory into practice, subjecting Tim to a series of absurd "cures" and even enlisting a stripper named Shampoo (Mary Birdsong, Reno 911!) to give him a non-consensual lapdance. Tim is eventually saved from Forrest's well-meaning torment, and in a moving development, comes to accept his own sexual identity, while Forrest celebrates, cluelessly believing he's succeeded—in spite of himself, he has.
Review Review Review: Two and a half stars.
---
32. Killing a Person (Season 2, Episode 8)
After using both of his vetoes—a device newly introduced in season two—in one episode, nixing "Killing a Person" (citing his respect for life) and "Procrastination" (citing "an impossible logic flaw"), Forrest finds himself up shit's creek when, somehow, a separate request for "Killing a Person" is selected. Forrest's father is of no help to him, and the life reviewer struggles to find a target "deserving of [his] murder" before landing on Ray, the violent drug dealer Forrest inadvertently helped escape in "Magic 8-Ball" (ranked #19). Despite Ray's criminality, Forrest sees only his humanity when the moment of truth comes, ultimately following through on his review in self-defense. Though cleverly constructed and not without its darkly crack-up-inspiring moments, "Killing a Person" is Review at its most brutally bleak.
Review Review Review: Two and a half stars.
---
31. Imaginary Friend (Season 2, Episode 9)
Like "Having a Best Friend" before it, the clever "Imaginary Friend" highlights Forrest's crippling loneliness—his dedication to reviewing life consistently ruins the lives of those around him, which helps him not at all in the popularity department. This review is one of Forrest's darkest moments, really, and in light of that, it's shockingly funny. As Forrest plumbs the depths of delusion, Ian Roberts (of most comedies) shines as a fake friend-stealing armed robber, with whom our life reviewer must vie for Clovers' affections—their childish duel is a berserk version of Forrest's previous friend-off, and it ends violently. Rest in peace, Clovers. We hardly knew ye.
Review Review Review: Three stars.
---
30. Making a Wish Come True (Season 2, Episode 5)
Forrest speaks far too soon as he accepts this review, exclaiming, "That is a delightful request!" Little does he know the wish he'll be required to fulfill involves persuading his beloved ex-wife Suzanne to move in with Joe Dale Jr., the womanizing dirtbag who, in a previous review, aided Forrest in his catfishing efforts. Forrest succeeds at his "devastating, punishing, miserable" task, though on some level, it's hard to sympathize with the life reviewer's predicament—after all, he does choose to go through with the review, delivering everything he treasures into Joe Dale Jr.'s far more athletic hands.
Review Review Review: Three stars.
29. Leading a Cult (Season 2, Episode 4)
Though Forrest's utmost dedication is to his work, he also has a sneaky-powerful drive to be liked. Review gives us infrequent glimpses into his past, making it clear that as a youth, Forrest existed on the social fringes. So "Leading a Cult" gives him a chance to make good on past indignities—to be not just liked, but worshipped. "Cosmic Father," as Forrest comes to be called, absolves his followers of their sins (including his girlfriend Mrs. Greenfield, who is presumably still married to Mr. Greenfield), relieves them of their assets, orders them to construct a "space ark," and engages several of his female followers physically. Forrest's house of cards comes crashing down when a gun-toting Mrs. Greenfield leads a mutiny that pushes him out of his own movement, but until then, it's a lot of fun to watch a dictatorial Forrest pursuing his deepest, most human desire.
Review Review Review: One, two, three stars!
---
28. Going to Prom (Season 1, Episode 1)
Forrest's efforts to land a prom date don't come off nearly as predatory as they should, mostly because of his unfailingly chipper attitude, which persists even as he is forced by his show to behave like some sort of Wooderson-esque creep. Regardless, this review starts off on a series of uncomfortable notes before dovetailing beautifully into the segments preceding it, as Forrest unleashes his newfound fondnesses for both thievery and cocaine on the prom. "Going to Prom" comes together in its climax, ending Review's first episode on a high (on cocaine) note.
Review Review Review: Three stars.
---
27. Stealing (Season 1, Episode 1)
Forrest's very first review finds him starting down a slippery slope of theft by refusing to pay for a bag of malted milkballs—soon enough, he's relieving an old woman of her groceries, then going on to develop such a flair for "separating people from their belongings" that he ends up orchestrating a bank robbery. As always, Forrest's earnest and exhaustive approach to an unsavory task is a sight to behold, especially when it goes horribly (and immediately) wrong.
Review Review Review: Three stars.
---
26. Being Falsely Accused (Season 2, Episode 3)
"Being Falsely Accused," perhaps more than any other review, is Josh (Michael Croner, Workaholics) the intern's time to shine. He and his girlfriend Tina (Hayley Huntley, Childrens Hospital) are tasked with falsely accusing Forrest of a crime, and before our life reviewer knows it, their nets are closing in around him. Josh and Tina's overzealous approach to their task is obvious to everyone but Forrest, who is horrified to learn he has been masterfully framed. This review, though funny, is most remarkable because of how incredibly mean-spirited it is. Josh and Tina's callousness reflects that of the Review universe itself, which delights in Forrest's suffering—the thought that's hard to shake is that we, the audience, watch Review for that very reason.
Review Review Review: Three stars.
---
25. Being Happy All the Time (Season 2, Episode 8)
Forrest, an all-but-broken man after "Killing a Person," is pleasantly surprised to receive this review. Strutting around his building like a carefree goofball, the reviewer of life is shocked to find Suzanne waiting in his office, who of course has awful news for him that he must then be happy about—you can practically see Forrest's heartstrings shredding behind his deranged grin. He is then promptly arrested for, you guessed it, "Killing a Person," which he also must delight in: "It's great to hear my rights!" he enthuses while being cuffed. In prison, Forrest is masterfully manipulated by Grant (Urbaniak, doing quietly excellent work throughout this series) into looking at life in prison while looking at life in prison. Forrest's first review issued in prison is a doozy that shakes up Review's second season.
Review Review Review: Three and a half stars.
24. Revenge (Season 1, Episode 7)
This review plays as pretty run-of-the-mill at first: Forrest, recalling a eighth-grade classmate's slight, tracks down one Professor Randy Romer (Rich Fulcher, Drunk History) and lightheartedly humiliates him in front of his humanities class. It's when Forrest goes to review the experience that this segment jumps up a notch: Romer strikes back, taking vengeance on Forrest (and, far more so, his co-host A.J. Gibbs) in disgusting fashion, and renewing the review, in a cleverly meta development. I won't spoil any of its remaining twists and turns for you here, except to say that "Revenge" works so well because it's unafraid to make a mess.
Review Review Review: Three and a half stars.
---
23. Making a Sex Tape (Season 1, Episode 2)
Creating "a sexually explicit videotape" falls well outside the comfort zone of a fuddy-duddy like Forrest, which is what makes his clumsy efforts to do so such a spectacle. He tries and fails miserably to convince his then-wife Suzanne to participate, eventually resorting to the use of a sex doll named Katrina that—putting it generously—he struggles to fuck. Certainly the most poignant thing about this review, though, is the brief glimpse we get at Forrest's happy marriage: his attempts to recruit Suzanne for his sex tape, inept though they may be, reveal a domestic bliss that will soon be irrevocably punctured by Forrest's all-consuming dedication to his show.
Review Review Review: Three and a half stars.
---
22. Racism (Season 1, Episode 2)
This deceptively powerful season one segment is one of Review's only reviews with a political point to make. At its outset, Forrest professes how alien "a dislike of others just because they're different" is to him, employing "interracial eavesdropping" as a means of gathering ammunition with which to get his bigot on. Forrest's hopelessly misguided bumbling is a treat to watch, as always, not to mention a subtly brilliant comment on the absurdity of racist thinking, but it's when his Review employers take action against him for his behavior that this bit reaches its borderline-freaky zenith. Forrest meets a real-deal racist, a seemingly normal guy whose garage is wallpapered with swastikas—in these Trumpy times, the character rings truer than ever—and ultimately has his own unconscious, day-to-day racism exposed. Though this episode aired in 2014, it's uncanny how relevant "Racism" is to our current political climate.
Review Review Review: Three and a half stars.
---
21. Road Rage (Season 1, Episode 6)
Much like traffic, this review stops and starts a time or two before really getting going: Forrest's attempts to manufacture some anger behind the wheel are initially derailed by the world's most casual carjacking, but after he borrows his intern Josh's beater and spies Suzanne out with her divorce lawyer, his rage becomes real, with explosive results. "Road Rage" benefits from a bonkers turn by Jason Mantzoukas (The League) as a fellow road rager, as well as a subtly slimy scene from Forrest's producer Grant, who is frighteningly cavalier in sweeping Review's collateral damage under the rug.
Review Review Review: Three and a half stars.
---
20. Blackmail (Season 2, Episode 1)
It's an absolute shame this review is nowhere to be found on YouTube, especially because it's one of the only segments in which Tolman appears as Forrest's then-girlfriend Marissa. Though "Blackmail," like "Quitting Your Job" (ranked #15), is flawed in that Forrest makes things much harder on himself than they have to be, the results are well worth making that logic leap for: the life reviewer extorts sweet Marissa, a nurse, for keeping her deceased patients' pain pills while also still trying to romance her, utterly oblivious to the waste his blackmail lays to their previously budding relationship. This review, though contrived in its construction, is an outstanding slice of squirm comedy that relies entirely on Daly and Tolman's excellent performances.
Review Review Review: Three and a half stars.
19. Magic 8-Ball (Season 2, Episode 7)
In a way, "Magic 8-Ball" is not that different from what Forrest is already required to do as the host of Review: make potentially life-altering decisions based on totally random input. But between Forrest's every mundane decision being at the mercy of a children's toy, and the (far funnier than I care to admit) sight gag of him shaking the 8-ball in his fanny pack, this review handily maximizes its simplistic premise. "Embrac[ing] the randomness of life" makes perfect sense for Forrest, as his experiences would drive even the most well-adjusted person towards nihilism, but after a series of agonizingly unfortunate events, including his having to let a vicious criminal walk free, the life reviewer rejects randomness. "If I crash into the rocks of life, I want it to be because I steered the ship there myself," he declares. Careful what you wish for, pal.
Review Review Review: Three and a half stars.
---
18. Glory Holes (Season 2, Episode 1)
Forrest's quest for glory, like "Orgy" (ranked #16) before it, finds Review at its most sexed-up, and our dopey host approaches his task with all the foolhardy naivete we've come to expect. His belief that glory holes exist purely in order for "lonely ladies" to hand out anonymous oral sex sets him on a fraught path of misconception, by way of the active glory hole "closest to [his] dad's house." Though it mostly just serves as the explicit kicker that concludes a rollercoaster of a season two premiere, "Glory Holes" stands out because, though A.J. Gibbs and audiences see that Forrest has unwittingly strayed from his sexual orientation, he never has to face the true extent of his folly, a welcome reprieve via blissful ignorance for the long-suffering life reviewer.
Review Review Review: Three and a half stars.
---
17. William Tell (Season 2, Episode 5)
"William Tell" opens one of Revew's very best episodes, with two of its three parts landing in the top 20 reviews on this list. Forrest sums up the crux of this review beautifully: "I was faced with a major problem: to review shooting an apple off my son's head with an arrow, I would have to shoot an apple off my son's head with an arrow." After a troublesome (to say the least) archery training sequence, Forrest gives up on "stick-zipping," briefly flirting with adopting a flat-headed and thick-skulled new son before realizing he can still do a William Tell from the other side of the bow. The resulting climactic shooting scene is one of the most painfully funny bits Review has ever aired.
Review Review Review: Four stars.
---
16. Orgy (Season 1, Episode 6)
"Orgy" finds Forrest embarking on an honest-to-God mini character arc: though he is initially mortified by the thought of such an uncivilized "sex jungle" and aghast at its description as "totally ball-draining," the life reviewer is able to overcome his squeamishness and conquer the orgy, becoming its king, briefly, after triumphing in a "fuck-off." If you're noticing a blend of actual depth and utter ridiculousness in this paragraph, you've got the exact right idea: "Orgy" is as unbridled in its filthiness as it is legitimately satisfying in its construction, and considering all the horrors Forrest endures throughout Review, it's just so great to see him (sort of) win one.
Review Review Review: Four stars.
---
15. Quitting Your Job (Season 1, Episode 9)
"Quitting Your Job" is a classic example of Forrest overzealously subjecting himself and others to torment in the name of human understanding. His "take this job and shove it speech," written for him by his (clearly disgruntled) executive assistant Lucille, is a brutally no-holds-barred kiss-off to an employer—watered down only by Forrest's hokey additions, such as, "You couldn't manage a ham sandwich"—but that doesn't stop Forrest from using it in both of the resignations he tenders for this review. Though that element of the segment is rather forced, the results are brutally funny, not to mention genuinely emotionally affecting. "Quitting Your Job" also sows the seeds of a schism between Forrest and his actual employer, Review, a conflict that will prove a vital through-line of the series.
Review Review Review: Four stars.
14. Living Your Last Day (Season 1, Episode 9)
This review starts out as surprisingly one-note, though still a hoot, as an unhesitating Forrest dives headlong into the escapades of a man living his last day on earth. He gets part of a tattoo ("Ca!"), propositions strangers in a Mexican restaurant, fires an assault rifle, relapses on cocaine (see "Addiction," the next item on this list), and takes in a sunset while nude, high and crying. But the end of "Living Your Last Day," in which Forrest allows his family to believe he has a brain tumor, is where it really comes together. Though the reviewer of life's inevitable failure clearly lurks just around the corner, the MacNeils are able to, if only for an evening, reclaim the domestic bliss Review ruins.
Review Review Review: Four stars.
---
13. Addiction (Season 1, Episode 1)
Forrest's adventures in getting "addicted to something more powerful than knowledge" make for arguably one of his most successful reviews in terms of his accomplishing what the review requires of him. He starts by trying cocaine, and moves onto other vices before it becomes crystal clear that he's already been hooked by blow. The scene in which a coked-up Forrest reads—nay, performs—Chicken Little for his son Eric (Kaden Gibson, Saint George), alone, makes "Addiction" a classic, and Forrest's habit resurfaces later in the episode, playing havoc with a subsequent review. Here, even in only its second segment, Review is both fully realized and hysterical.
Review Review Review: Four stars.
---
12. Space Travel (Season 1, Episode 5)
Between Forrest's childlike joy at the prospect of going into space and his father-in-law Jack's elation about the chance to realize his lifelong dream, this review starts out on a genuinely sweet and hopeful note. One training sequence and bizarre Lance Bass appearance later, Forrest and Jack are ready for takeoff, which is, of course, where this review's other shoe drops, and drops hard. Suffice to say "Space Travel" gets uber-dark, which is part of why it's such an achievement: few shows can be this hard to watch and yet so undeniably funny at once.
Review Review Review: A very somber four stars.
---
11. Mile-High Club (Season 2, Episode 2)
Forrest's second lady-friend of Review's second season, stripper Shampoo, is the first target of this review, which finds our host attempting sky-high seduction while on his way to visit his 12-year-old son Eric, of whom he has understandably lost custody. Much to Forrest's dismay, "professional clothes-remover" and apparent self-respecting human being Shampoo—not to mention every other passenger within earshot—is scandalized by his lewd suggestion, and the life reviewer is forced to try to charm a receptive stranger (played by Daly's actual wife, Carri Levinson) in order to execute his sleazy life experience. To give away any more of "Mile-High Club" would betray its crowning achievement: the organic, inevitable way in which it builds to Review's new pinnacle of cringe-laugh wizardry.
Review Review Review: Four and a half stars.
---
10. Being a Little Person (Season 2, Episode 3)
"Being a Little Person" finds Forrest at his most ignorant, as the life reviewer tries and fails to understand the plight of little people. From gawking openly at an actual little person to modeling his approach after Dorf on Golf, Forrest does nothing right in the course of this review, and the results are appropriately disastrous for the deserving life reviewer, as well as for his utterly undeserving father. Though the highlight of the review is woefully absent from YouTube, believe me when I say there is no more perfect intersection of screwball physical comedy and Forrest's ridiculously rigid adherence to Review's rules than the kitchen fire that he starts and fails to put out while attempting to cook dinner as a little person. Seeing Forrest curse a blue streak while flailing for the fire extinguisher, then fleeing frantically on his shoed knees makes me laugh uncomfortably hard every single time, "uncomfortably" being the key word.
Review Review Review: Four and a half stars.
9. Perfect Body (Season 2, Episode 4)
Watching Forrest transform into a warped and sickly looking Hulk—or, as he puts it, "a walking work of art"—is only the beginning of this gloriously batshit review. Pushed further and further towards some twisted idea of physical perfection by a profiteering plastic surgeon and his Review producer Grant, Forrest gets muscle implants, uses steroids to bear their weight, and becomes "consumed with rage." The whole segment comes to a head when Forrest's father calls the police on the now-militarized cult camped out on his property, and Forrest's attempts at "conflict resolution" lead to an insane shootout the likes of which Review has never seen. "Perfect Body" stacks up quite a body count, claiming even a mad-with-power Mrs. Greenfield—another life destroyed by Forrest's unquenchable thirst for knowledge.
Review Review Review: Four and a half stars.
---
8. Eating 30 Pancakes (Season 1, Episode 3)
"Eating 30 Pancakes" is the rare review that functions far less effectively outside the context of its episode—the brilliance of the segment is that it follows "Eating 15 Pancakes" and "Divorce," putting the perfect cap on what is unquestionably Review's best episode. Having already taken down 15 flapjacks, then hardened his heart in the fires of romantic agony, Forrest faces down 10 shortstacks with the steely resolve of a man with nothing left to lose, then plows through them all, his machine-like pancake consumption set to a side-splittingly dramatic score. Regardless of whether Review is your cup of tea, it's your duty as a human to watch "Pancakes, Divorce, Pancakes." It's one of the better episodes of television I've ever seen.
Review Review Review: Four and a half stars.
---
7. Being Irish (Season 1, Episode 9)
"Being Irish" immediately follows "Living Your Last Day," in which Forrest unwittingly convinces his family that his many bizarre, Review-inspired behaviors to that point were actually brought on by a brain tumor. It's under that guise that Forrest is able to get away with emulating the life of a stereotyped Emerald Islander, shearing sheep in his front yard, belting a folk song in the pub, and even applying his fine Irish brogue to his signature narration. But "Being Irish," as well as Review's first season, come to a head when Suzanne realizes Forrest's tumor is nothing but "blarney," and that it's his show that has torn their family apart of late. The review, episode and season all dovetail wonderfully, resulting in a cathartic, game-changing conclusion.
Review Review Review: Five stars.
---
6. 6 Stars (Season 2, Episode 6)
Forrest is nearly forced to use the first of his season two vetoes on this review, which threatens the very fabric of the Review universe. It is only by creating Assess, a new show within his show (within Comedy Central's show), that Forrest is able to issue a six-star review in good conscience. However, sub-review "Best Ice Cream in Town" sees the life reviewer continuing to push his integrity to the point of absurdity when "a chocolate smudge" on his shirt stands between him and his goal. In Evaluate's sub-sub-review "Kick in the Balls," Forrest is finally able to dole out a six-star … evaluation, and A.J. gets a rare chance to participate. "6 Stars" is an outstanding segment if only by virtue of its willingness to toy with the show's formula, and Forrest getting kicked in the cojones (twice) in order to uphold the rules of his show is one of the most apt metaphors for Review as a series that there is.
Review Review Review: Five stars. (Surprise!)
5. Eating 15 Pancakes (Season 1, Episode 3)
Perhaps the best thing about Forrest's first attempt to eat an unholy amount of flapjacks is how it shows us his principles: rather than objecting to the physical trauma to which he is subjecting himself, Forrest's only gripe about this review is how unbelievably asinine it is. The man is devoted to wringing precious meaning out of all avenues of life, even several tall stacks of cold pancakes, and boy, does he suffer for it. The life reviewer's deadpan lamentation that "This certainly is an upsetting number of pancakes" will never not make me belly-laugh. This review is also our introduction to Review's producer, Grant, a key architect of Forrest's torments.
Review Review Review: Five stars.
---
4. Divorce (Season 1, Episode 3)
Forrest's divorce is a watershed moment for his show, auguring how it will go on to demolish every vestige of his personal life. Ingeniously sandwiched between two utterly frivolous reviews, "Divorce" is the show's first indication of just how excruciating and destructive Forrest's dedication to his job can be. Though it's legitimately difficult to watch the life reviewer torpedo his happy marriage, the cognitive dissonance at work in this review is simply brilliant—Forrest hems, haws and issues his proclamation of divorce through gritted teeth, yet he barrels ahead, and his unconvincing performance, like Review at its very best, is at once heartrending and hilarious.
Review Review Review: Five stars.
---
3. Being Batman (Season 1, Episode 4)
"Being Batman" is a remarkable review from top to bottom, another home run hit shockingly early in Review's run. From Forrest's attempts to fight the pettiest possible crimes ("Hey, the bike lanes are clearly marked"), to his dashing around trying to find the family court building, to his desperate attempts to defend himself in a custody hearing while dressed as the Caped Crusader, this review is painful to watch, yet undeniably uproarious at the same damn time.
Review Review Review: Five stars.
---
2. Alone Time in a Rowboat (Season 2, Episode 5)
Brevity is key to the brilliance of "Alone Time in a Rowboat," which parlays just under five minutes into one of Review's most extraordinary segments. What should be a respite from a defeated Forrest's repeated misadventures is actually one of his most wildly traumatic experiences, and the vicious gutpunch of it all is that it happens when he least expects it. Chiseling "Alone Time in a Rowboat" into Review's Mount Rushmore is an easy call.
Review Review Review: Five stars.
---
1. There All is Aching (Season 1, Episode 7)
This segment is the perfect encapsulation of the absurd and wildly misguided lengths to which Forrest MacNeil will go in order to find meaning in a random viewer-submitted experience, and of the unrelenting awfulness that meets him at every turn. Thank you, Lisa Ching, for this rhapsody in Review, and thank you, Forrest, for risking everything to show us that there all truly is aching.
Review Review Review: Six stars. (Hey, if Forrest [and Dave Meltzer—Ed.] can do it, so can we.)
---
That's all for now, folks. Embark on your own Review binge here, and don't miss this overlooked gem of a show when it returns to Comedy Central for its third and final season.