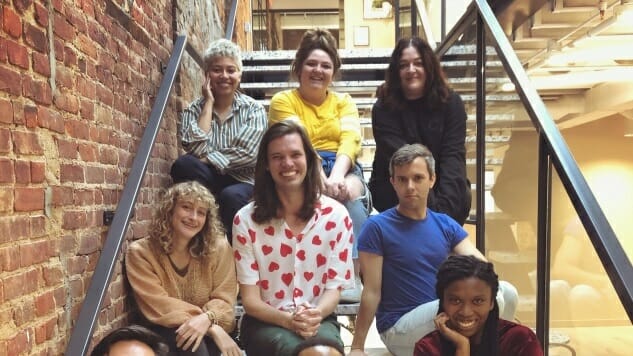 Once upon a time there was a show called The National Lampoon Radio Hour. When it started in 1973 it was like a proto-Saturday Night Live—not just because of its irreverent tone and underground attitude, but because the original cast included Jon Belushi, Gilda Radner, Chevy Chase and Bill Murray, just a couple of years before Lorne Michaels poached 'em for his NBC show. The National Lampoon name has had some ups and downs (and downs, and downs, and even more downs, and yes, basically just decades worth of downs) since then, but in honor of its 50th anniversary in 2020, its current overseers are about to launch something that's legitimately exciting. They hired up some of the best young comedians and comedy writers around and tasked them with creating a new National Lampoon Radio Hour, but now in podcast form. The head writers are Cole Escola and Jo Firestone, and joining them in the cast are Maeve Higgins, Brett Davis, Megan Stalter, Rachel Pegram, Martin Urbano, Lorelei Ramirez, Alex English, and Aaron Jackson. With this diverse lineup it's a pretty safe bet that the new show will avoid the terminally outdated perspective that makes even the best classic National Lampoon material hard to enjoy today.
The new show launches on December 19, in partnership with the Forever Dog Podcast Network, and will be available on Spotify, iTunes, and pretty much any other podcasting platform out there. The scripted series features guest appearances from Amy Sedaris, Chris Gethard, Rachel Dratch and more, and will also exist as a video series on YouTube and the National Lampoon site.
Here's a little taste of the show to get your ears watering. Some of the new cast—including Escola, Firestone, Davis, Pegram, Stalter, and more—share their favorite memories from the recording of the show. It's a candid and deeply personal look into the relationships and sense of collaboration that went into creating the show—okay it's actually not. It's jokes. It's jokes, people. But jokes from people who are good at writing and delivering them. Check the video out below and keep an eye out for The National Lampoon Radio Hour in December.